Roasted Tomato and Garlic Risotto
This risotto recipe is vegan friendly and gluten free, filled with garlic and roasted tomatoes. If you are looking for a recipe to make in the week or to batch cook, give this risotto a try. It's so easy to make with just a few key ingredients.
What's in this risotto?
Arborio rice- Perfect for risotto, this rice works best if you add a little stock at a time until it absorbs it and repeat until all stock has absorbed
White wine- You don't have to have anything fancy for this recipe, just choose a cheap – mid range price and it will work beautifully to add flavour and creamyness.
Garlic- I've added 5 cloves into this recipe to give it tonnes of flavour. You can add a little less if you prefer.
Tomatoes- Using cherry and vine tomatoes for this recipe gives a delicious sweetness to work with the acidity. You can use which ever tomatoes you have at hand.
---
Why arborio rice?
This is traditionally used in risottos, but you can swap this for soaked bulgur wheat if you would rather that grain. As mentioned before, to get a delicious and creamy risotto, toast the rice in the pan with the butter, garlic and onion before adding the stock. When adding the risotto stock, add a little at a time as you want it to absorb it slowly.
---
Optional Ingredients
If you want to make this extra indulgent, add 70g of vegan cheese (I'd recommend either a cheddar style or even a smoked vegan cheese) to make this beautifully rich. For a cheesy like topping I added 1 tbsp nutritional yeast.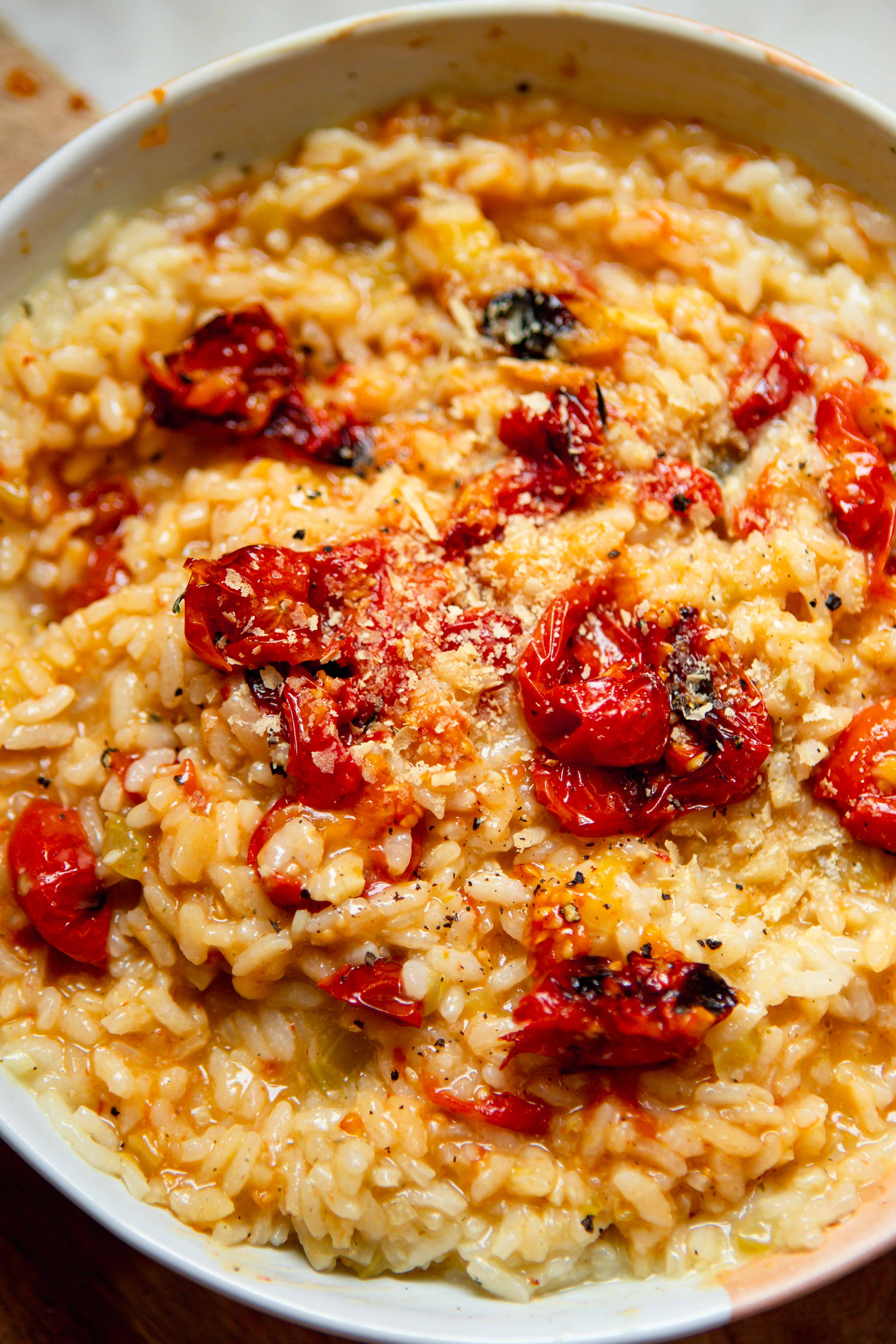 ---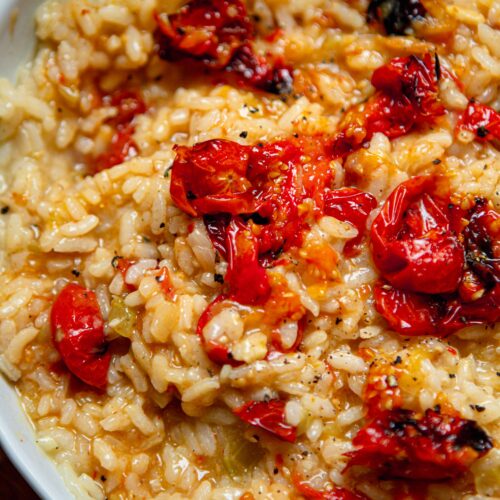 Tomato & Garlic Risotto
Easy Vegan and Gluten Free Risotto. This is perfect for batch cooking, easy to make and so creamy and delicious. You wouldn't know it's vegan friendly so perfect to make for friends and family. Just a few key ingredients and simple steps to make it.
Ingredients
1

celery stalk

2

banana shallots

1

tbsp

vegan butter

5

cloves

garlic

350

g

tomatoes

150

g

risotto rice

400

ml

veg stock

150

ml

white wine

1/2

tsp

salt
Top with
salt & pepper

drizzle of olive oil
Instructions
Start by placing the tomatoes in a baking dish with a drizzle of olive oil and roast at 180ºC for 25 minutes

Finely chop the shallots and celery, add to a deep pot with the vegan butter and fry for around 5 minutes

Finely chop or mince the garlic cloves and add to the pot, fry for around 2 minutes before adding the risotto rice to the pot

Pour in the white wine and toss the rice until its covered and allow to absorb

After a minute slowly add the vegetable stock by just adding 1/2 cup at a time until it has absorbed, then pour in the next 1/2 cup until you've added all the stock

Generously season with salt and pepper and taste, adding a little more seasoning if needed

By this point the tomatoes should be baked, take out of the oven, de-stalk and add to the pot and gently mush with the back of a fork so they release their delicious tomato juice into the risotto

Optional toppings: watercress, chopped parsley and nutritional yeast
Notes
If your risotto is looking a little dry, add a little more boiling water at a time until to get that beautiful creamy texture.
You can add other veg such as asparagus or chargrilled peppers would also work
Season before serving and feel free to add fresh herbs such as parsley or top with watercress
Optional topping: 1 tbsp nutritional yeast