Gnocchi with Slow Roasted Tomatoes, Chilli and Tenderstem
This recipe is so easy to make, just a few key ingredients and ideal for batch cooking for lunch and dinner. The gnocchi can be homemade or shop bought, a pack of tomatoes, some garlic, herbs and tenderstem and you're winning! I've used chilli oil to give this a slight kick but you can swap for harissa paste, or just chilli flakes and olive oil.
Let's get into the recipe
Gnocchi-Shop bought, home made, either will work. It only takes a few minutes to cook so don't leave it in the pot for ages!
Vine Tomatoes- You can use vine tomatoes, cherry, plum, you name it, whatever you have in the fridge will work! I love the way vine tomatoes are a little sweeter and the way they roast in the oven.
Tenderstem- You can use tenderstem, broccoli, green beans or even massaged kale (just remember to only add to the oven for 2-3 minutes if using kale)
Chilli Oil- If you haven't discovered chilli crisp oil, get some! I used Pippy Eats chilli crisp oil which is fantastic but you can either make your own or find it in most Asian supermarkets / online stores
Dried Herbs- you need to season the tinned tomatoes, I've used a mixture of sage, marjoram, oregano and garlic with fresh basil on top
---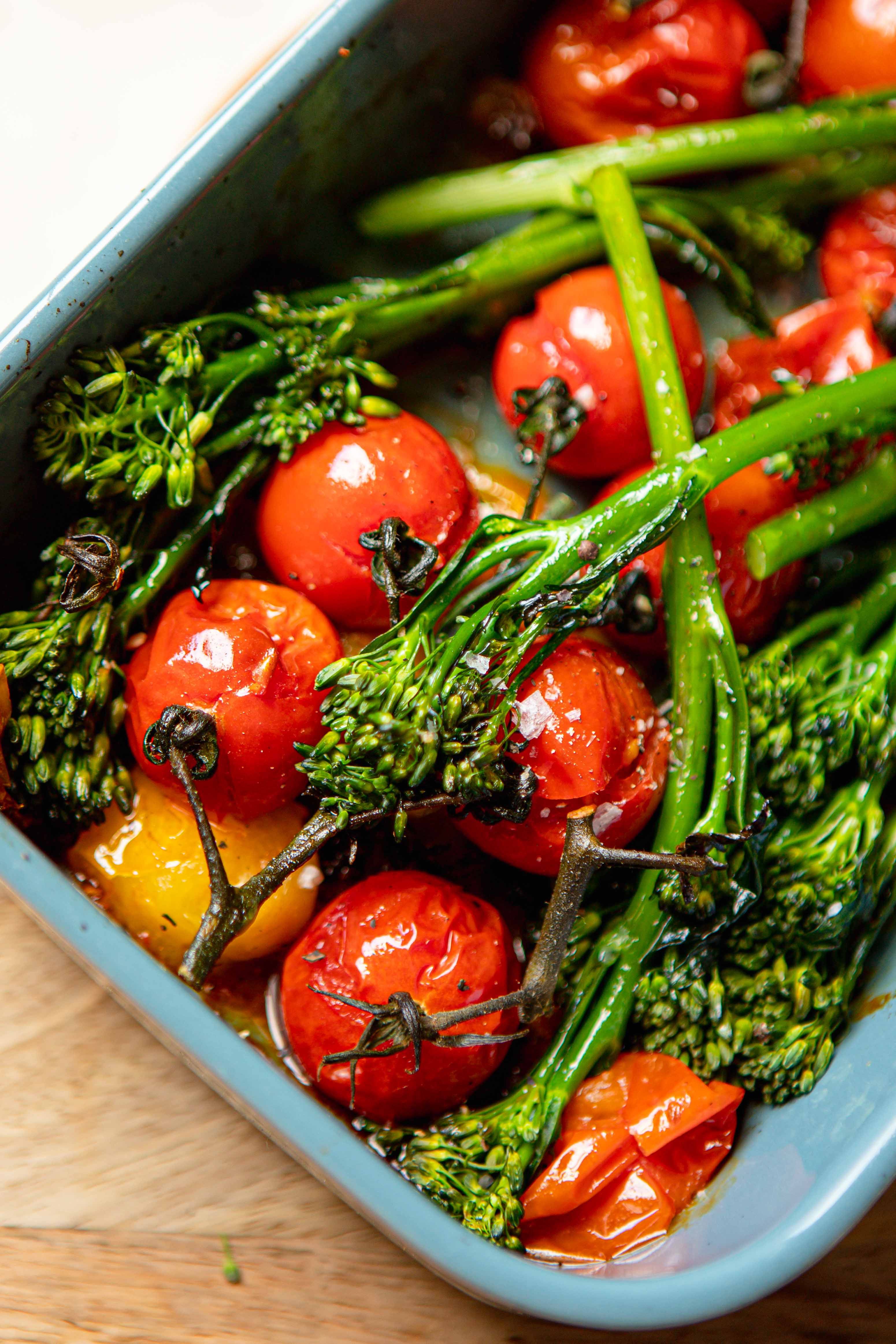 Cooking Tips and Swaps
Swap chilli oil-  If you don't have chilli oil, swap for harissa (I have a simple homemade recipe here) or if you don't have that, just add 1 tsp of chilli flakes and 1/2 tsp cumin to the tomato sauce with an extra kick of garlic, either add 1 extra clove or 1/2 tsp dried garlic
Swap gnocchi- If you don't have gnocchi you can swap this for pasta, just add an extra 250ml water to the top, add the pasta, pop on a lid and leave to simmer for 15 minutes until soft
---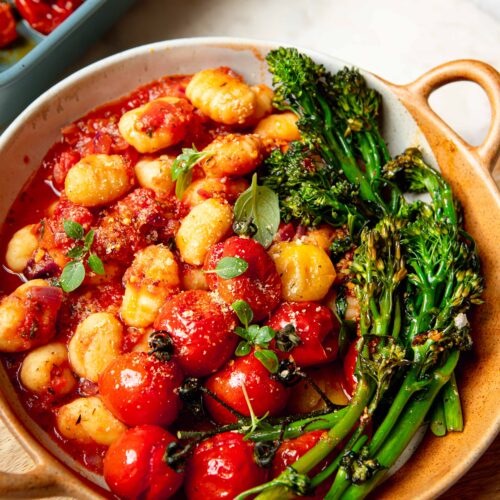 Gnocchi with Slow Roasted Tomatoes
Easy gnocchi recipe, less than 30 minutes, made with slow roasted tomatoes and tenderstem. Vegan recipe which is incredibly easy to make and perfect for after work.
Ingredients
1

tbsp

olive oil

250

g

vine tomatoes

with a pinch of salt

400

g

tinned chopped tomatoes

fill the empty tin 1/2 full with water and add

1

tsp

olive oil

1

red onion

finely chopped

3

cloves

garlic

or 1 tsp garlic powder

1/2

tsp

dried sage

1/2

tsp

dried oregano

1/2

tsp

Marjoram

swap for thyme

1

tbsp

chilli oil

I used Pippy Eats, swap for 1 tbsp harissa

1

tbsp

chopped fresh basil

250

g

gnocchi

5-6

tenderstem

can use green beans, broccoli, kale or even spinach
Instructions
Whack the oven up to 200ºC, add the vine tomatoes with a bit of olive oil in a roasting dish, season with salt and pop in the oven for 20 minutes

Finely chop the red onion, add to a deep frying pan with a glug of olive oil and fry for around 4 minutes, add the tinned tomatoes along with all of the, garlic, herbs and fresh basil and chilli oil

Fill up the empty tin of tomatoes 1/2 full with water and add to the pot, stir and simmer for for 10 minutes, add in 1 tsp of chilli oil (or harissa) then add the gnocchi for the final 5 minutes of cooking

Once the tomatoes are bursting, add the tenderstem, coat in either 1tsp of olive oil or chilli oil and pop back in the oven for 5-6 minutes

Bring everything together by plating up, season with salt & pepper and enjoy
Notes
Pippy Eats chilli crisp oil is best for this, however if you don't have chilli oil, please swap for 1 tsp chilli flakes or even 1 tbsp harissa
I drizzled chilli oil (or harissa) over the tomatoes and tenderstem for the final 5 minutes of roasting in the oven