Toasted Fold Over Wrap
Inspired by the Taco Bell Crunchwrap Supreme, I keep seeing this idea for toasting tortillas. The filling is so simple to make, just chickpeas, guac, tomato & sweetcorn with vegan cheese. It's perfect for lunch times or for those evenings where you can't be bothered to cook!
What makes the fold over? The way you create this fold over wrap is by using two tortillas, one smaller in diameter than the other. You stack the filling up on the centre of the larger wrap, top with the smaller one then fold over the edges and toast to create the seal.
Let's get into the recipe, what will you need?
Tortillas- Using two different sized tortillas for each fold over will help create the fold needed. I've uploaded a video to show you exactly how I created mine.
Chickpeas- A tasty filling and a hit of protein for all you herbivores. I've seasoned this one with cayenne pepper, smoked paprika, oregano and salt toasted in a drizzle of olive oil. You can use an entire tin of chickpeas if you like leftovers but remember to double up the spices.
Avocado- For a creamy filling I mashed avocado with salt & pepper, you can add chilli flakes and onion powder if you want to make it even more delicious.
Vegan Cheese- You want a delicious vegan cheese that will melt easily. For this I used Violife grated cheese.
---
Find my recipe videos on Instagram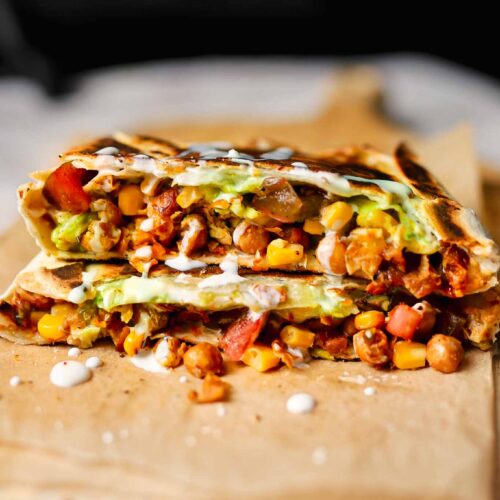 Vegan Toasted Fold Over Wrap
Inspired by the Taco Bell Crunchwrap Supreme, this is a very simple version of that idea. It's a folded over wrap filled with
Ingredients
4

soft tortillas

I used large 25cm wraps

200g

drained chickpeas

1

tsp

olive oil

1/2

tsp

smoked paprika, cayenne pepper, oregano, chilli flakes

1/2 tsp of each spice
For the filling
1/2

avocado

seasoned with salt & pepper

1/2

iceberg lettuce

shredded

4

tbsp

plant based mayo

4

tbsp

sweetcorn

1

large tomato

2

tbsp

vegan cheese

around 60g
Instructions
Start by mashing the chickpeas with the mixed spices then add to a frying pan with a drizzle of olive oil and fry for around 5 minutes

Meanwhile prep all of the filling by mixing the sweetcorn and chopped tomato, smashing the avocado with the salt and pepper and slicing the iceberg lettuce

Cut out a smaller circle on 2 of the tortillas (this is to layer on top, see my video for reference)

Using the two larger tortillas, layer up the filling, there is no strict order, just try and balance it up then place the smaller tortilla circle on top

Fold the edges of the larger tortilla over the top of the smaller on and add back to the frying pan you used for the chickpeas, fold down and toast for a few minutes

Toast on the other side to make nice and crispy
Notes
If you have slightly stale wraps, pop them in the microwave for 20 seconds to help make soft again
When adding the filling to the larger tortilla, try to only made it as wide as the smaller one that will be placed on top, this will help make it easy to fold