Ice Cream Cookie Sandwiches Recipe
Inspired by seeing ice cream cookie sandwiches from U.S and Australian food bloggers I thought I would give it a go! They're made used a mocha based homemade ice cream for the centre. The cookie are also homemade, you can find the recipe just here.
---
Recipe Breakdown
Mocha Ice Cream – I had teamed up with Califia Farms to create a sponsored post for Instagram using their Mocha Cold Coffee Drink. So I Used this to inject the mocha flavour into the ice cream, it's available across the U.K and the U.S.
Good Quality Cookies- There's no pressure to bake your own if you are a little stretched for time, however I've shared a simple recipe that you can have up your sleeve.
Coconut Cream- This really helps create a delicious thick ice cream that'll scoop perfectly. You can a really high fat content to make sure it's not too runny.
Condensed Coconut Milk- I haven't actually used this ingredient for this recipe as it can be a little tricky to get ahold of, however if you have condensed coconut milk from a plant based shop, it'll work beautifully at holding the ice cream together and giving a real sweet kick.
---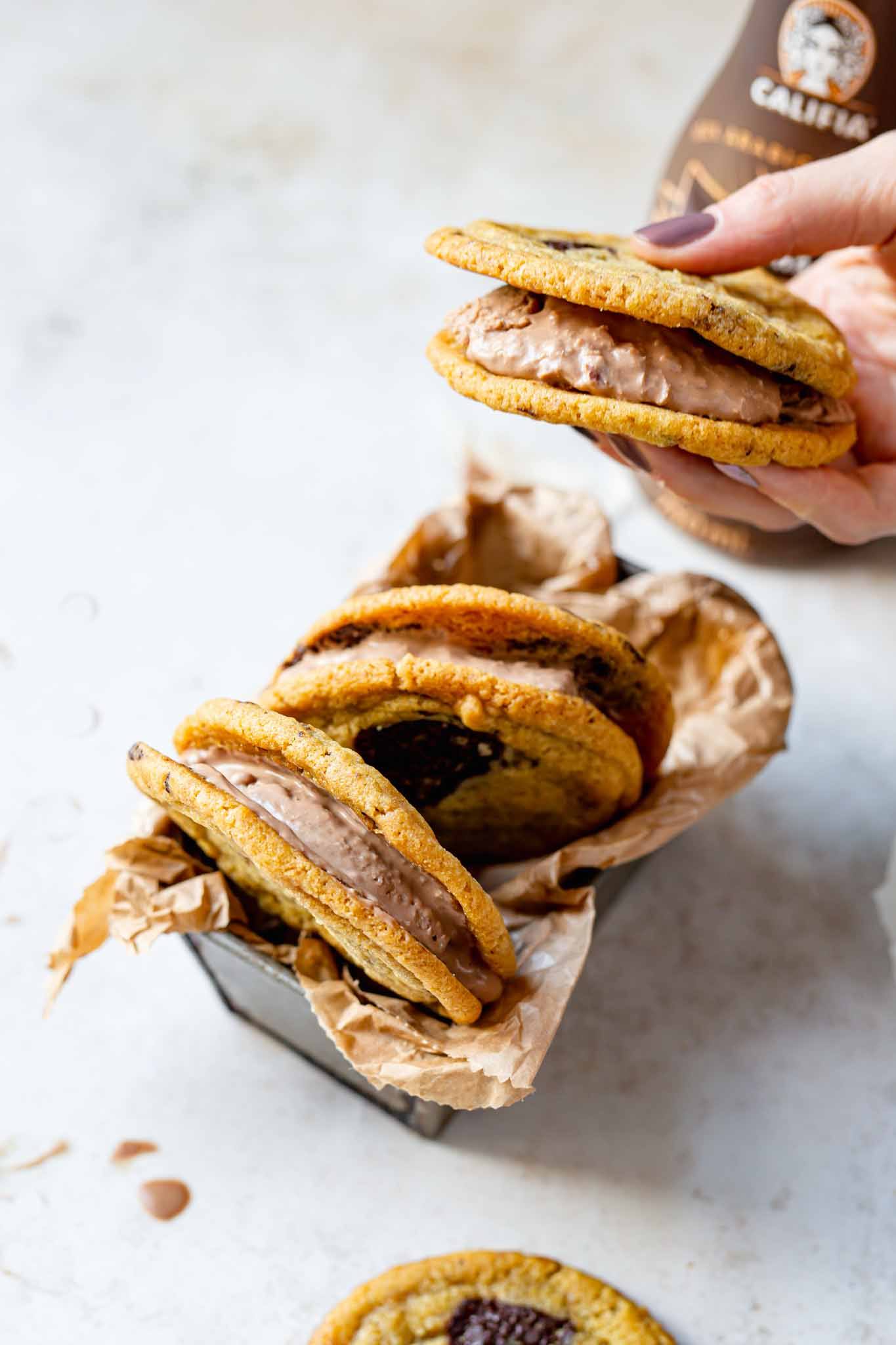 ---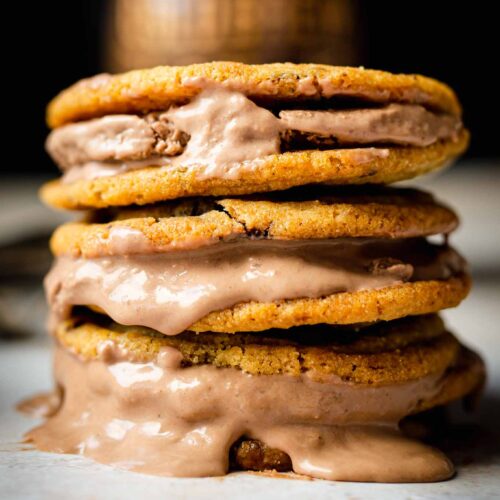 Cookie Ice Cream Sandwiches
Perfect for summer or for dessert - these ice cream cookie sandwiches are perfect for hot sunny days. Homemade chocolate chip vegan cookies filled with a mocha flavoured ice cream.
Ingredients
For the Cookies
220

g

plain flour

180

g

vegan butter

margarine

120

g

sugar golden caster

80

g

soft brown sugar

1/2

tsp

baking powder

2

tbsp

ground flax seed + 2tbsp water

1/2

tsp

baking soda

1

tsp

vanilla extract

1/2

tsp

sea salt

80

g

chocolate chips

or chopped chocolate
For the Ice Cream
400

ml

full fat coconut milk

100

g

coconut cream

100

ml

Califia Mocha flavoured Oat Drink

1

tbsp

cocoa powder

2

tbsp

maple syrup

3

tbsp

maple syrup
Instructions
For the cookies
In a small bowl mix the water and ground flax seed and set aside

Add the room temperature butter to a bowl along with the vanilla extract and two types of sugar and mix together using a silicone whisk or spatula until smooth

In a separate bowl mix the flour, salt, baking powder and soda together then slowly add to the bowl of butter, mixing it together as you add

Pour in the flax seed then and fold in then the chocolate chips. Pop the mix in the fridge for at least an hour (even better left overnight)

Once ready to bake, preheat the oven to 200°C

Using an ice cream scoop or just your hands, roll out equal sized balls and place on a baking tray (at least 4cm apart as they'll expand)

*top tip, double up the cookie size by playing another equal sized ball of cookie dough directly on top of each ball - this'll make them a little thicker*

Bake for 7 minutes, then take them out of oven and tap them on a surface (this helps give the crackle effect) then pop them back in for a further 2-3 minutes

Leave to set for 15 minutes then scoop in your favourite ice cream and enjoy!
For the Ice Cream
Add all of the ingredients together in a food processor until smooth then pour into a pan, bring to a low heat to combine the flavours before pouring into a small loaf tin

Leave to cool in the freezer for around 2 hours

Take out of the freezer for a few minutes to soften then scoop in-between each cookie