Delicious Blistered Tomatoes on Herby Yogurt
These blistered tomatoes on a herby yogurt dip works perfectly as a sharing plate. It's herby, zingy, vibrant and delicious as well as being a vegan friendly lunch. This is the kind of recipe where you can pop it in the middle of the table with crunchy bread or crisps and everyone dips away. This recipe is perfect for a BBQ or summer feast.
What ingredients do you need?
Tomatoes- Vine tomatoes work perfectly for this, but see what's in season and grown locally to get the best flavour out of your tomatoes. Bonus points if they're home grown. To blister them, fry on a high heat with good olive oil, alternatively you can bake them at 200ºC for around 15 minutes.
Yogurt- The vegan yogurt scene has come on leaps and bounds. This recipe uses a greek style vegan yogurt so it has a thick and creamy texture that works with the garlic and herbs.
Herbs- This is such a key ingredient to get all of the flavour so don't leave this step out. Fresh dill and chives give a fragrant and delicious flavour with the yogurt dip.
Sunflower seeds- This is fast becoming one of my favourite ways to garnish a recipe. They are really cheap to buy, offer loads of flavour and usually compliment most recipes with a slight crunch.

Cooking tips:
Grate the garlic into the yogurt- no one wants to bite into a chunk of garlic, so either grate or mince the garlic. I used one of those flat bowls with a serrated edge that you can buy on holiday destinations like Greece or Italy.
Save some herbs to garnish- This helps the dish not only look beautiful but gets as much flavour out of those herbs as possible.
Toast the seeds- Toasting seeds releases a nutty and rounded flavour. If you add the seeds un toasted it won't offer the same flavour. I promise this step is worth it.
If you like this recipe why not try: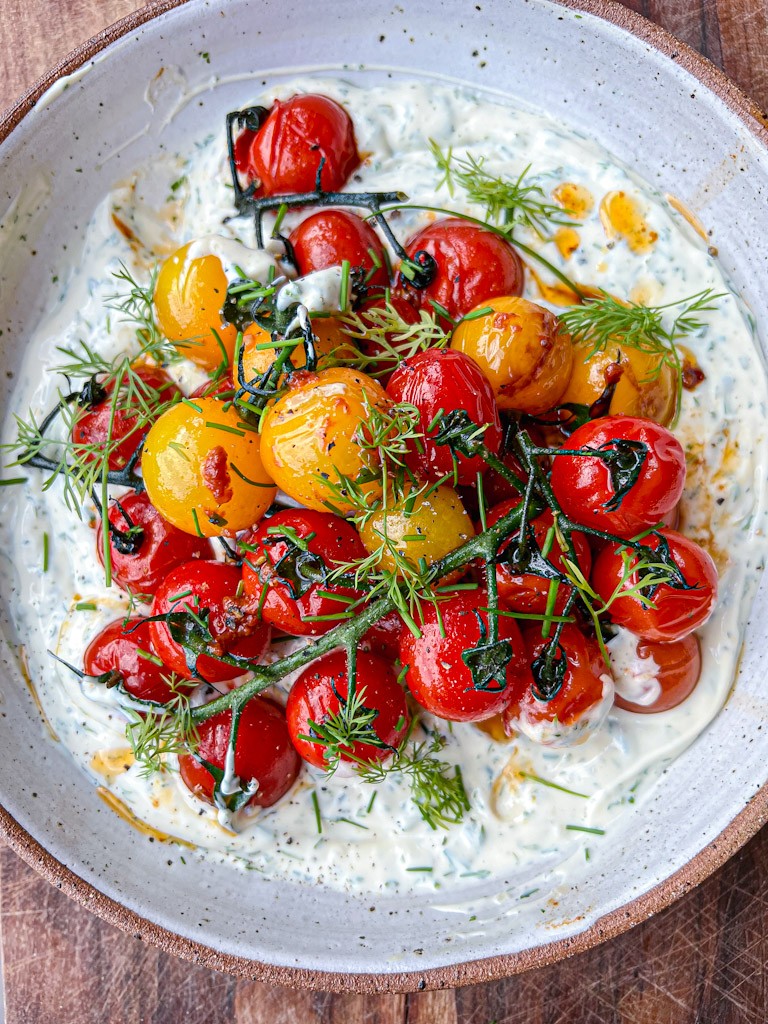 Blistered Tomatoes on Herby Yogurt
These blistered tomatoes on a herby yogurt dip is a perfect sharing plate or lunch. Herby, zingy, vibrant and delicious and vegan friendly.
Ingredients
2

cloves

garlic

150

g

vegan greek yogurt

15

g

fresh chives

15

g

fresh dill

250

g

vine tomatoes

1

tbsp

extra virgin olive oil

3

tbsp

sunflower seeds

salt and pepper to taste
Instructions
Start by mincing a clove of garlic, then add to a frying pan with a drizzle of olive oil, then add the tomatoes, fry on a medium - high heat to blister the bottoms

Prepare the yogurt by mincing 1/2 clove garlic then mixing with the yogurt, mix in a drizzle of extra virgin olive oil, the chopped chives and dill (save some of the herbs to garnish at the end) season with salt and pepper and mix together

Once the tomatoes have blistered add in the sunflower seeds to toast for the final few minutes then add to the yogurt dip

Option to drizzle over harissa, then assemble the ingredients, top with the sunflower seeds and remaining fresh chopped herbs and enjoy by dipping with crunchy bread