Shimeji Mushroom and Tofu Ramen Recipe
This ramen recipe is a variation of ramen for those who don't have access to some of the key ingredients depending on where you're based. You can add pickled ginger, and nori to make the dashi (stock) taste a little more authentic, however if you only have access to the certain ingredients hopefully this recipe will work wonders.
Breakdown of Ingredients
Mushrooms- These give a beautiful earthy taste and a slightly meaty texture
Miso- Miso is a fermented soya bean paste. It has a wonderful umami flavour which is a key ingredient within this dish. You can buy the brown paste either in jars or in single serve sachets.
Ramen (noodles) – To make this more traditional use ramen noodles which are slightly thinner in texture than an udon noodle. However it will work just as well with udon or even swap out for a gluten free option such as soba or rice.
Ginger- Adding a beautiful fragrant flavour with a slight kick, using fresh ginger is really important when making a ramen stock.
Chilli – Again, in a more traditional ramen you would find a red chilli paste, however if you don't have this in your cupboards just using a finely diced red chilli will bring the heat.
Optional extras– You can add nori seaweed to the stock to give a salty and slightly 'fishy' flavour to the soup.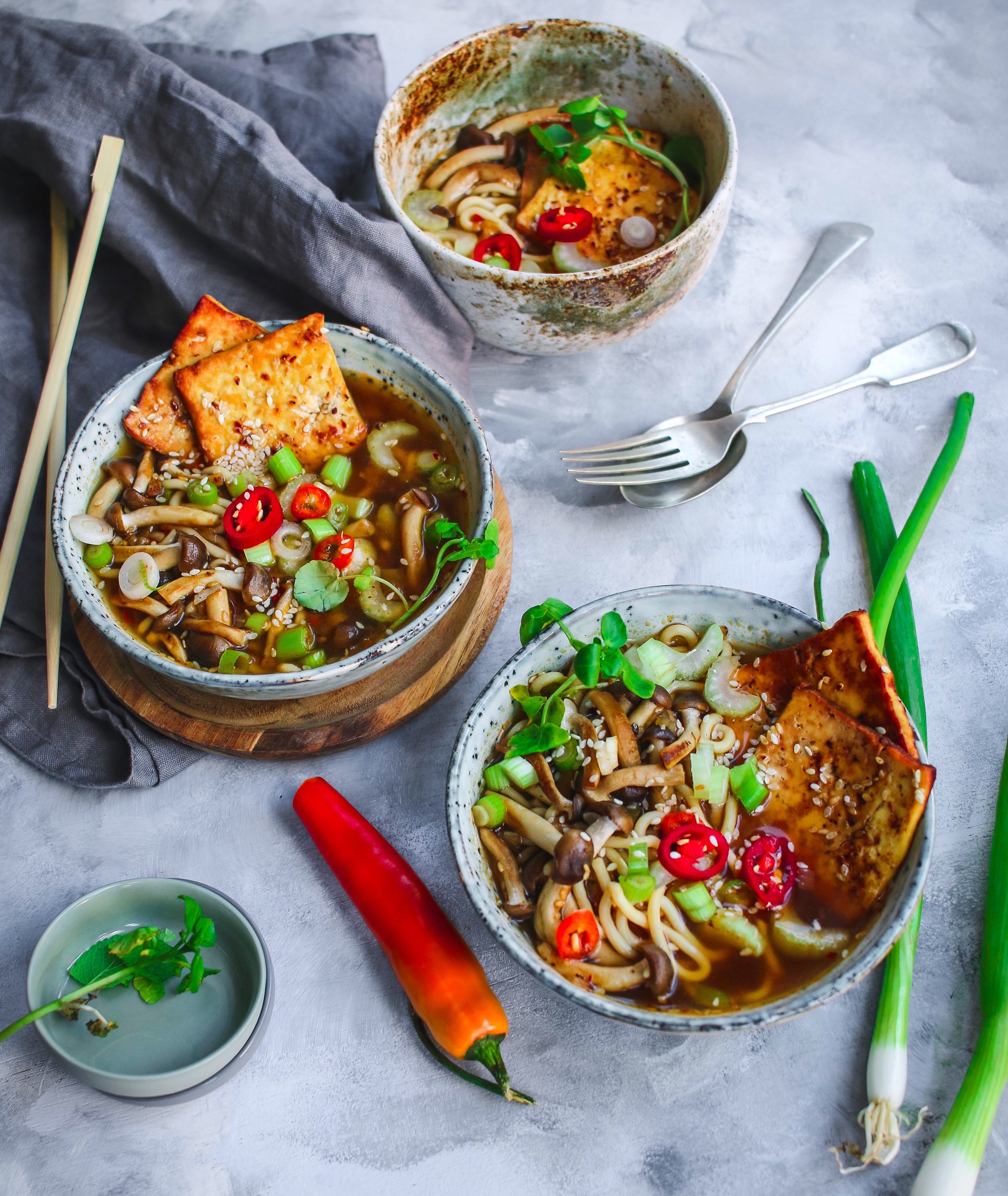 Cooking Tips
Slicing the garlic- By slicing the garlic instead of mincing gives a slightly stronger taste. If you don't want to eat the slightly larger pieces of garlic, you can slice into large pieces and simply take them out before serving
Strain the Miso –  If you want the silkiest smoothest ramen, simply use a fine sieve to strain the miso soup through to make sure there are no little bites of chilli, garlic or spring onion from the stock.
Ginger- By finely chopped half the ginger into the stock at the first stage, then grating the other half (which will be added with the stock) helps give a really strong flavour of the ingredient.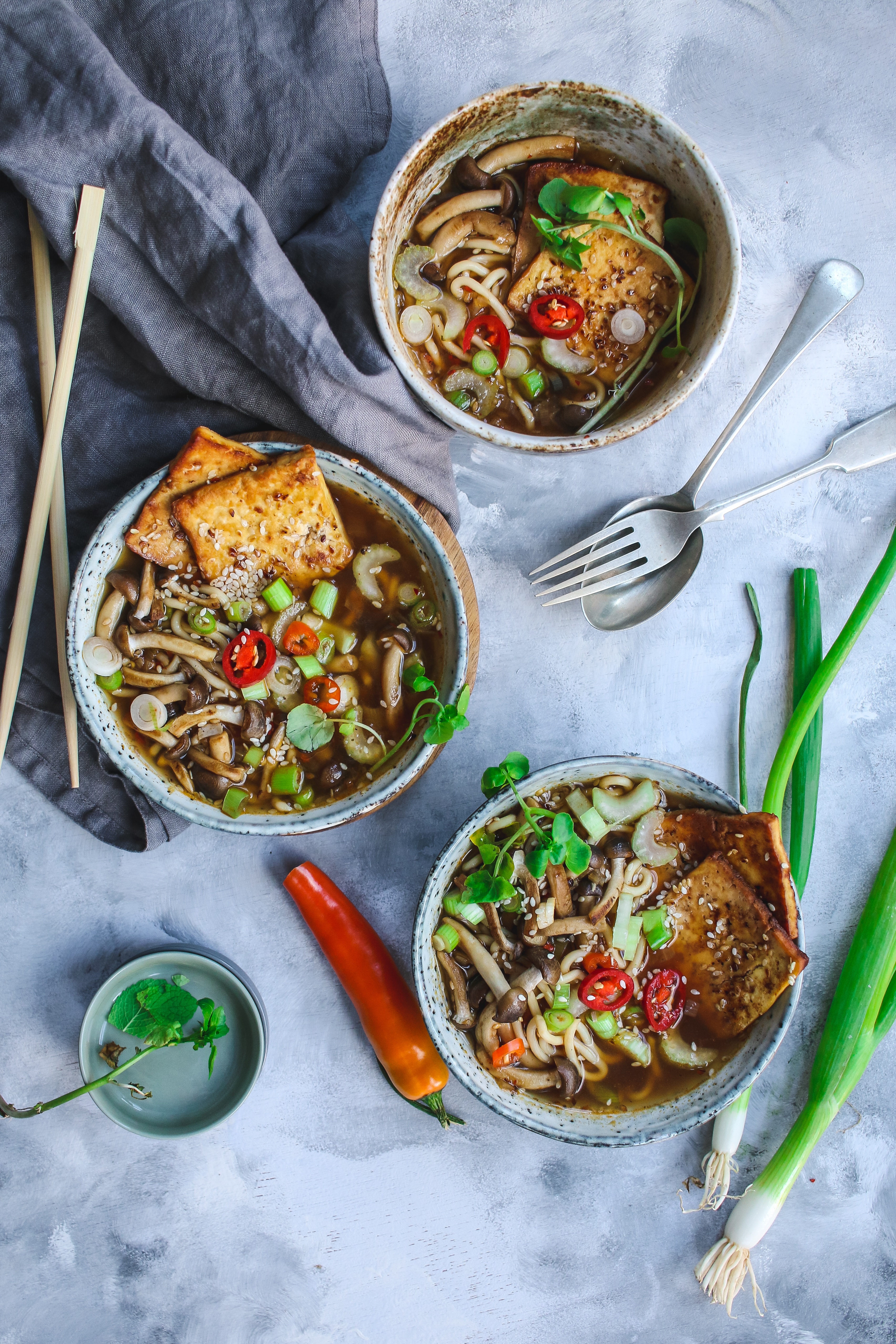 ---
Share on

 

Instagram or find my other recipes on Pinterest
---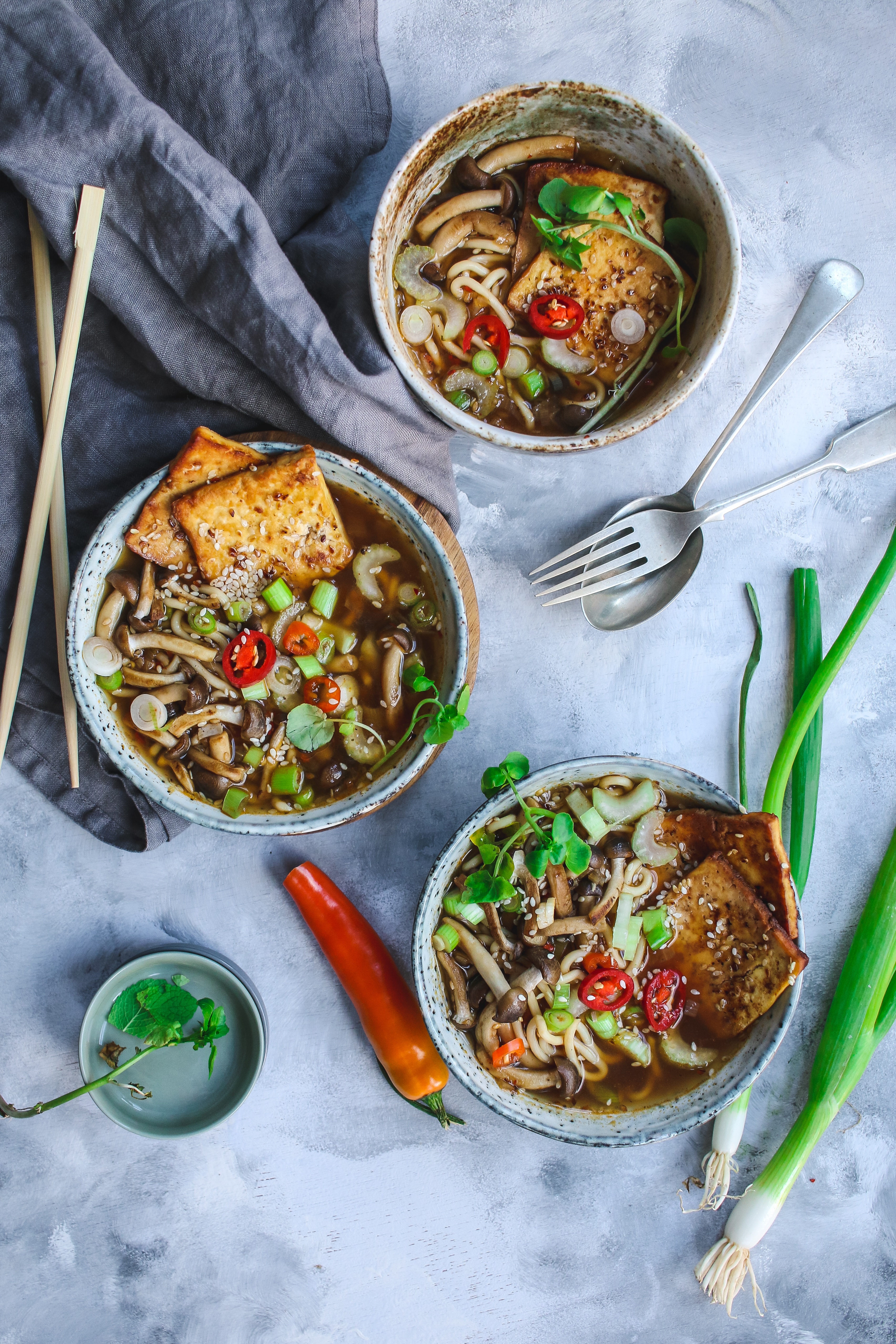 Shimeji Mushroom and Crispy Tofu Ramen
Using shimeji mushrooms and crispy tofu this is a slight twist on a tofu ramen dish. I've shown how to get a crispy tofu however you can use silken tofu blocks to keep this dish much more authentic.
Ingredients
For the miso soup
3

spring onions

3

cm

fresh ginger

1

red chilli

3

cloves

garlic

2

tbsp

tamari

150

g

of Shimeji mushrooms

2

bay leaves

1

sachet brown rice miso paste

I used ClearSpring brown miso paste

1.5

l

of veg stock

made with boiled water and a stock cube
Tofu / Garnishings
140

g

firm or silken tofu cubed

firm tofu will create the crispy finish whereas silken will be much softer and a more traditional take on the recipe

150

g

udon noodles

½

finely sliced red chilli

1

tbsp

sesame seeds
Instructions
Prepare the vegetables first, finely chopping the spring onions, chilli and garlic then drain the tofu and slice into 1cm thick squares

Add the chopped chilli spring onions, shimeji mushrooms and ginger to a wok / deep pan and fry in a splash of tamari for a few minutes followed by the garlic for an extra minute

Add the stock, miso paste, bay leaves and tamari to the pot and allow to simmer for around 5 minutes

Taste test the stock, then add the udon noodles and allow to simmer in the stock for the final 6-7 minutes

In a separate pan, add a splash of tamari on high heat then add the squared tofu, using a spatula press down over the tofu allowing to crisp on each side

Serve the miso soup into bowls diving the udon noodles then top with the crispy tofu, sliced chilli and chilli flakes