Vegan Sausage Rolls
Only four main ingredients needed for this 'recipe' if you can even call it that. This is for all of you sausage roll lovers who need a quick fix without whipping it up from scratch. All I know is Mary Berry said she buys ready made puff pastry and that changed my outlook.
---
Ingredients Breakdown
Vegan Sausages- It's good to have a vegan sausage thats packed with flavour such as Shroom Dogs or the Linda McCartney red onion sausages – they're perfect!
Cranberry Sauce or Chutney-Depending what you prefer you can opt for a delicious cranberry sauce or something more savoury such as a caramelised onion chutney, or follow my friend Kaylea and go for a mango chutney filling.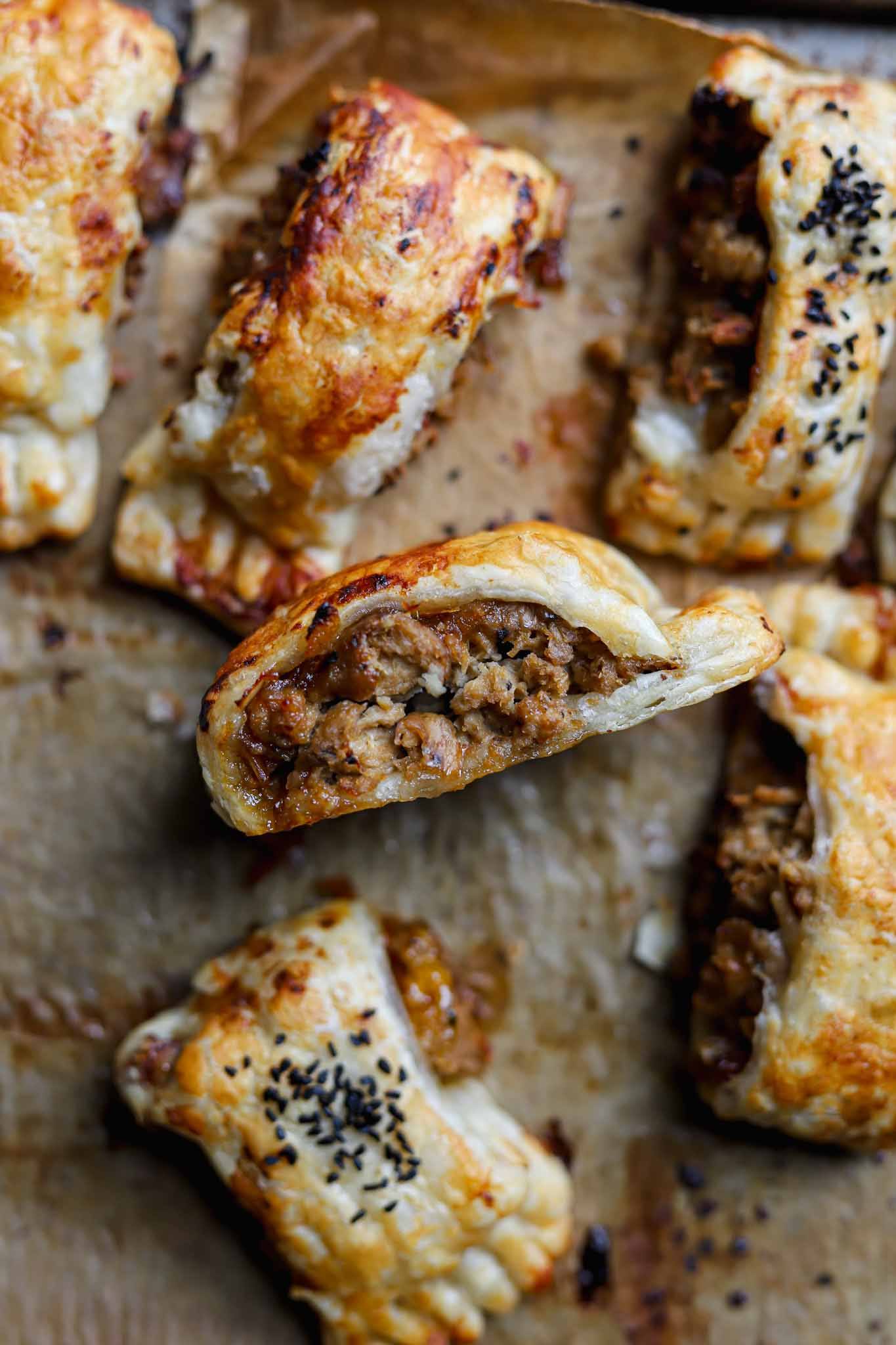 Tamari- This is my secret ingredient for so many recipes. It gives a beautiful wash on top of the pastry before baking. It gives umami, colour, depth, everything you possibly need to take these to the next level.
Ready Made Puff Pastry – As I said before, if it's okay for Mary Berry it's okay for me.
---

Optional Vegan 'Egg Wash'
Tamari / soy sauce- As used in my recipe, I find that using tamari (which is a gluten free soy sauce) is brilliant!
Oat milk & smoked paprika- Using a plant based milk with a splash of smoked paprika will give a gorgeous flavour.
Marmite & water – Add 1 tbsp just boiled water to a bowl and mix in 2 tbsp marmite, then use that as a brush, it'll give a delicious flavour and lovely golden brown colour.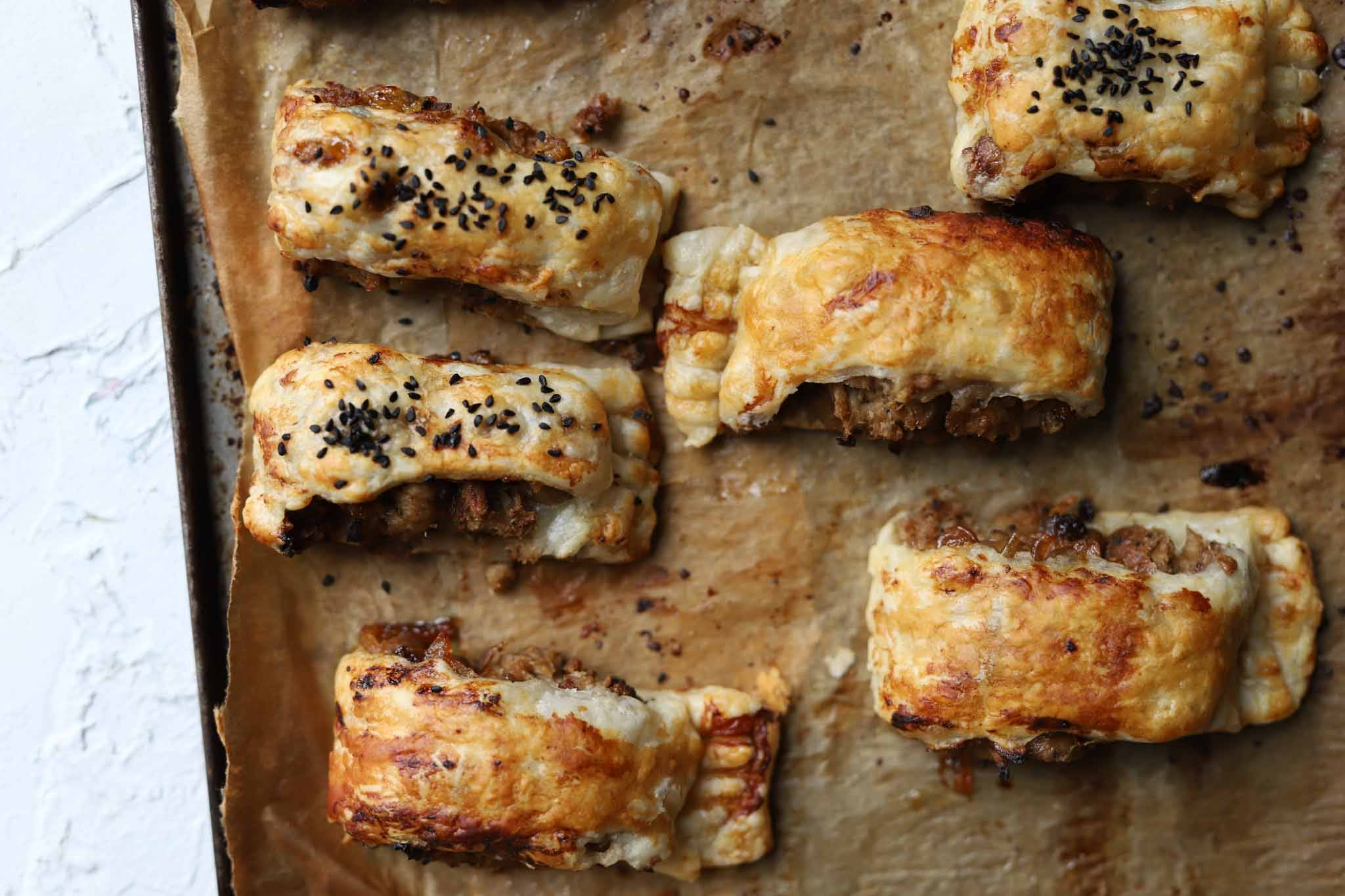 ---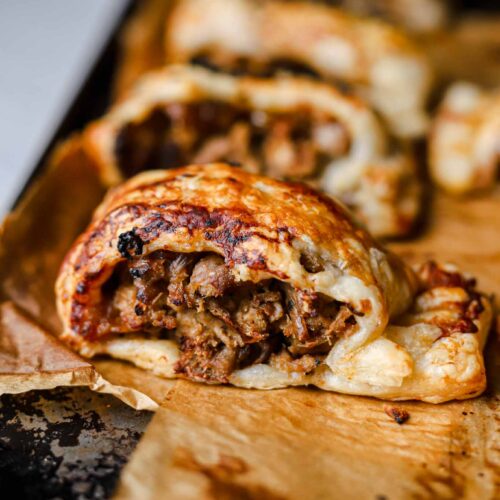 4 Ingredient Vegan Sausage Rolls
Only 4 ingredients needed to make these delicious stuffed vegan sausage rolls with cranberry sauce. A delicious golden flakey crust with a tasty vegan sausage filling. Perfect for friends!
Ingredients
6

vegan sausages

4-5

tbsp

cranberry sauce or chutney

1

sheet ready made puff pastry

2

tbsp

Tamari for the wash or soy sauce
Instructions
Cook the sausages until just done (usually around 15 minutes at 180ºC)

Roll out the puff pastry sheet on a flat surface then spoon on the cranberry sauce down the shortest length of the sheet

Crumble the sausages then sprinkle over the top of the cranberry sauce

Fold over the puff pastry then seal by using a fork to pinch the edges

Brush with tamari (soy sauce or regular wash with work too)

Then bake at 200°C for 20 minutes or until beautifully golden and crisp
---