Vegan Cream Cheese and Pancetta Pinwheels
This vegan cream cheese and pancetta pinwheel are a great recipe to serve at a party as a canapé idea or if you have a few friends coming over. Using Nush chive infused cream 'cheese' and a vegan pancetta these have a beautiful balance of creamy, salty, buttery goodness.
Step By Step
Roll out the ready made puff pastry then spread over the cream cheese. Using a flavoured cream cheese will give this even more flavour –  I chose a chive infused one. Top tip, add a few extra fresh chives or parsley to the cream cheese.
*using a silicone spatula will help spread the cream cheese on smoothly*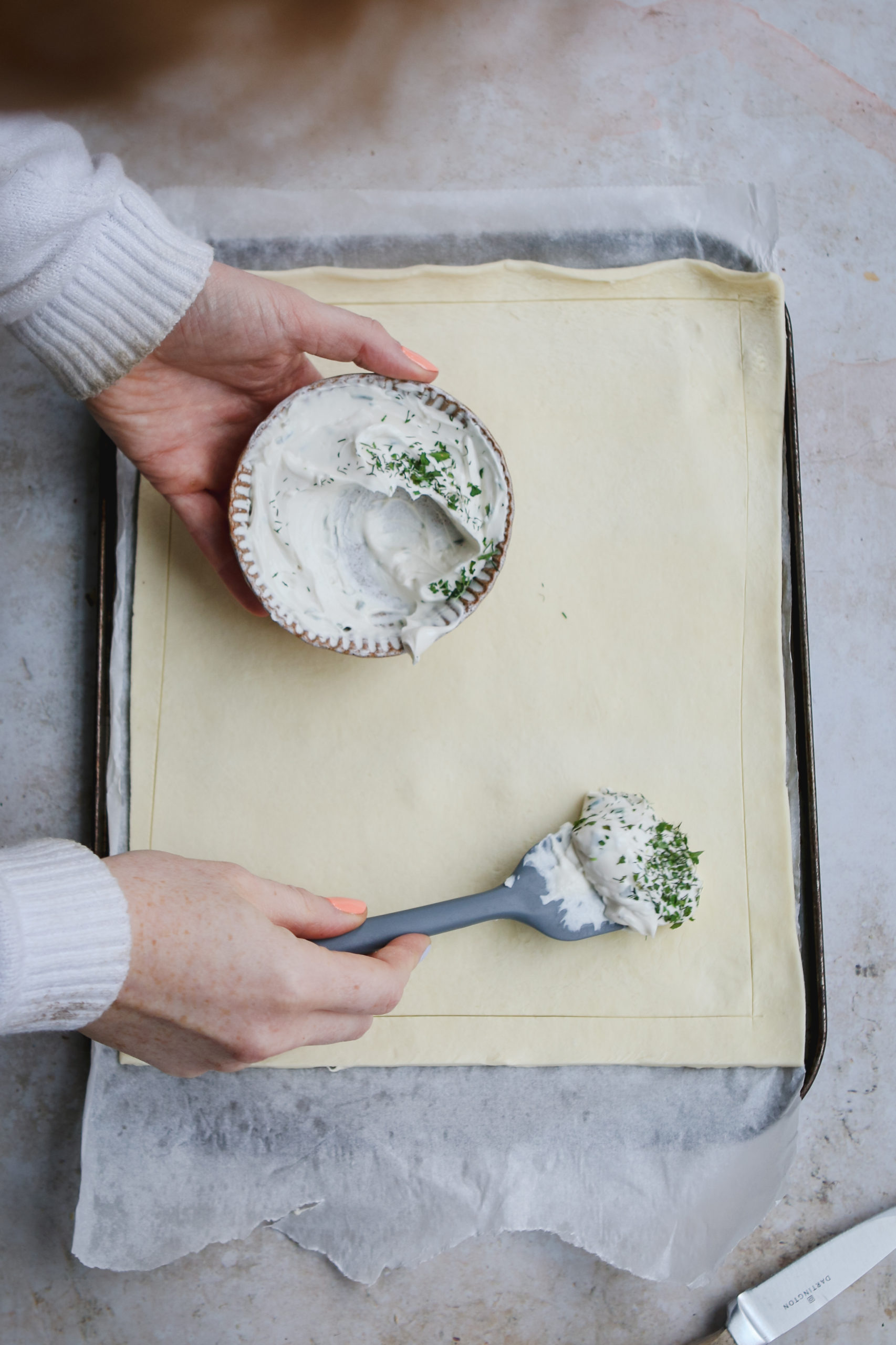 Sprinkle and Roll
There's no need to precook the pancetta however please feel free to do so. Sprinkle the pancetta and extra dried herbs across the top of the pastry sheet, careful to spread everything evenly. No one wants to pinwheel with no filling!
You can get creative with what ingredients you'd like to add however using a simple mix of chives, parsley and black pepper will be delicious enough.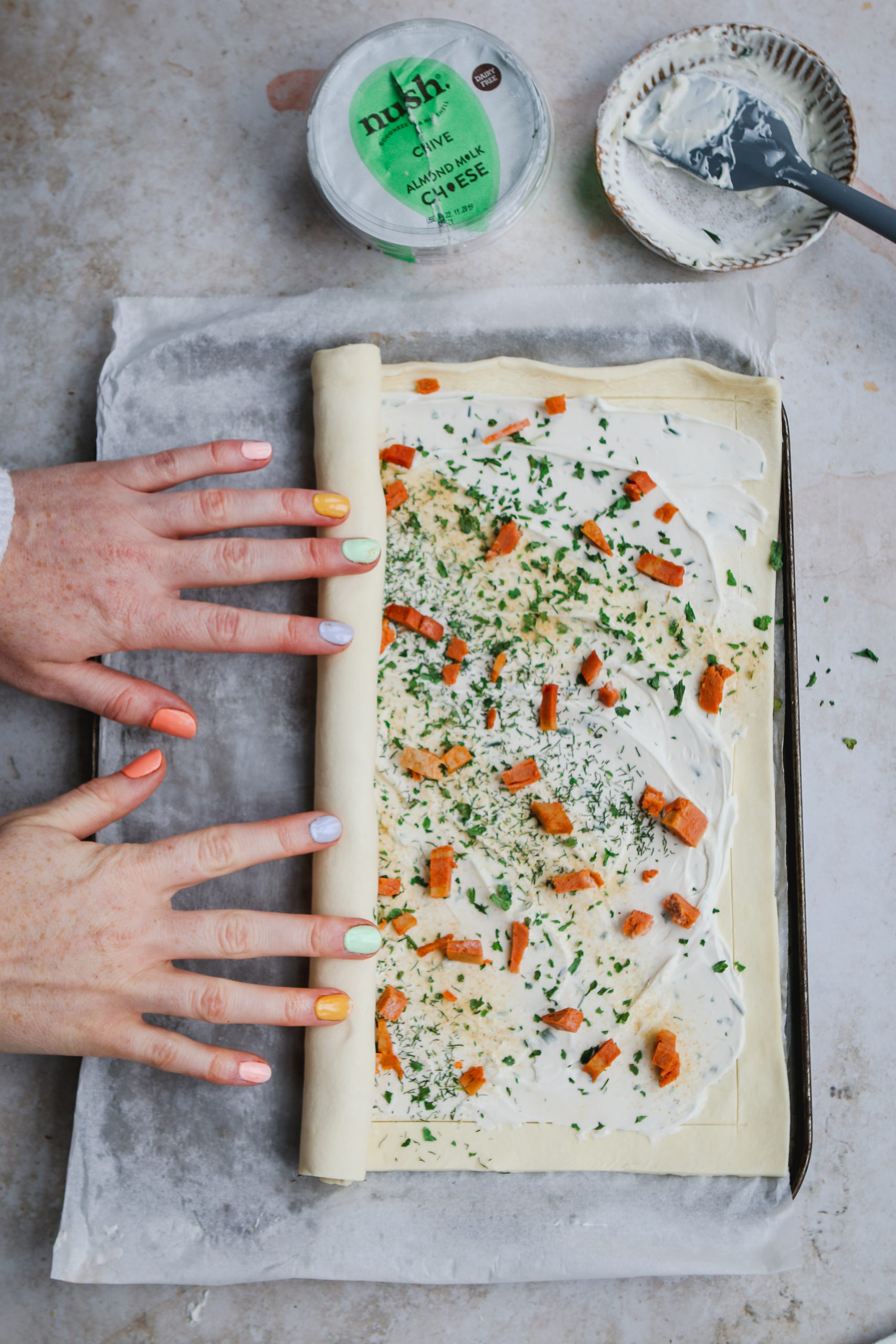 Roll Them Up!
Rolling the pastry lengthways you will create one long and skinny sausage shape. Then using a super sharp knife slice down the middle to create two. Then repeat this process until you have around 14 – 16 sausages. If the filling is really warm it may get a little messy, but just keep that knife clean and it will be perfect.
You can decide to give them a brush in tamari or not, it won't effect the pastry too much but the tamari glaze adds an extra kick of flavour.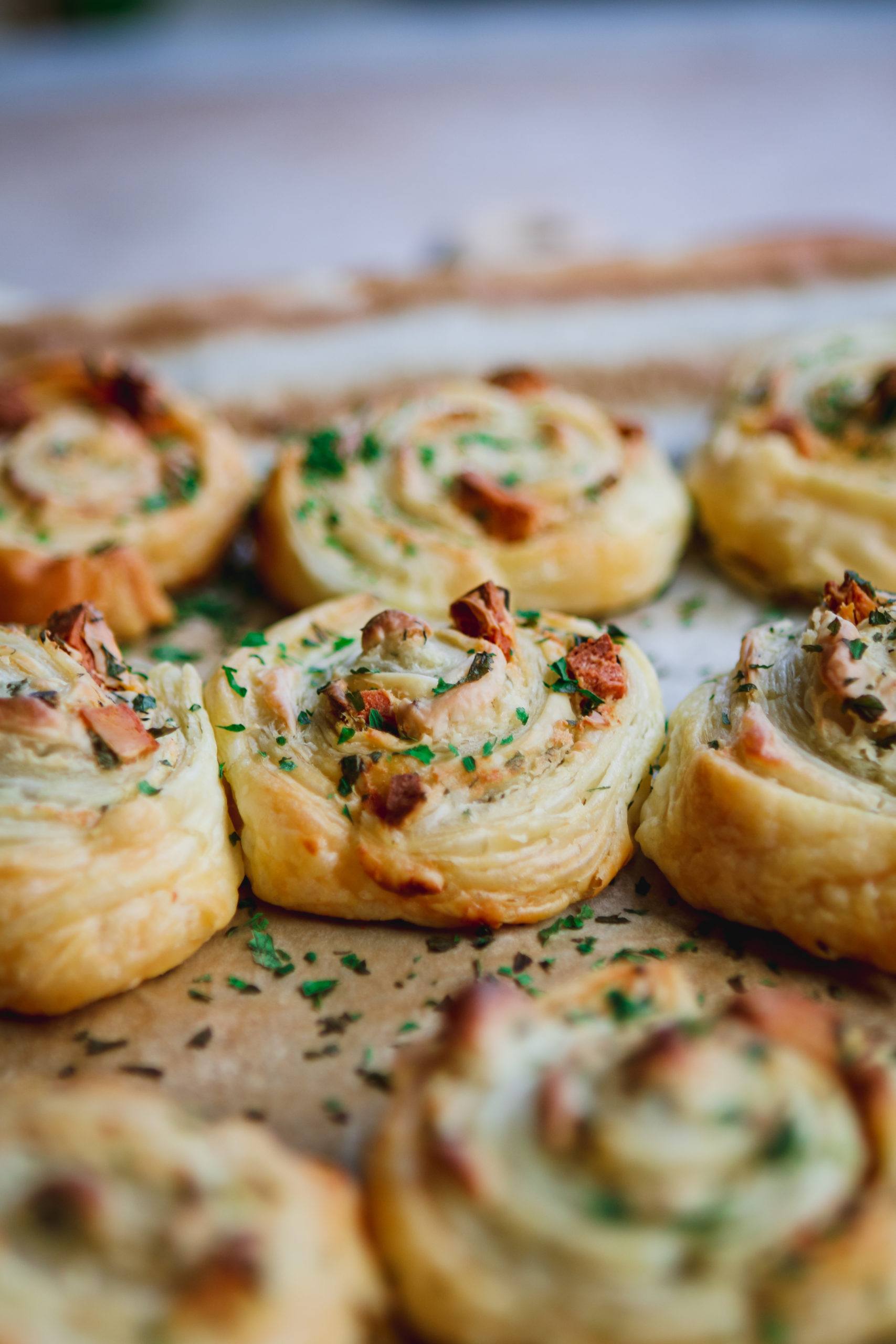 ---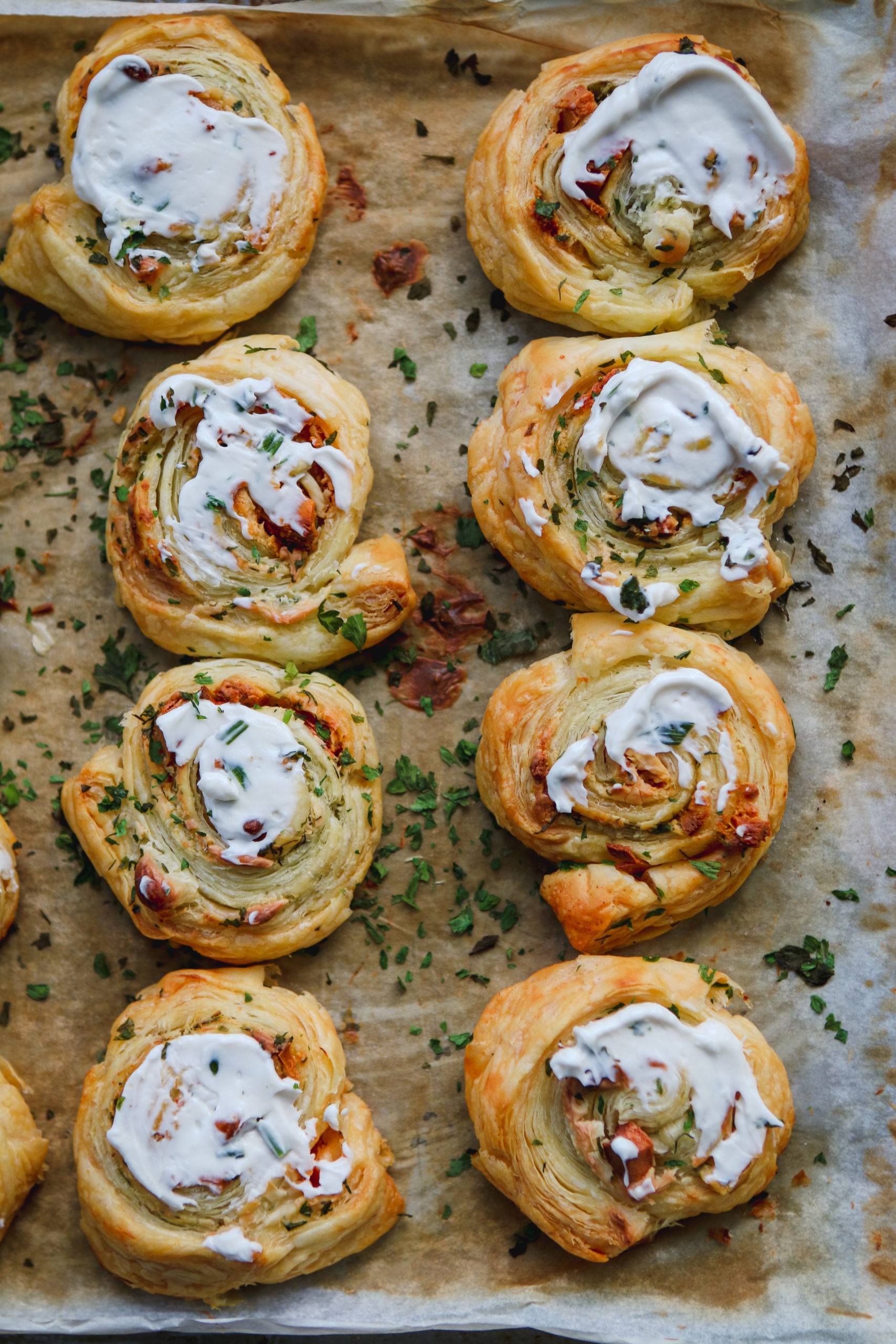 Vegan Cream Cheese & Pancetta Pinwheels
Vegan puff pastry pinwheels filled with plant based cream cheese and pancetta. Deliciously indulgent and perfect for parties of gatherings
Ingredients
1

sheet ready rolled puff pastry

100

g

plant based cream cheese

I used a chive infused cream cheese

1

tsp

dried parsley

1/2

tsp

dried garlic

50

g

vegan 'pancetta'

1/2

tsp

cracked black pepper

2

tbsp

tamari

for the wash

1

tbsp

fresh chopped chives to garnish

optional
Instructions
Allow the pastry to warm to room temperature

Roll out the pastry sheet onto an even surface and spread the cream cheese evenly across

Sprinkle the garlic powder, dried parsley and vegan pancetta with a pinch of cracked black pepper

Roll lengthways to make a long sausage shape then using a sharp knife, half, half again and repeat until you have around 12 pinwheels

Place the rolls on the baking tray on the greaseproof paper (that coats the puff pastry) then brush with the tamari to create a beautiful glaze (2tbsp should be enough to lightly cover all of the pinwheels)

Pop in a preheated oven at 200ºC for 12-15 minutes or until beautifully golden

Add a little extra cream cheese to the top then garnish with a sprinkle of fresh chives or dried parsley and enjoy!
---
If you like this recipe you might like my easy 3 ingredient sausage roll recipe.