I very recently  tried Bao Buns at Dinerama in Shoreditch. I love asian cuisine however hadn't managed to find any vegan friendly ones. Once I tried them I was hooked! I'm all about carbs so anything that was a balance of carbs, sauce and delicious fillings has me straight away.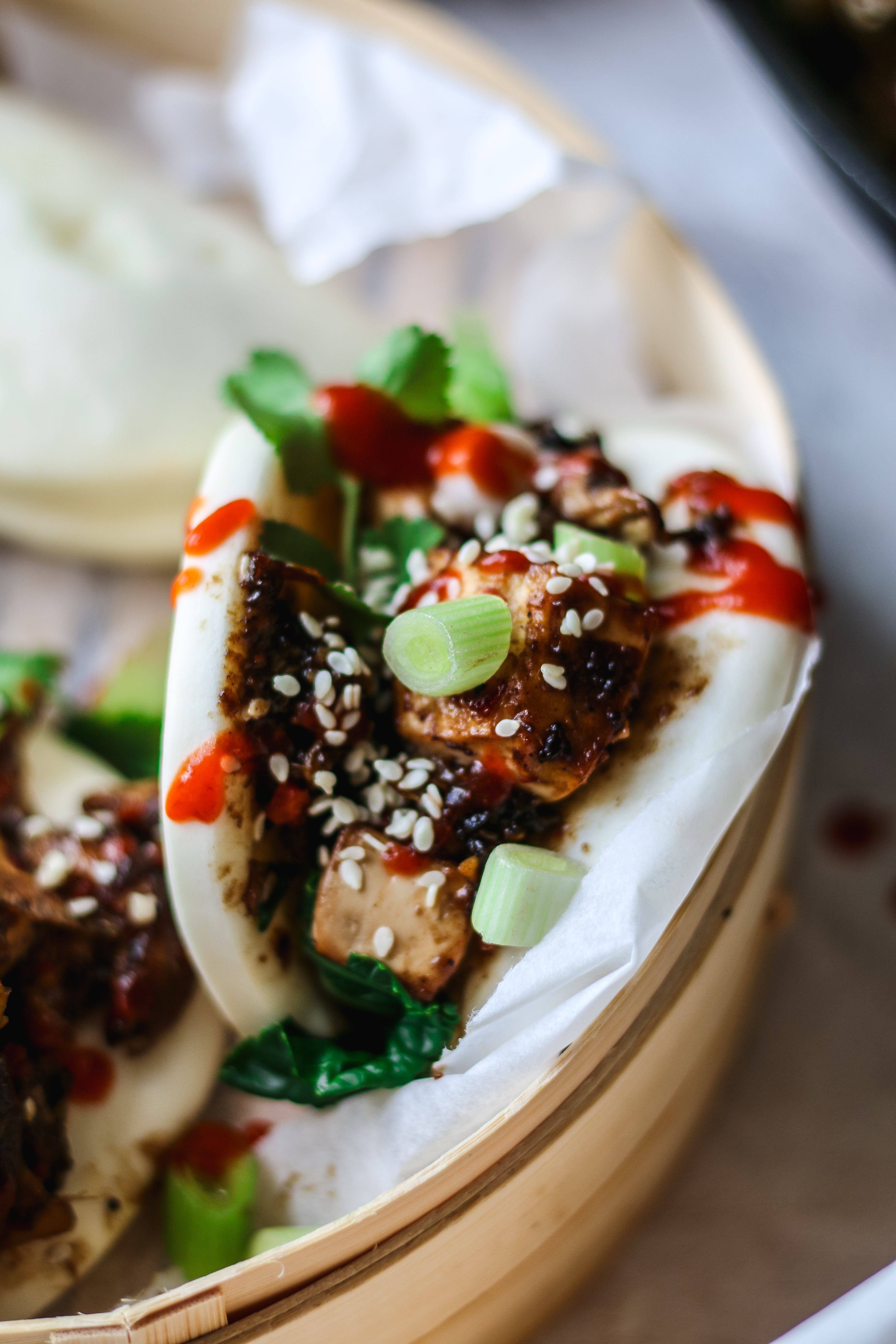 On a campaign with Circulon I was testing the pans for the stickiest sauce full of flavour. I hope you enjoy the recipe!
Ingredients:
250g firm tofu cubed into 4cm thick blocks
3 cloves garlic peeled & minced
1 red onion finely chopped
1 red chilli
150g shitaake mushrooms chopped
4 tbsp black bean sauce
2 tbsp tamari
1 tbsp tamarind paste
1 tbsp honey or maple syrup
Generous pinch salt
4 bao buns
2 pak choi
1 tbsp sesame seeds
Coriander to garnish
Sriracha sauce (optional)
2 spring onions (optional)
Method:
Preheat the oven to 200ºC
In a medium sized pan add ½ tsp oil and gently fry off the red onion until softened, then add the chilli and  minced garlic cloves and fry for an additional 1 minute
Add the mushrooms and cubed tofu then the black bean, tamarind, honey and tamari and fry for around 10 minutes
Top with ½ tbsp sesame seeds and pop in the oven for 8 minutes to crisp
In a bamboo steamer bring a flat pan of shallow water to simmer then steam the bao buns and pak choi for around 5-8 minutes
Using and oven glove (don't forget like I did) and take the pan out of the oven and give a stir
Assemble the bao buns with the sticky filling, steamed pak choi and top with sesame seeds, fresh coriander and additional chilli if you like it spicy!
I served mine with a hot sriracha sauce spring onion too!