Wild Mushroom Vegan Gyros with Oregano Infused Vegenaise
These vegan gyros inspired wraps are made with wild mushrooms (shiitake, oyster and chanterelle) seasoned with a shawarma spice mix and brought together with a creamy vegan 'mayo' using Follow Your Heart Vegenaise. Whether you have home made fluffy pittas or shop bought, the filling will bring this dish to life.
Let's get into the vegan gyros.
Wild Mushrooms- I've used a mix of chanterelle, shiitake and oyster mushrooms. At my local supermarket there's a 250g pack of mixed wild mushrooms which is brilliant for adding a range of texture. If you don't have access to these, using a mix of portobello, cup and chestnut mushrooms will work a treat.
Shawarma Spice- To give a delicious flavour to the mushrooms, add a good tbsp of shawarma spice mix, which will add a bit of umami to the veg. I also used garlic and
Fluffy Pittas- For a gyros style wrap you want a fluffy big pitta. You can make these by hand however you need a really hot griddle pan or oven to be able to get that fluffy but even bake. I just bought these ones.
Fries- I've opted for a white potato to make the homemade chips but you can use sweet potato if preferred. I've seasoned the potato with oregano, thyme and salt and roasted them in olive oil.
Herby 'Mayo' Dip- I've used the Follow Your Heart Avocado Oil Vegenaise for this mixed with oregano, parsley and thinly chopped cucumber.
---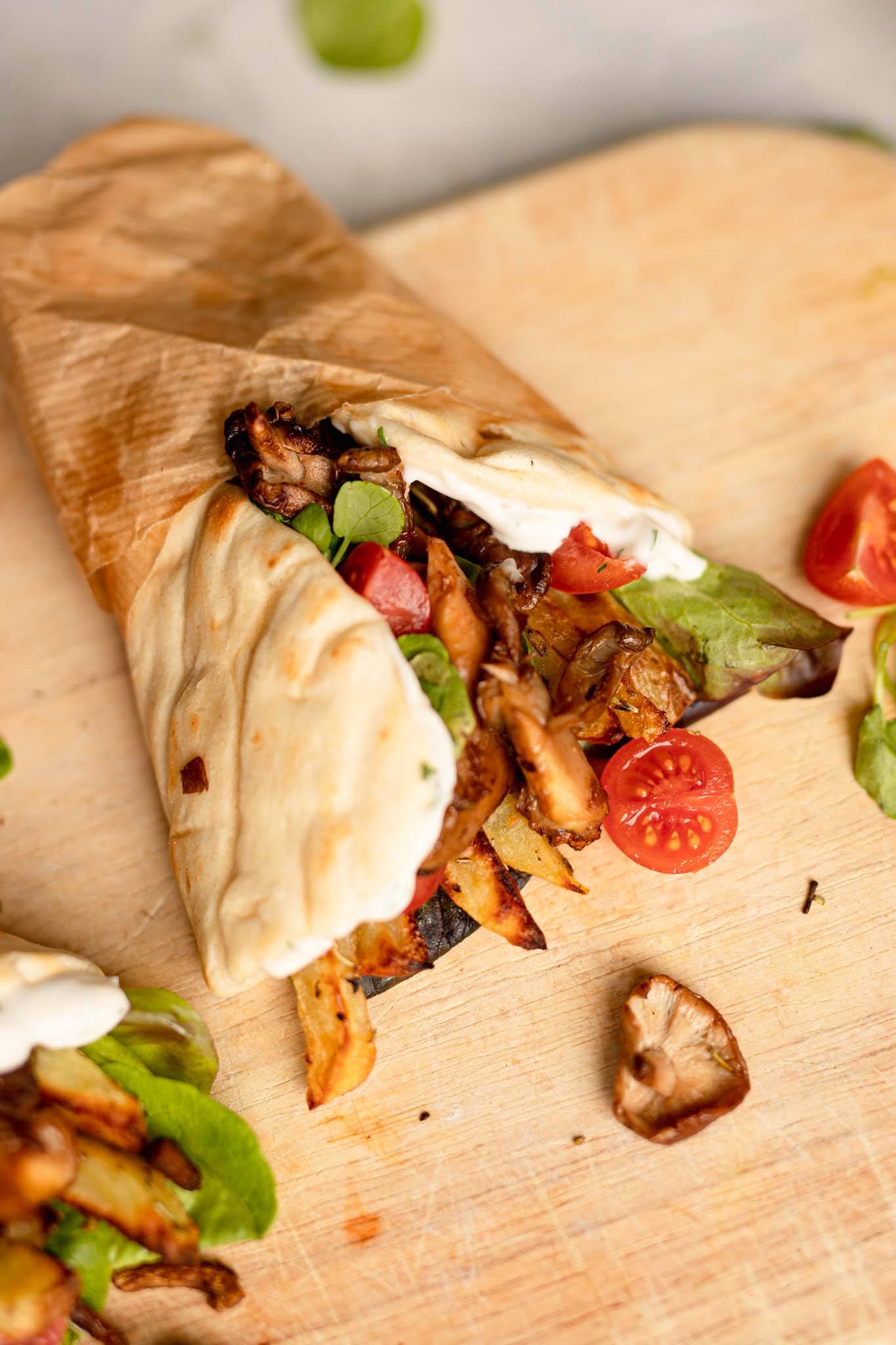 Cooking Tips For Vegan Gyros
Mushrooms & Garlic- To get a beautiful flavour with the mushrooms, fry them with a little tamari and a few cloves of minced garlic for maximum flavour
Crispy Chips- You can add a sweet smoked paprika to the fries to make them feel a little more traditional too! I remember when we were in Athens they had a beautiful sweet smoked paprika salt on them, it was delicious.
Layer up the vegenaise dip- Go heavy on the 'mayo' as you want lots of the delicious sauce to accompany the salad & filling.
---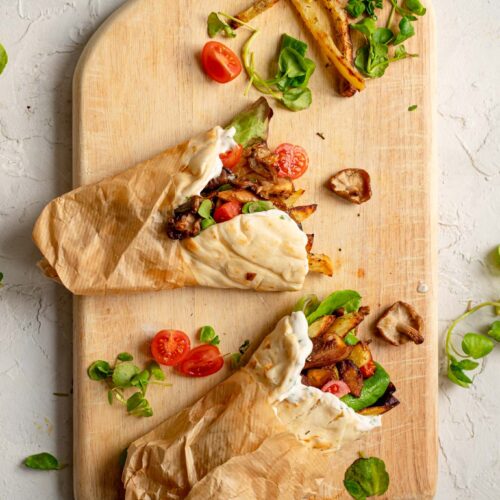 Wild Mushroom Vegan Gyros with Oregano Vegenaise
Delicious vegan style gyros, flutty pitta filled with shawarma spiced mushrooms brought together with a delicious oregano and parlsey flavoured vegenaise dressing.
Ingredients
For the mushrooms:
250

g

mixed mushrooms

2

cloves

garlic

minced

1 ½

tsp

shawarma spice mix

substitute for cajun

1

tsp

olive oil
For the fries:
1

1 large baking potato

sub for 1 large sweet potato

1

tsp

dried parsley

1/2

tsp

oregano

½

tsp

thyme

Large pinch salt
For the wraps:
2

large tortilla wraps

Handful spinach

Pickled red onions

3

tbsp

Follow your heart avocado oil vegenaise

½

tsp

oregano

½

tsp

parsley

½

cucumber quartered

optional
Instructions
Preheat the oven to 200ºC and slice the potato into fries, drizzle in oil, the herbs and salt then bake for 30-40 minutes, turning after 20 minutes

Fry off the mushrooms in a drizzle of olive oil along with the minced garlic and shawarma spice mix for around 8 minutes

Build the wraps by layering on the Follow your heart vegenaise dressing, a handful of spinach, pickled red onions and the mushrooms

Layer on the cooked potato fries, fold and enjoy!
Notes
If you're quick pickling the red onion you will need:
1 red onion, 1 tbsp vinegar, 1 tsp sugar 1/2 tsp salt, 4 tbsp water
Thinly slice the onion then place in a jar with the mix for around 10 minutes whilst you're prepping all of the food.