Creamy Vegan Mushroom Soup
This comforting mushroom soup recipe is vegan friendly and really easy to make. Using garlic, oregano, thyme and smoked paprika it picks up flavours from the Mediterranean but with a smokey kick. Perfect for autumn nights, lets take a look at the recipe below.
Recipe Breakdown
Wild Mushrooms – Choosing wild mushrooms for this dish will give a slight variation in flavour and texture just from the mushrooms alone. I used a mix of oyster, chestnut and shiitake within this soup.
Herbs-  Using mediterranean herbs such as oregano, basil, and thyme with a little touch of smoked paprika adds a really beautiful depth of flavour. When you're frying the mushrooms, onion and garlic in the herbs and oil it smells INCREDIBLE.
Cream- Traditionally with this soup you need a heavy cream which is basically a cream that has a higher fat content. There are loads of 'creams' within the plant based market at the moment so whether you use a soy based cream,  or an oat based cream it will work. I used Oatly single cream in this. When I add the butter to the recipe is helps thicken this as though it were a 'heavy' cream.
Cornflour- This is a brilliant ingredient. Naturally gluten free and brilliant at thickening soups and stocks. I added around 1tbsp to thicken this up however you can add as little or as much as you like (within reason, I wouldn't add more than 2tbsp)
Vegetable Stock-  I use boiling water mixed with a good quality vegetable stock cube. If you're doubling up the recipe, don't forget to double up the stock cubes too!
---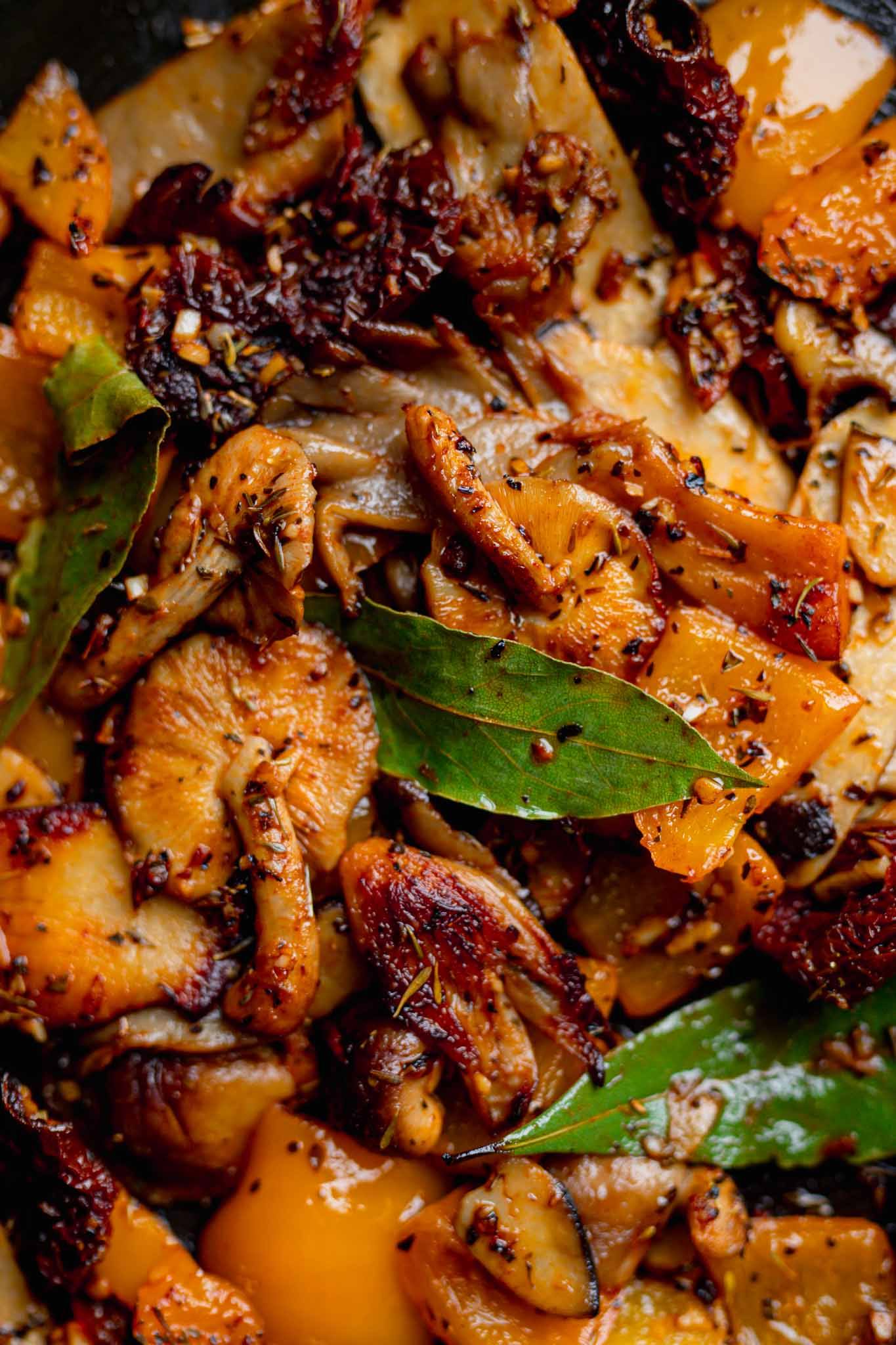 Cooking Tips
Fry off the vegetables first
Frying off the onion, garlic, herbs and mushrooms first allows the mushrooms to caramelise in the butter. If you fry in a good quality non stick pan for around 6-7 minutes it gives the mushrooms and peppers enough time to start to get a beautiful glaze before adding the stock and cream.
Add the stock before the cream
When you add the stock you want to get the temperature to a low simmer first which will give the water enough time to start to mix all of those beautiful flavours from the vegetables. Turn the temperature right down so it's not simmering or bubbling then add the cream. You don't want the temperature too hot as the cream can separate / spoil.
Add crusty fresh or toasted bread at the end
Adding buttered toast or bread, or even leftover breadcrumbs will make a really delicious crunch in contrast to the creamy soup.
---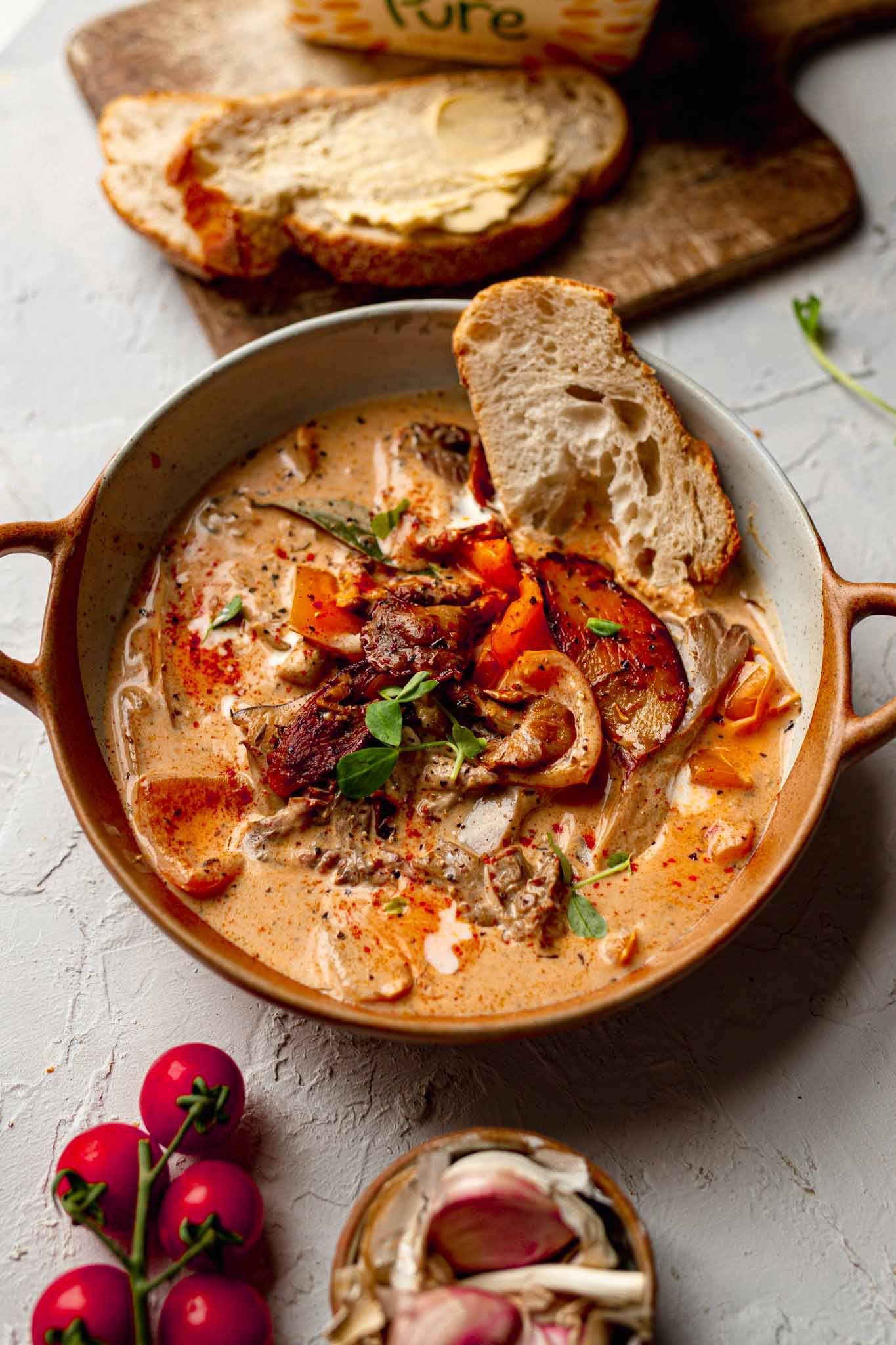 ---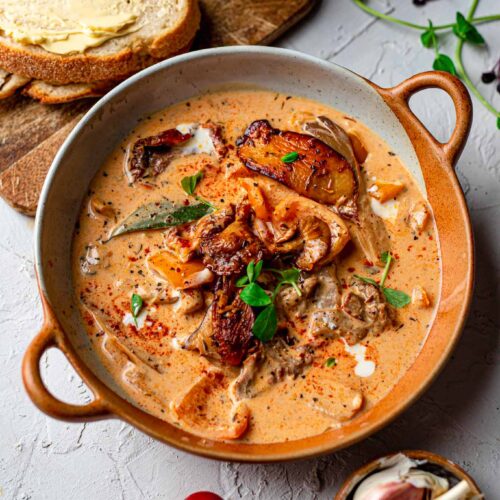 Tuscan Wild Mushroom Soup
Creamy wild mushroom soup inspired by the classic Tuscan soup. Flavours or thyme, oregano, garlic and smoked paprika brought together with a heavy (vegan) cream to make an indulgent comfort food.
Ingredients
4

cloves

garlic

minced

1

white onion

finely diced

1

pepper

chopped into 4cm squares

2

tbsp

Pure Dairy Free Sunflower Spread

5-6

sun dried tomatoes

chopped into small chunks

200

g

mixed mushrooms

chopped

400

ml

veg stock

made with boiling water and 1/2 stock cube

200

ml

plant based cream

can also use oat based creme fraiche
Herbs
1

tbsp

smoked paprika

1

tsp

dried basil

1

tsp

dried oregano

1

tsp

dried thyme

Large pinch salt & pepper

1 tbsp cornflour to thicken, optional

2

bay leaves

not essential but works beautifully
Instructions
Method:
Add the Pure spread to a deep pan, place on a medium heat then add the onions and fry for around 5 minutes

Add the minced garlic cloves, sundried tomatoes, pepper and mushrooms to the pan along with all of the herbs and fry for a further 6-7 minutes

Once the mushrooms have browned add the vegetable stock, give a stir then reduce the heat right down

Add the cream and stir together, taste test adding more seasoning / herbs if needed

Serve with a slice of crusty bread & a generous slather of vegan butter
Notes
Try adding plant based chorizo to add a real smokey flavour