Pearl Barley Roasted Vegetable Risotto
Using pearl barley as the base for a risotto instead of arborio makes a delicious alternative. This vegan friendly risotto is naturally gluten free with lots of flavour and brilliant eaten cold the next day. If there's just two of you there'll be loads for leftovers in the week.
What's in the recipe?
Pearl Barley- This is a grain that can be either cooked from raw or soaked overnight. If you know you're cooking this in the evening, soak in the day, drain then add to the pot just as instructed. It will take less time to cook if it's been soaked.
Vegetables- I've used courgette, tomatoes and peppers, sliced into small pieces as it works with the grains if they're slightly smaller. If you roast the vegetables on a tray with the herbs and olive oil, it gives a delicious flavour instead of adding to the pot. If you're unable to roast them, simply add the vegetables to the pot after frying the onion and garlic, sizzle for a few minutes then add the grains and white wine.
White Wine- I get asked if you can replace the wine, however having made risotto without it, can confirm it doesn't create the same flavour. It's really difficult to find a good substitute so find a nice white wine (vegan friendly if you're vg) and enjoy. You don't have to spend much on a bottle
---
Cooking Tips
Pear Barley- When cooking this grain, you can soak them for a few hours beforehand if you want to, however it isn't essential to this recipe. If you do soak them, it will reduce the cooking time from about 40 minutes to 25 minutes.
White wine- I think the wine is a really essential ingredient for a good risotto, pour it into the pot before adding the stock, so it absorbs into the pearl barley. That way it'll cook off the alcohol but retain the flavour.
Roasting the veg- I think adding the vegetables to the oven gives a delicious caramelised flavour. If you chop them up into fairly small pieces it also really helps it work with the grains without being too bit to take a big bite.
Slow and low- With a risotto the trick is to not rush but instead simmer and stir slowly. This will allow all the delicious flavours to marry each other and turn into a pot of comfort food.
Add my pepper and garlic oil to each bowl. Find the recipe just HERE. It's a paste recipe, almost like harissa, so add a drizzle of the oil made from the paste to each bowl, it's delicious!
---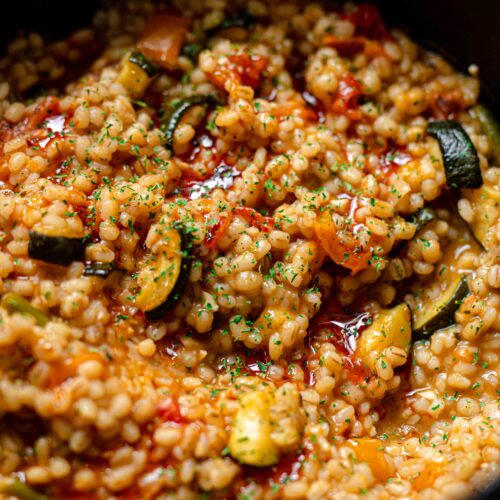 Pearl Barley Vegetable Risotto
Using pearl barley instead of arborio to make this delicious vegetable risotto. It's vegan friendly with lots of flavour and brilliant eaten cold the next day. If there's just two of you there'll be loads for leftovers in the week.
Ingredients
For the roasting tray:

vine of tomatoes

about 250g

1

courgette

diced

1

pepper

diced

Generous pinch of salt

pepper, smoked paprika and thyme

For the pot:

1

Knob of vegan butter

2 tbsp

5

cloves

garlic

1

large shallot or red onion

250

g

Pearl barley

200

ml

white wine

1.2

l

Boiling water + stock cub

1

tsp

dried thyme

1

tsp

salt

Generous serving of cracked black pepper

to own preference

1

tsp

fresh parsley

or dried
Instructions
Pop the oven on to 200°C and add all of the veg to a roasting tray, add the seasoning with a drizzle of olive oil and toss, then pop in the oven and leave for 30 mins

Place the large pot on a medium heat, add the vegan butter and the diced shallot and fry for 4 minutes before adding the finely chopped garlic cloves

After a few minutes add the Pearl barley and toast before pouring in the white wine and allow to simmer and soak

Once soaked up, add the dried thyme and vegetable stock a cup full at a time until each batch has been absorbed

Once you've added all of the stock, add the salt and pepper, pop a lid on top and leave to simmer on a medium heat for a further 15 minutes or so

After around 30 minutes once the veg has cooked, the risotto should be about fully absorbed, add the roasted veg to the pot, mashing in the delicious tomato juices

Once the Pearl barley has softened and cooked, serve up with fresh chopped parsley (or dried) another pinch of salt and pepper and enjoy!
Notes
•Flora vegan butter is great
•A good drizzle of extra virgin olive oil to top each dish is also great!
•If you want an extra kick add my garlic and pepper paste oil to each dish also!