Vegan Asparagus and Shiitake Mushroom Risotto
This asparagus and shiitake risotto is vegan and gluten free.  It's easy to make and just takes 30 minutes of stirring to create a delicious hearty week-night meal. Asparagus season  is here so let's celebrate with a recipe that works perfectly with the shiitake mushrooms.
What's in the recipe?
Asparagus – Celebrating the season of asparagus, try and find locally grown asparagus to help cut down on air miles.
Shiitake Mushrooms- I've used shiitake as the texture is slightly meaty agains the fluffy rice, however you could easily swap this for whatever mushrooms you have available.
 Arborio Rice- This short grain rice is perfect for risottos and is readily available in most supermarkets. You can swap this for bulgar wheat, follow the same process but remember to soak the wheat for a few hours before.
Vegan Butter- I've used the flora salted butter because it is a really good vegan alternative to butter. You want at least 2 heaped tbsp in this recipe to make a delicious creamy risotto.
Stock- I use boiled water and vegetable stock cubes for this, it's cheap and easy to make. You can use a home made stock if you prefer.
Lemon- To cut through the salty, herby, creamy risotto, you need a good squeeze of lemon juice for acidity to really help the risotto have a full and round flavour profile.
Seasoning- I can't express how important salt and pepper is to this recipe – don't be scared of seasoning! Get generous with the seasoning and enjoy.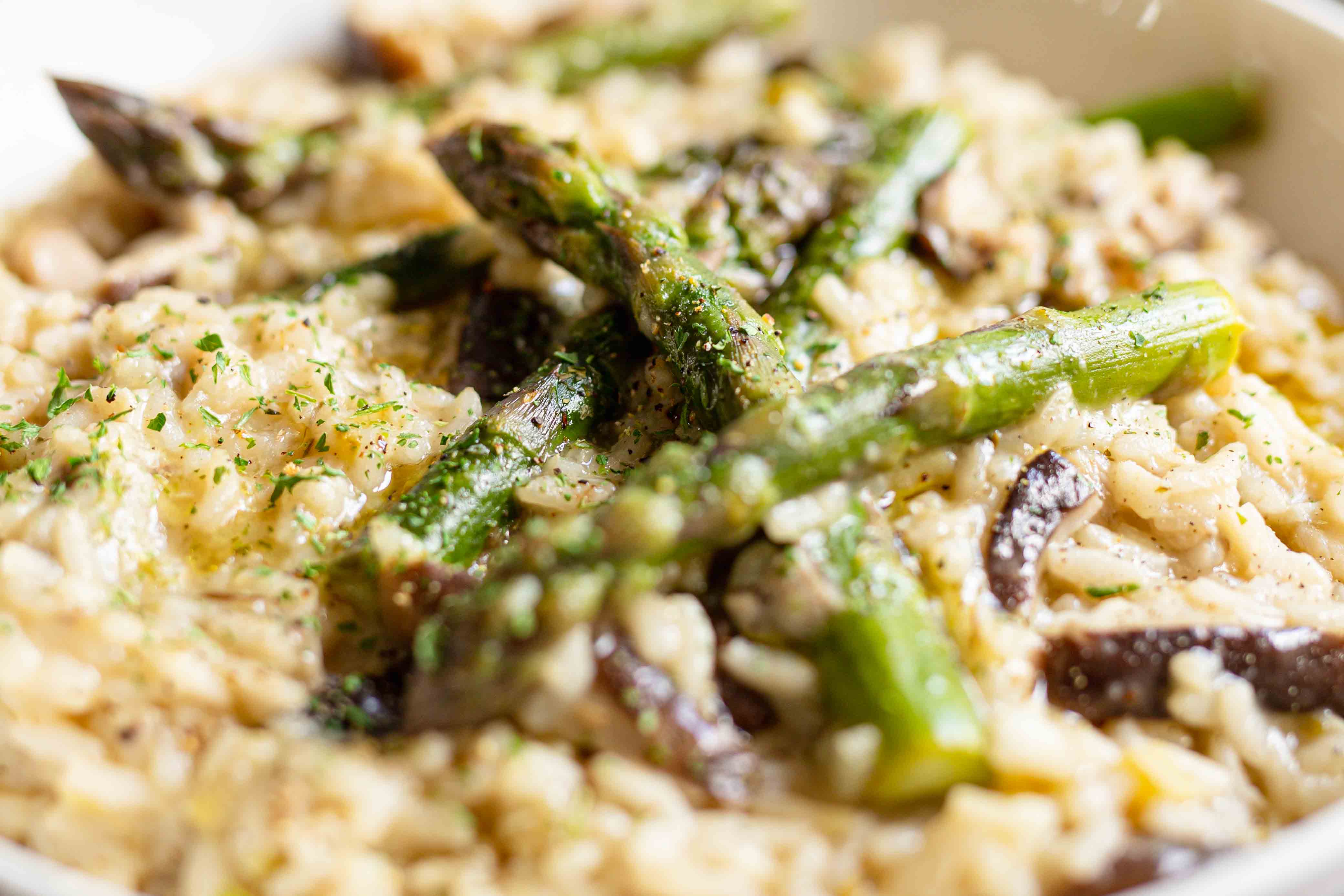 ---
Risotto Cooking Tips
Absorb- Letting the rice absorb each ladle of stock before adding the next is crucial. It's important not to add it all at once, it may mean taking time to stir it through but it's worth it.
Seasoning- Don't be shy of the salt and pepper for this recipe.
White wine- I'm not fussy when it comes to what wine you use for risotto. I won't pretend to be a connoisseur  so just choose a wine anywhere from £4-7 and it'll do the job!
---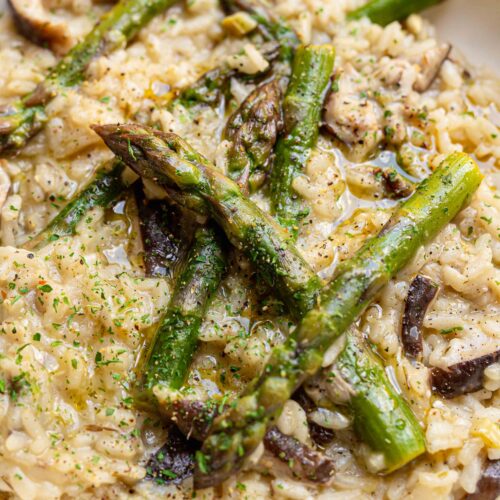 Asparagus and Shiitake Risotto
Vegan and gluten free asparagus and shiitake risotto recipe perfect for batch cooking. Easy to make, just takes 30 minutes of stirring and you have a delicious hearty week night meal.
Ingredients
5

cloves

garlic

minced

250

g

asparagus

2

tbsp

butter

120

g

shiitake mushrooms

chopped

1

tsp

dried parsley

1

tsp

dried thyme

Salt & pepper

1 1/2

tsp

dried thyme

150

g

arborio rice

risotto rice

550

ml

veg stock

I used boiling water and a stock cube

200

ml

white wine

Squeeze 1/2 lemon

1

tbsp

extra virgin olive oil

to top when serving
Instructions
Start by finely chopping the garlic and add to a large pot with the butter, place on a low- medium heat

After a few minutes add the chopped shiitake mushrooms and fry for a further five minutes

Add the seasoning and the dried herbs then add the risotto rice and toss in all of the flavours before adding the white wine, then leave to absorb

Add the vegetable stock a ladle at a time allowing it to absorb before adding the next bit, continue this process until all of the stock has been used

When add the last ladle of stock add the asparagus stalks so they can soften for the last few minutes of cooking

After 3 minutes squeeze in 1/2 lemon juice, season generously season with black pepper and salt before serving and enjoy. Add a drizzle of extra virgin olive oil to the top of each bowl when serving (optional)
Notes
If you snap the ends off your asparagus, finely chop them up and add to the pot along with the mushrooms to prevent food waste