Plant Based Lentil and Leek Curried Soup
Curried soups are my favourite and this time we're making a speedy lentil soup using leeks instead of onions. I'm working with the British Leek Growers' Association to create a series of leek recipe to show off how versatile they are, so here is another delicious recipe for the collection.
What's in the recipe?
Lentils- I've used a pack of precooked lentil for this recipe to keep the time extra quick for a speedy dinner, however I have cooking instructions for if you're using dried red split lentils below in the notes section.
Leeks- Again, celebrating them being in season, I've swapped onions for leeks in this recipe.
Coconut Milk- To make this delicious and rich I've used full fat coconut milk for the recipe
Spices- Using a mixture of spices such as turmeric, cumin, paprika gives a rich flavour. You can use whatever you have at hand whether thats a garam masala spice mix or just a regular curry powder mix. Be sure to taste test, adding a little more if needed.
---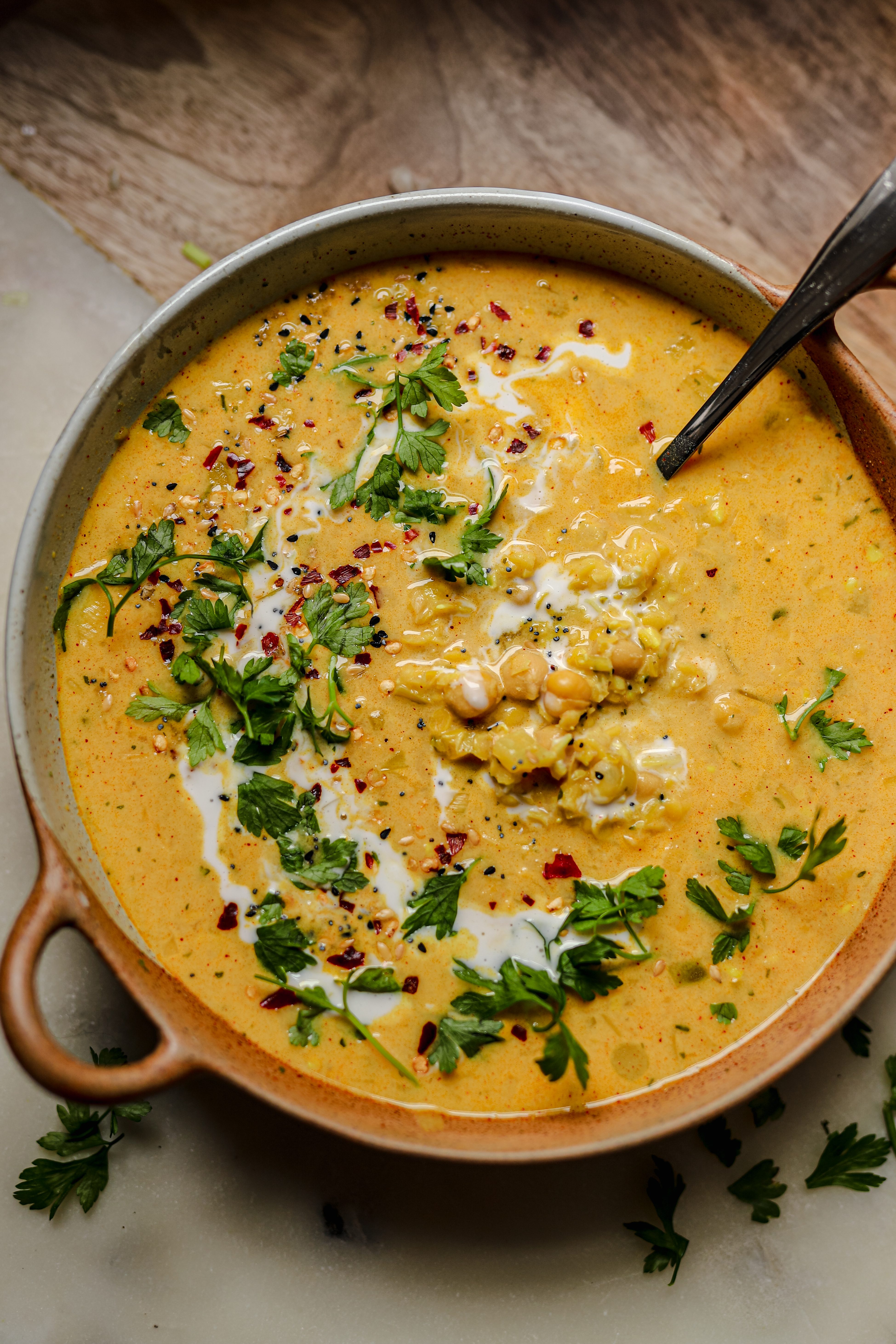 Simple swaps and changes:
Don't have pre-cooked lentils? Don't worry, I have some cooking instructions for red split lentils. The trick is to get them soaking in a pan of water before prepping any veg! That way by the time it comes to adding them to the pot they'll have softened.
Want to add more veg? Please do! Why not try adding chopped courgette, peppers and carrot to this recipe to get a load of veg into your diet. Simple fry off the finely chopped veggies at the start with the leeks and garlic process.
---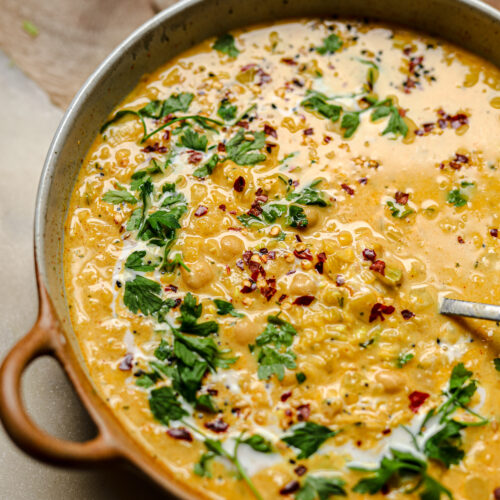 Curried Lentil and Leek Soup
A hearty lentil and leek curried soup recipe, plant based and easy to make. Using pre cooked lentils to keep the cooking time short, you can make this in less than 25 minutes from start to finish.
Ingredients
200

g

pack precooked lentils

substitute for 150g uncooked red split lentils

1

large leek

base and green end, finely diced

4

large cloves garlic

finely chopped

Large thumb sized piece of ginger

finely chopped

1

green or red chilli

finely chopped

400

g

tin of chickpeas

240 drained

400

ml

full fat coconut milk

550

ml

veg stock

water and a stock cube

Spices:

1

tsp

paprika

smoked or hot

1/2

tsp

cumin

1/2

tsp

turmeric

1

tsp

curry powder

optional
Instructions
Start by finely chopping the leeks, chilli and ginger then add to a large pot with 1 tbsp of plant based butter or olive oil, fry on a medium heat for around 6 minutes

Mince the garlic then add to the pot, cook for a few minutes before adding the chickpeas and dried spices

Toss together then add in the vegetable stock, precooked lentils* and simmer for 5 minutes before adding the coconut milk

Leave on a low- medium heat (you don't want the coconut milk to bubble) taste testing along the way, season with salt and pepper

When it's seasoned to preference, serve up and serve with fresh coriander, chilli flakes, pepper and a tsp of the coconut cream from the tin
Notes
UNCOOKED LENTILS COOKING INSTRUCTIONS:
-If you're using dried lentils, add them to a pot of water, soak for around 15-20 minutes, drain then wash again before adding to the soup
-Add another 300-400ml vegetable stock as the uncooked lentils will still absorb water
As the current ambassador for the British leek growers' association I have a whole list of delicious leek based recipes to try out.