Cinnamon Knot Bun Recipe
Whether you've been to Sweden or not, you might have seen their fantastic kardemummabullar knots. Instead of using cardamom (I'm yet to master the balance of this ingredient) I've just used a simple cinnamon butter filing. You can get creative and use a chocolate spread of even the classic biscoff spread.
Ingredients Breakdown
Cinnamon- The key flavour within this recipe which instantly makes me think of our trip to Copenhagen where everything was sweetened with this spice. If you would rather swap the filling for a chocolate spread of biscoss that it also a really good option.
Flour- Again with this recipe (similar to by tahini and date buns recipe)  I've used 00 flour which is a flour traditionally used to make pasta and pizza dough. I just found that it created the lightest fluffiest dough for this recipe. You can swap for plain flour.
Vegan Butter- As always when I refer to butter I mean a vegan spread, you can use any that are available in the shops whether it's coconut based, soy based or oil based.
---
Creating the knot
Like a shoe lace – The easiest way I can describe making the knot is by taking both ends of the strand (the cinnamon filling should still be in the middle) and folding them over each other exactly like you would tie a shoe lace before the bow.
Tucking the ends- By tucking each loose end under the surface it'll create a circular shape ready to stretch out on it's second prove.
Slightly different- Don't worry if not each shape is exactly the same, it'll give them a rustic feel. Plus once they're baked they will look beautiful with a dusting of powdered sugar over the top.
---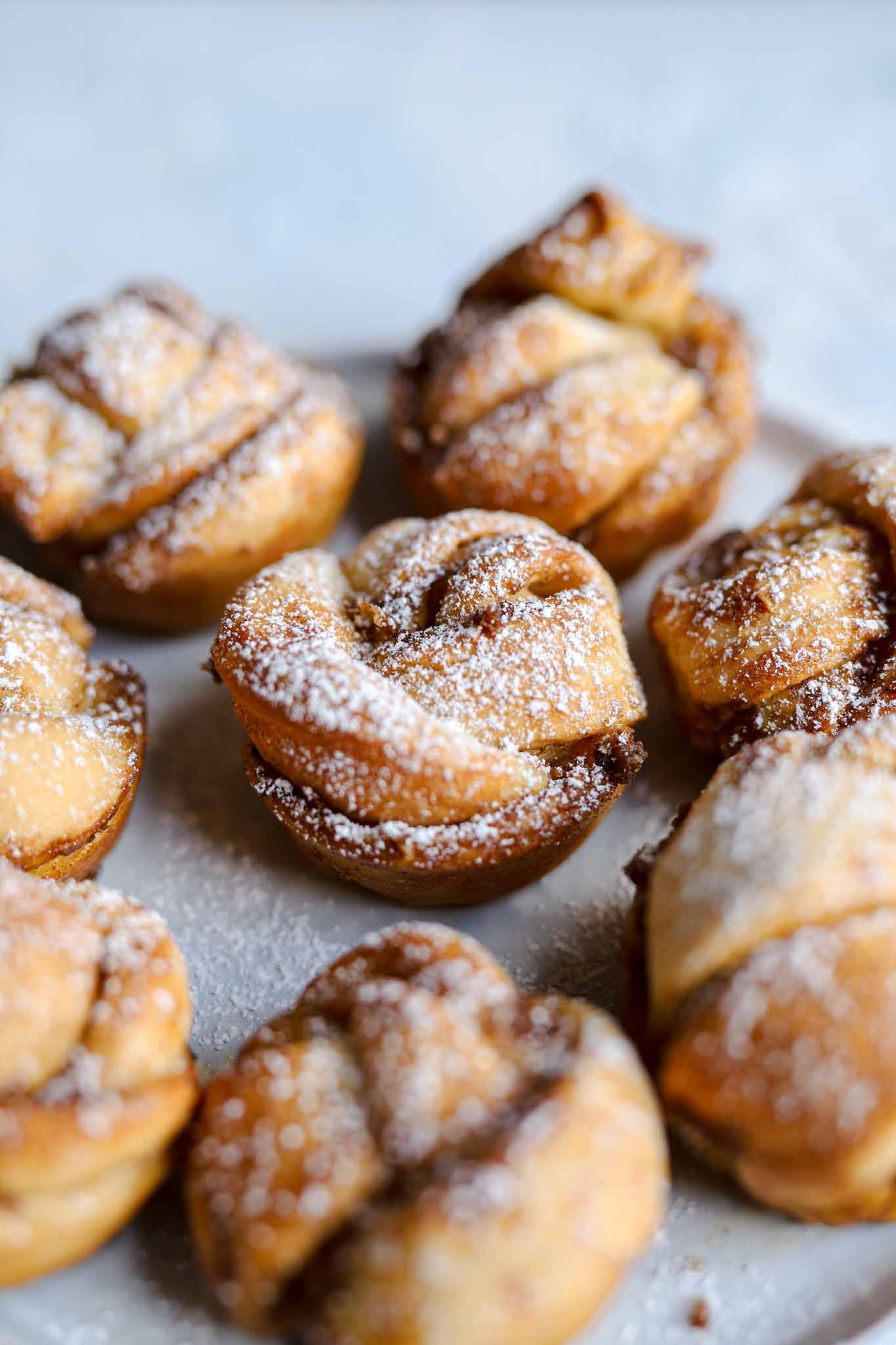 ---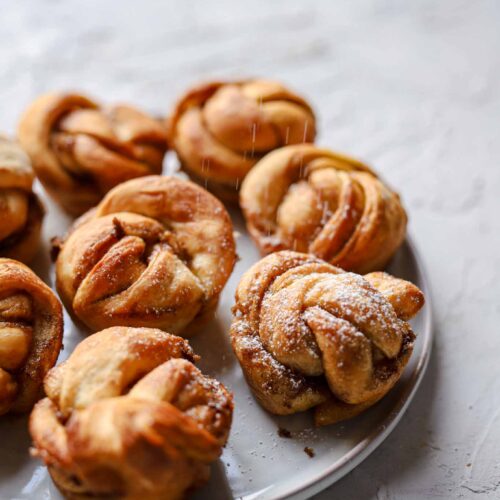 Cinnamon Bun Knot
Inspired by the Swedish Kardemummabulla (cardamom buns) I've created a cinnamon filled version instead. The knots are really simple to create once you've seen how they're done.
Ingredients
For the dough

2 1/4

cups

00 flour 320g

½

tbsp

fast yeast around 3g

3/4

cup

luke warm water 200ml

¾

tsp

sea salt

½

tsp

caster sugar 5g

2

tbsp

olive oil 30ml

For cinnamon filling

150

g

room temperature butter

100

g

golden caster sugar

1

tsp

cinnamon powder

OPTIONAL Frosting

5

tbsp

icing sugar

1

tbsp

vegan butter margarine

1

tsp

cinnamon

2

tbsp

plant based milk or water
Instructions
For the dough

Add the flour, yeast, salt and sugar into a large mixing bowl and combine then slowly pour in the luke warm water and olive oil and bring together

Once combined move onto an oiled clean surface and knead for around 5 minute, if the dough is difficult to work with heavily flour the work surface. The texture should be soft and well brought together (you should be able to stretch the dough without it ripping)

Clean the mixing bowl and drizzle a little olive oil around the bottom, then place the dough inside, cover with a tea towel and leave to prove for around 1 hour (or until doubled in height)

Create the cinnamon filling by simply creaming the butter and sugar together and setting aside

Once the dough has risen knock back the air then form into a neat ball of dough

Flour the work surface and a rolling pin and roll out into a rectangle less than 1cm thick

Spread the cinnamon filling over the top of the rectangle until covered then fold the sheet of dough in half (bringing the two shortest sides together)

Using a sharp knife, (score first) then slice down the shortest side of the dough to create 8-10 thin strips

Take each strip and begin the knot by by grabbing each end like a shoelace and forming the first know (just like tying your laces before the bow) then once the knot is in the middle, simply take each loose end and tuck under itself to create the circular shape

Don't worry if they don't look 'perfect' they will look beautiful once proven and baked

Place into a greased baking dish or muffin tin and leave to rest for a further 20 minutes

Preheat the oven to 180ºC and bake for around 25-30 minutes (if you notice the top catching simply cover loosely in baking parchment)

Allow to cool fully before dusting with icing sugar and enjoy

Simply mix the ingredients together until a thick creamy frosting has formed then drizzle over the top
Notes
You can find the tutorial over on my instagram story highlights which I've just linked here. It's titled 'Knots'.
You can finish these by simple dusting with icing sugar instead of creating a thick frosting. 
---