Roasted Pumpkin and Leek Risotto
This risotto recipe stars roasted pumpkin and leeks to make a delicious bowl of comfort food with loads of flavour and brilliant for autumn cooking. I'm working with the British Leek Growers' Association to create a handful of recipes focusing on the versatility of leeks in every day cooking.
What's in this recipe?
Leeks- Swapping onions for leeks in this recipe as they give a delicious sweet flavour that works with the pumpkin. I've chopped them really finely for this recipe to sweat down in a pot at the start of the recipe.
Pumpkin- It's autumn when I'm writing up this recipe and millions of pumpkins are thrown in landfill every halloween. Make sure to use up your pumpkin in a tasty recipe such as this one. I've roasted the pumpkin as I think that it's the best way to enjoy pumpkin as it caramelises whilst baking.
White wine- For a while I tried making risotto without wine and have come to the conclusion it just doesn't work without it! You don't have to use anything fancy, but it definitely helps with the recipe to include it.
Arborio – For a good risotto you want the correct rice. Using arborio will give you a creamy risotto as it has a higher starch content. You want to add the stock a little at a time as it likes to absorb slowly.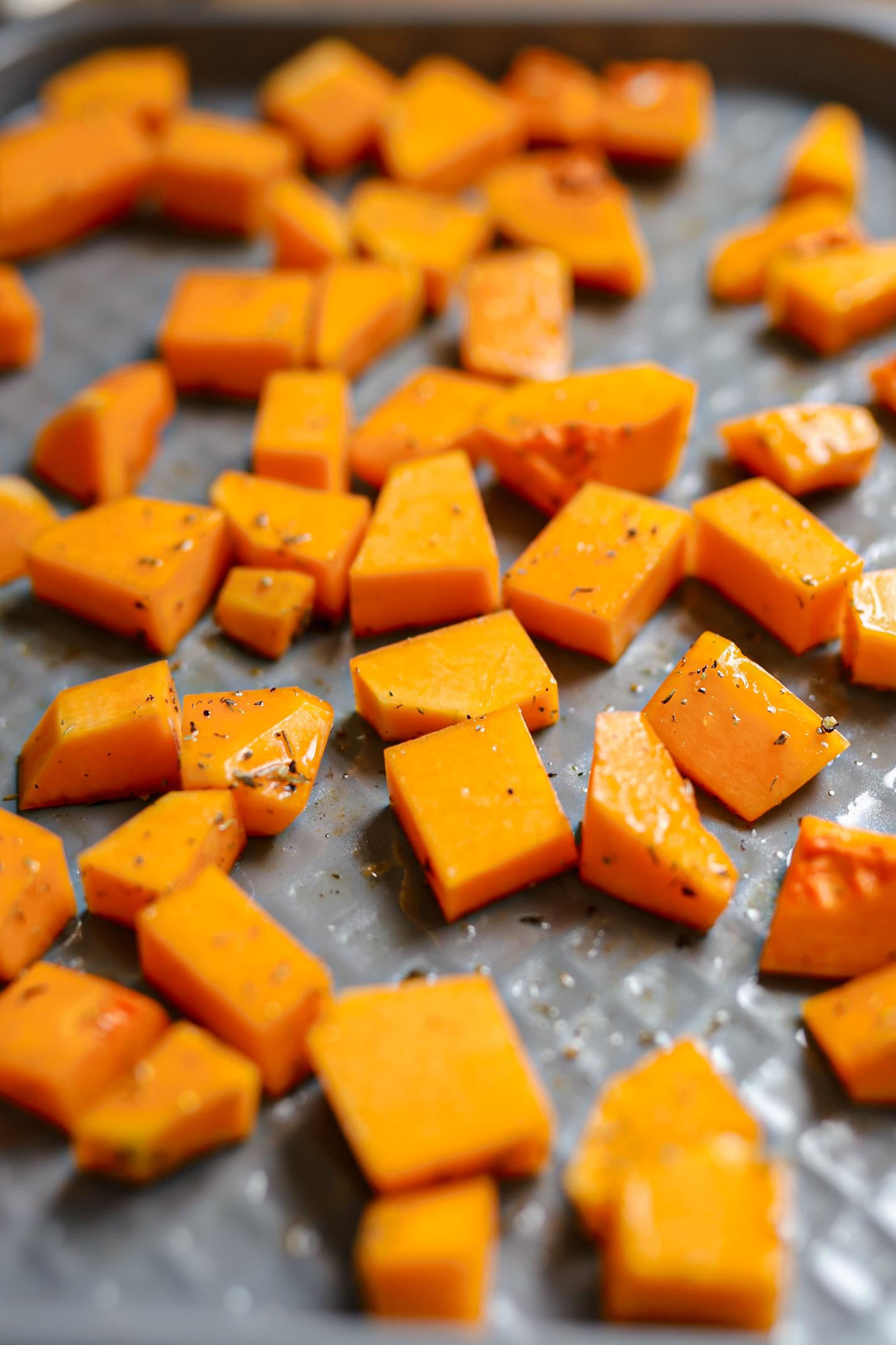 Cooking tips:
Add the stock slowly: Risotto rice (arborio) loves to absorb liquid slowly. A good tip is to add around 250ml of the stock at a time until it has absorbed it, then add the next ladle full.
Roast the squash– I like roasting the pumpkin as it gives a delicious caramel like flavour to it. You can cube it into small pieces and simply add it to the risotto along with the leeks, however I love to add it in at the end once roasted.
Sweat off the leeks- You can use butter or olive oil to sweat off the finely diced leeks depending on preference, if you put the lid on top of the pot it'll help create steam to sweat them down.
Use those pumpkin or squash seeds- Don't throw away the seeds from the pumpkin, simply remove the stringy bits of the pumpkin that holds it together, place on the tray with the pumpkin and roast for around 15 minutes
Top with fresh herbs and extra virgin olive oil- I love risottos when they have fragrant herbs and rich extra virgin olive oil on top of each serving.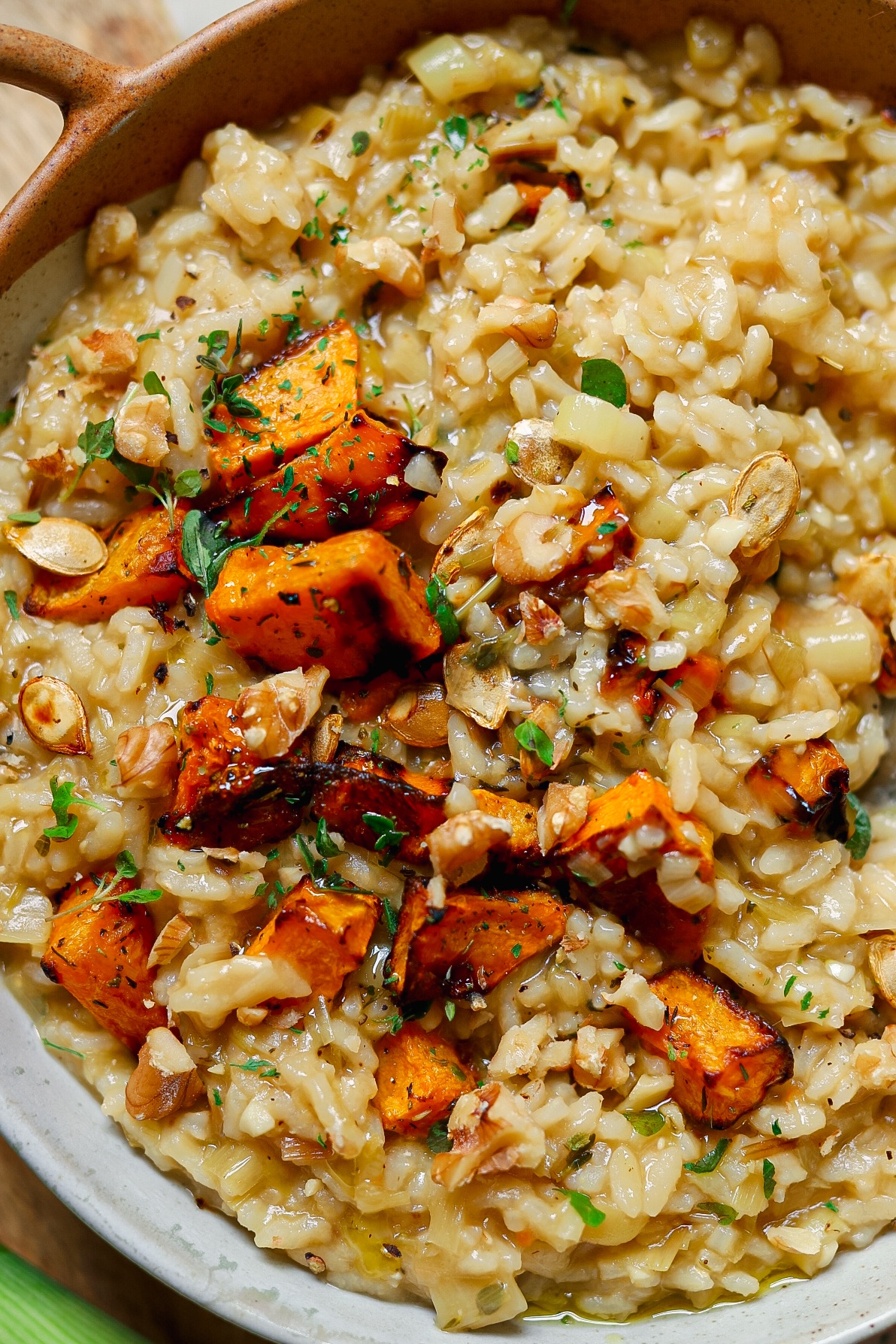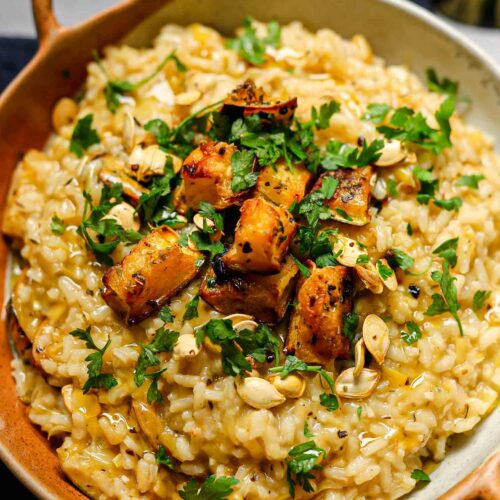 Roasted Pumpkin and Leek Risotto
A delicious risotto for autumn with pumpkins being full in season. Vegan friendly, comfort food and easy to make this recipe is perfect for batch cooking.
Ingredients
1

small pumpkin

cut into 3cm cubes

1

tbsp

olive oil

1

tsp

dried thyme and dried sage

Save the pumpkin seeds to roast

2

leeks

around 220g

2

tbsp

of butter

vegan or dairy

3

large cloves garlic

minced

1

tsp

chopped fresh thyme

120

g

arborio rice

250

ml

white wine

900

ml

vegetable stock

we use boiling water and stock cube

Generous pinch of salt and pepper to season

1/2

lemon squeezed

fresh parsley
Instructions
Preheat the oven to 200°C

Chop the pumpkin, toss in the oil and herbs then roast on a tray for 40 minutes, turn over after around 30 minutes

Prep the ingredients for the risotto, then add the leeks to a large pot with the butter and sweat down for around 5 minutes

Add the minced garlic, continue to fry for two minutes before adding the arborio rice, fresh chopped thyme and toss until coated

Add the white wine and allow the rice to absorb, followed by adding a ladle full of the vegetable stock at a time until each bit has been absorbed by the rice, season generously with salt and pepper

For the final ten minutes of baking, add the pumpkin seeds to the tray of pumpkin and allow to roast

Once the rice has fully absorbed the stock add the roasted squash to the pot, squeeze in 1/2 lemon juice, season again to taste and serve up. Top with the toasted pumpkin seeds and chopped walnuts