Tahini and Date Syrup Filled Rolls
Inspired by my trip to Israel, these tahini rolls are an adaptation of the ones we created at Sweet Petite's Bakery in Tel Aviv. Having never tried halva before, this recipe was a brilliant way to introduce this sweet treat into my life. The filling was 1:1 ratio of date syrup and tahini with a sprinkle of halva over the top, however this is completely optional depending on whether you can find some.
---
Breakdown of Ingredients
00 Flour – I've found since swapping from plain flour to 00 flour the texture of my sweet bread recipes has been incredible. 00 flour is usually used for pizza dough or pasta due to the extra fine grind. You can use plain flour or even strong white bread flour to create this recipe – but if you can find 00 then give it a go.
Tahini- Finding a good quality tahini is key. Visiting your local international food store will usually be your best bet. The best brand you can find is Al Arz tahini. Produced in Israel, the quality of this tahini has been the best I've tasted.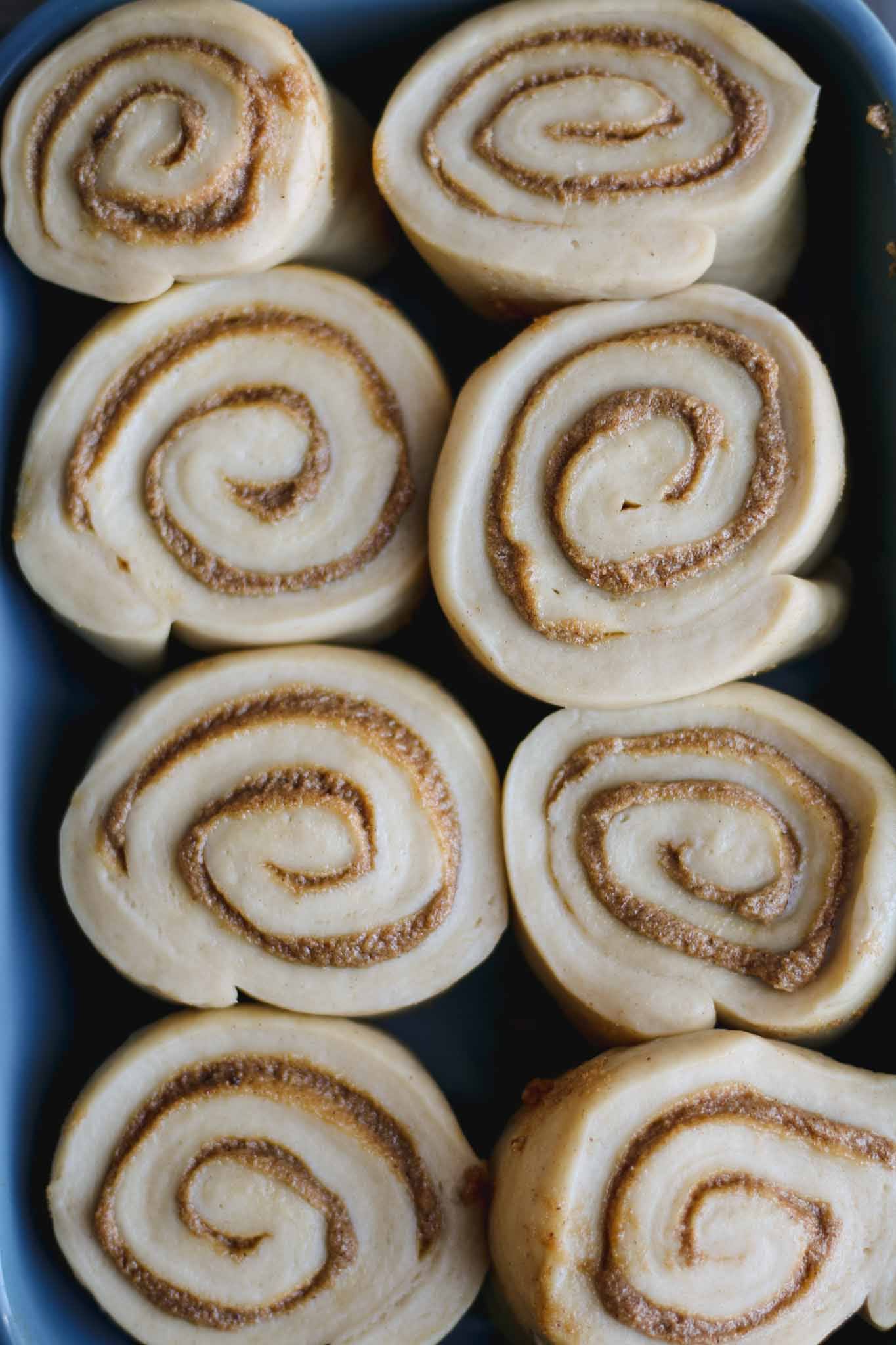 ---
Trip to Israel with Vibe Israel
As mentioned before, the inspiration for this recipe is from the most incredible trip to Israel with the team Vibe Israel. Sweet Petite Bakery is based within Tel Aviv and focuses on vegan patisserie, which is a mix of art and science! From vegan macarons to the most beautiful cinnamon buns, we gave a few recipes a go. 
What is halva?
Halva is a Middle Eastern sweet treat made from sesame, flour and a sweetener (honey if not vegan). Its slightly flakey and powdery in texture and taste. It works perfectly in sweet recipes such as these buns where it compliments the sticky syrup. You can find Halva in the U.K in your local international food store or you might be lucky enough to find it at a local supermarket within the Middle Eastern Food Isle.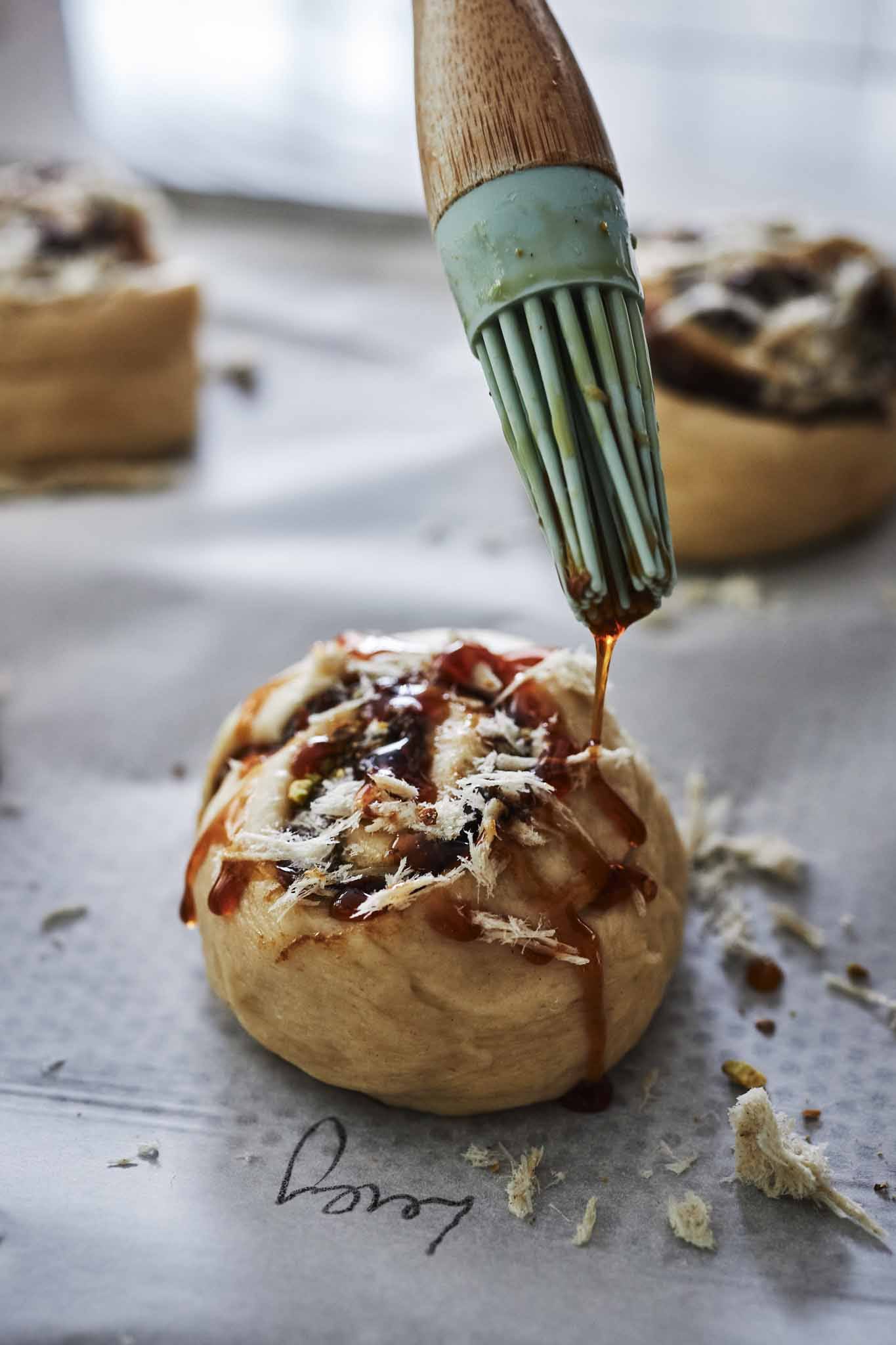 The trip to Israel with Vibe Israel was made up of five of us (myself, Candice, Phillip, Izzy and Alexa) with the most incredible woman Bar. Focusing on food and the influence behind the recipes we were trying, it was a week full of discovery. Having never really liked tahini, I was sceptical as to whether I'd love visiting the ancient town where there was a 100 year old factory for tahini – rest assured I came away obsessed.
The day we visited Sweet Petite's studio, we were eager to get stuck in and get baking. The recipes we created were incredible and hopefully this one I'm sharing will get you as close to the real thing as possible.
---
---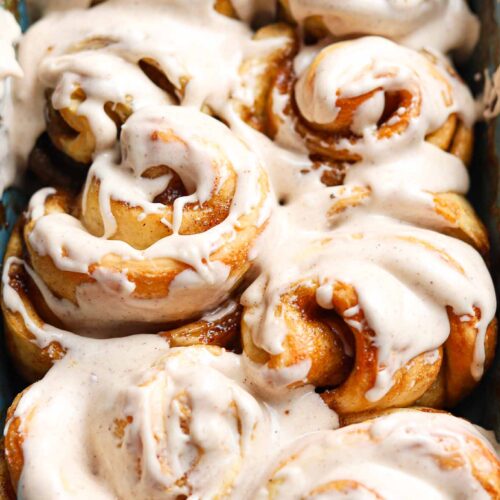 Tahini & Date Cinnamon Buns
Inspired by my trip to Israel, I've adapted by simple cinnamon bun recipe and used Tahini, date syrup and the addition of halva. The original recipe is heavily inspired by Sweet Petite Bakery based in Tel Aviv where we made a similar bun which was delicious.
Ingredients
For the dough
2 1/4

cups

00 flour 320g

½

tbsp

fast yeast around 3g

3/4

cup

luke warm water 200ml

¾

tsp

sea salt

½

tsp

caster sugar 5g

2

tbsp

olive oil 30ml
For the tahini & sugar filling
100

g

date syrup

100

g

good quality tahini

1

heaped tsp cinnamon powder

optional

30

g

halva

optional
For the Frosting
5

tbsp

icing sugar

1

tbsp

vegan butter

margarine

1

tsp

cinnamon or tahini

1

tbsp

halva

to dust over the top (optional)

2

tbsp

plant based milk

or water
Instructions
For the dough
Add the flour, yeast, salt and sugar into a large mixing bowl and combine then slowly pour in the luke warm water and olive oil and bring together

Once combined move onto an oiled clean surface and knead for around 5 minute, if the dough is difficult to work with heavily flour the work surface. The texture should be soft and well brought together (you should be able to stretch the dough without it ripping)

Clean the mixing bowl and drizzle a little olive oil around the bottom, then place the dough inside, cover with a tea towel and leave to prove for around 1 hour (or until doubled in height)

Create the tahini and date syrup filling when the dough has nearly finished proving, by simply mixing the tahini and date syrup together in a bowl (a silicone spatula will be the best mixing tool) and set aside

Once the dough has risen knock back the air then form into a neat ball of dough

Flour the work surface and a rolling pin and roll out into a rectangle less than 1cm thick

Spread on tahini filling (then sprinkle over the halva if adding) and then roll up the dough to make a long sausage shape

Using a sharp knife slice down the middle of the dough (widthways) then repeat until you have 8-10 cinnamon rolls

Place into a greased baking dish or muffin tin and leave to rest for a further 20 minutes

Preheat the oven to 180ºC and bake for around 25-30 minutes (if you notice the top catching simply cover loosely in baking parchment)

Allow to cool fully before dusting with icing sugar and enjoy
To make the frosting
Simply mix the ingredients together until a thick creamy frosting has formed then drizzle over the top
---
If you want more recipes inspired by my trip to Israel, you can find my delicious za'atar pita's just here.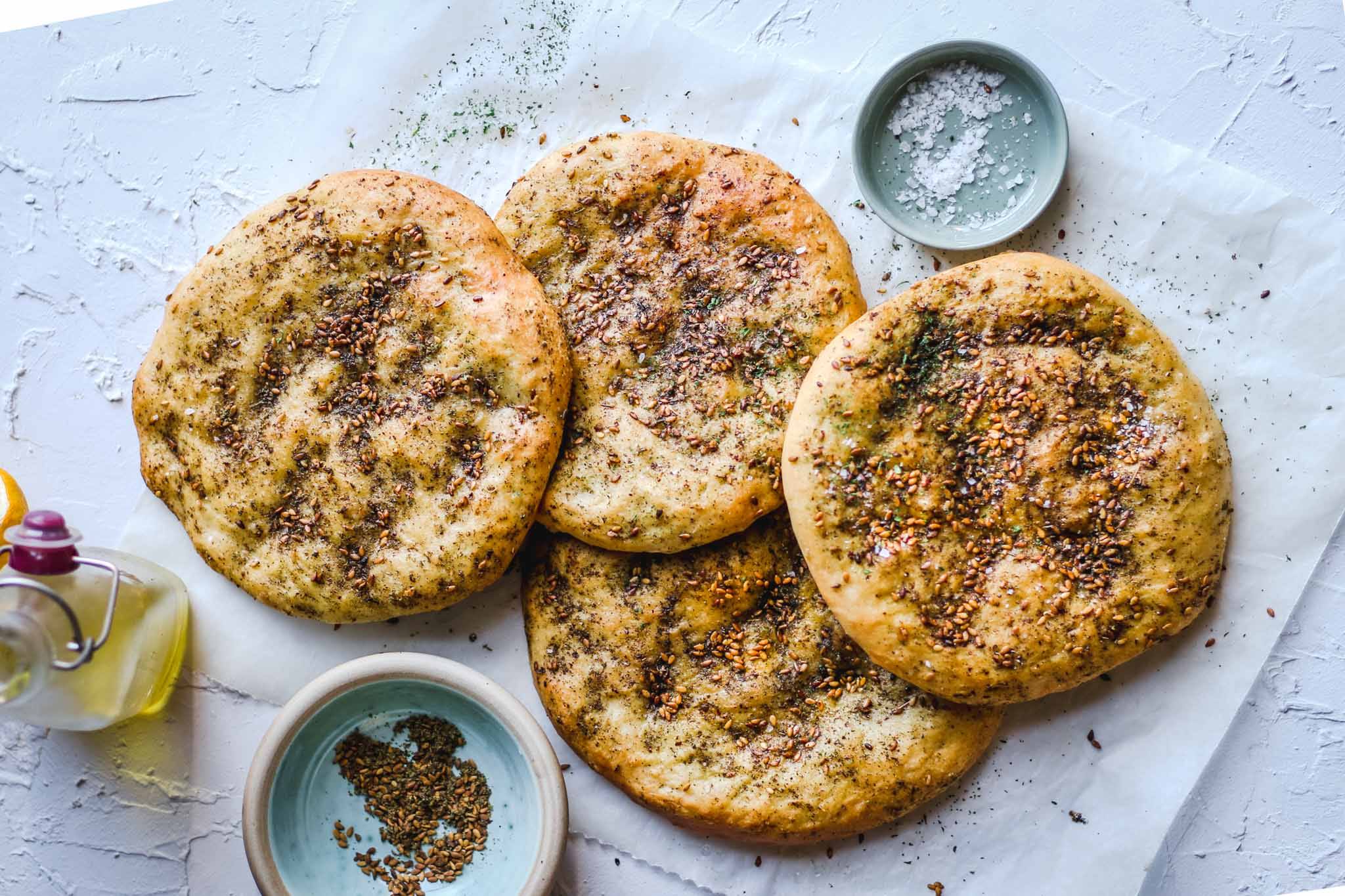 I also have a za'atar flavoured pulled 'chicken' toasted wraps with a creamy tahini dressing here