Cream Cheese & Tomato Gnocchi – Slowly Baked
This delicious vegan baked cream cheese and roasted tomato gnocchi is full of flavour, comforting and a delicious plant based dinner option. It's an easy recipe to pop in the oven and let it do its magic whilst you wind down for the evening. It's a similar process to the viral Tiktok baked feta pasta recipe, this time swapping the feta for vegan cream cheese and swapping pasta for gnocchi.
What's in the recipe?
Gnocchi- I use dried gnocchi as you quite often find fresh gnocchi has milk powder in it. However either will work!
Cream Cheese- I use a delicious vegan version from Nush. You can find lots of brands have this as a vegan option now, such as Oatly or supermarket brands. Plain or herbed will work for this recipe, whatever you have at hand.
Tomatoes- I've used baby tomatoes for this recipe however a range of tomatoes will work. I find the smaller cherry sized tomatoes work better for a recipe like this. Slowly roasted they transform into beautiful pockets of flavour and texture to mix into the cream cheese.
Garlic- You can use 5 cloves or if you're doubling up the recipe, whack a whole bulb of garlic in to roast. It's a key ingredient in this recipe.
---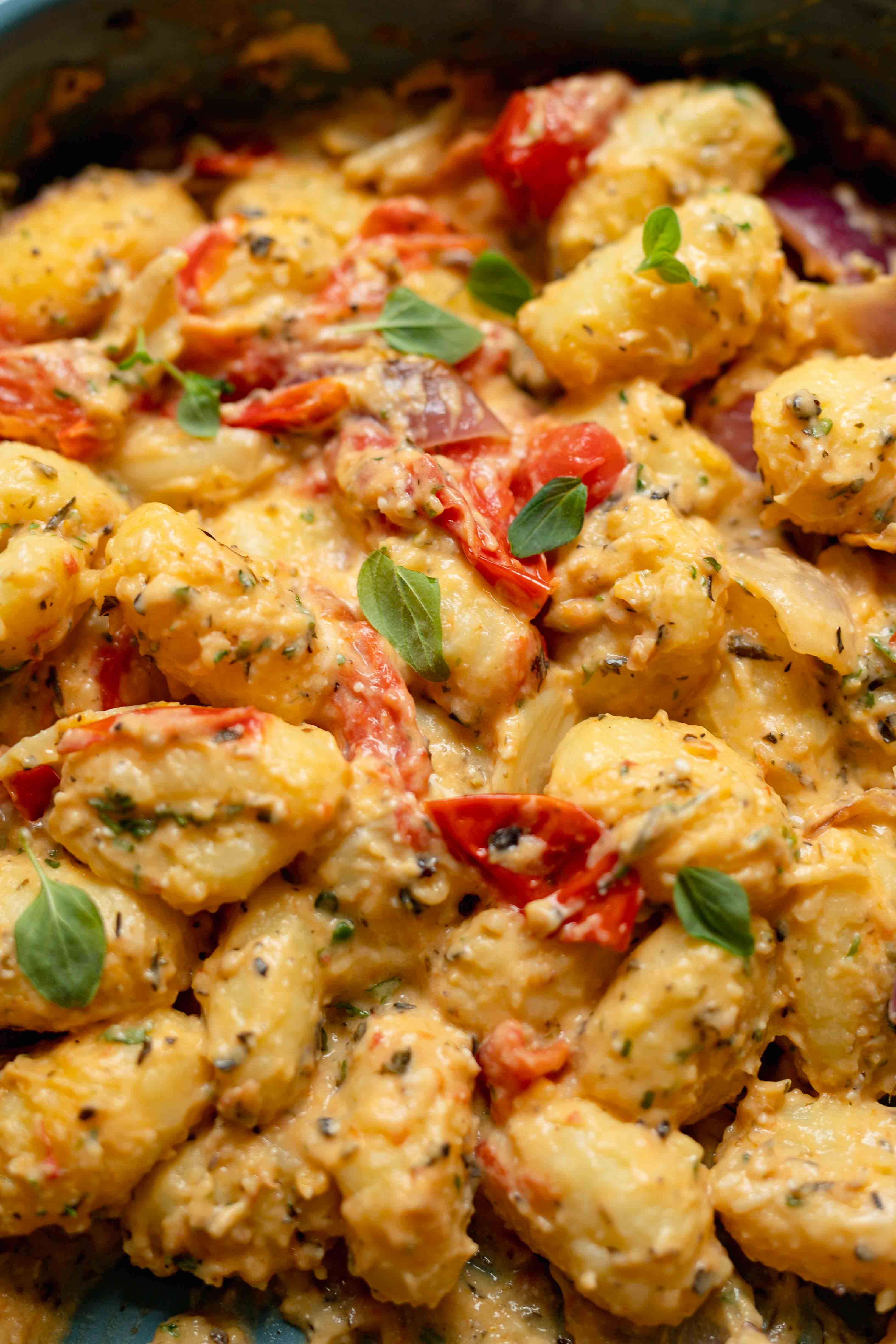 ---
Cooking Tips:
Peel the garlic- Before adding to the roasting dish, peel the garlic so it roasts easily, making it easy to mash with the back of a fork into the cream cheese.
Mash together- Once the tomatoes, cream cheese and onion have baked, mash together with a potato masher or the back of your fork until deliciously creamy. If you want the onion to be pulsed in, add the entire thing to a food processor before adding the gnocchi.
Gnocchi water- Add a ladle full of the water used to boil the gnocchi to make the sauce delicious and smooth. I'd take a mug full so around 250ml.
---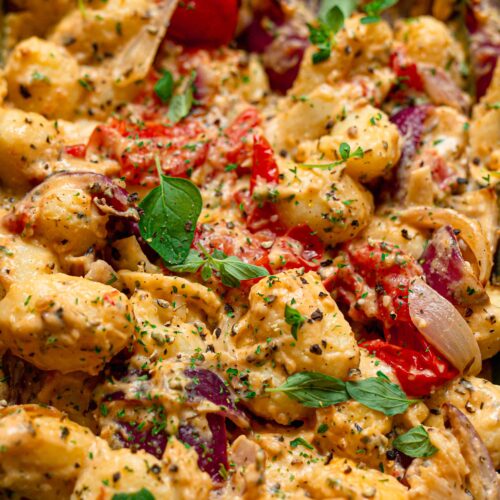 Baked Cream Cheese & Tomato Gnocchi
Vegan baked cream cheese and roasted tomato gnocchi pot. Just a few key ingredients to make this delicious plant based recipe, and only two pots needed to bring this together. It's a similar concept to the viral baked feta pasta, this time with a vegan cream cheese and gnocchi.
Ingredients
250

g

gnocchi

5

cloves

garlic

100

g

vegan cream cheese

I use nush

1

red onion

optional

200

g

tomatoes

baby or cherry

1

tbsp

olive oil

1

tsp

dried basil

1

tsp

dried thyme

Large pinch salt & pepper

Garnish with fresh oregano
Instructions
Preheat the oven to 200°C fan

Add the tomatoes, quartered red onion, peeled garlic cloves and olive oil to a roasting dish

Add the dried herbs, create a space in the middle and add the cream cheese to the middle, pop in the oven and bake for 25 minutes

In a pot of boiling water, add a generous pinch of salt with the gnocchi and simmer for a few minutes, drain but leave a ladle full of the water in the pot

When the tomatoes have baked, mash the garlic and tomatoes into the cream cheese and mix until creamy then add in the cooked gnocchi and water

Mix together then add back to the oven for 5 minutes, garnish with fresh oregano or basil and enjoy
---