Let's Make this Lemon Orzo Chickpea Soup
Vegan Lemon Orzo Crispy Chickpea Soup. Ready in 20 minutes, easy, cheap and plant based. This soup recipe is perfect for any season and can be reheated. The crispy chickpeas work as croutons giving a delicious crunch against the silky smooth soup. If you are reheating the soup, be sure to keep the chickpeas in a separate box to keep them crispy and crunchy.
What's in this soup?
Lemon- Using 1/2 lemon for this recipe, it gives a delicious fragrant and fresh flavour. Taste test and add the other 1/2 lemon juice if you want a more powerful flavour coming through.
Orzo- If you like hearty soups, adding orzo pasta will be perfect for this. Be sure to cook it for only around 12 minutes once added to the soup as you don't want it to overcook.
Dill- This is such an important ingredient for this recipe as it carries so much of the flavour. You can take the stems off the fresh dill, or just finely chop the entire thing and add to the bowl.
---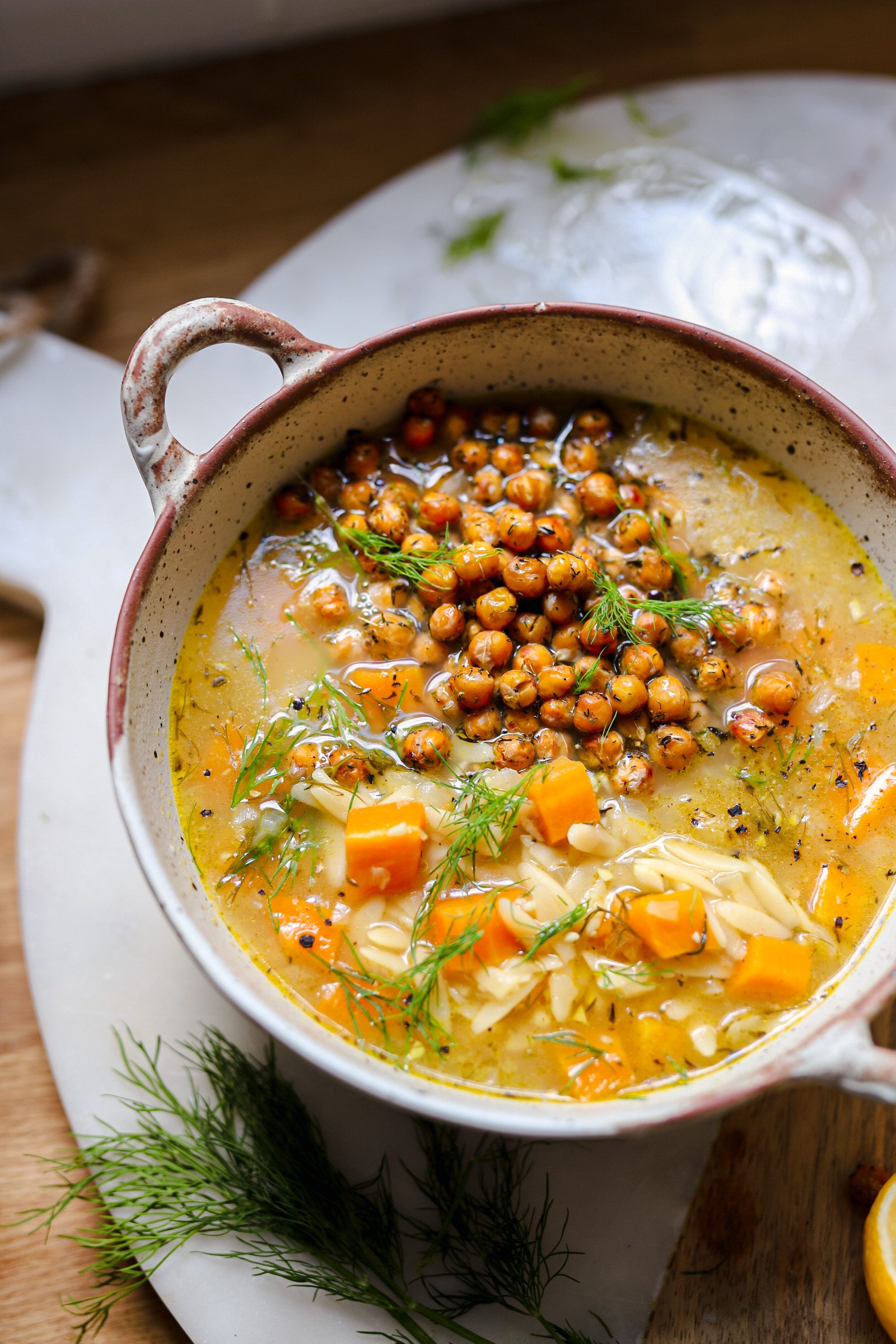 Cooking tips:
Don't overcook the orzo- The orzo needs to be cooked for only around 12 minutes to keep the texture.
Crispy chickpeas- Serve fresh out of the oven on top of the soup to keep them crunchy. If you are batch cooking this recipe, keep the roasted chickpeas in an airtight container to keep them crunchy.
Season generously- It is so important to season your food with salt and pepper, especially when making a soup with just a few key ingredients. Taste test, adding a little more salt and pepper if needed.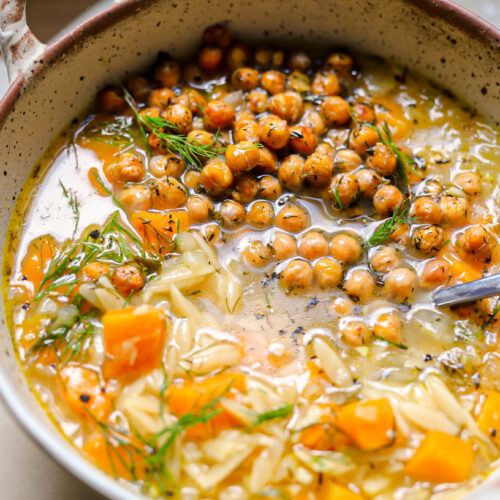 Lemon Orzo Chickpea Soup
Vegan Lemon Orzo Crispy Chickpea Soup. Ready in 20 minutes, easy, cheap and plant based. This soup recipe is perfect for any season and can be reheated
Ingredients
1

tbsp

extra virgin olive oil

1

carrot

finely diced

1

white onion

finely diced

4

large cloves garlic

minced

200

g

orzo pasta

1

stock cube + 1l boiling water

juice of 1/2 lemon

20

g

fresh dill

around 4 sprigs, roughly chopped
For the crunchy chickpeas
400

g

tin chickpeas

1

tbsp

extra virgin olive oil

1

tsp

dried dill

1

tsp

oregano

salt & pepper
Instructions
Preheat the oven to 200°C, add the drained chickpeas, herbs and seasoning to a baking tray, drizzle the olive oil over and mix, then bake for 30 minutes

Add to a large pot, olive oil onion and carrot, then gently fry for around 5 minutes

Add the minced garlic, stir through for 2 minutes before adding the orzo, followed by the boiling water and stock cube, stir together and leave to simmer for around 12 minutes

Add in the fresh dill and the juice of 1/2 lemon, season generously with salt and pepper (don't forget this step) and taste test, adding a little more seasoning if needed

Take the roasted chickpeas out of the oven and add straight to the soup, they will be crunchy acting as a sort of crouton
If you like this recipe why not try my
Leek and Orzo and Dill Soup