Homemade Pea Shoot Pesto with Butter Fried Gnocchi
A delicious 15 minute meal using a homemade pea shoot pesto which is naturally vegan, paired with butter fried gnocchi. If you want a really simple meal for after work or a picnic, this pesto recipe is great to have up your sleeve. You can pair it with pasta or gnocchi, depending on what you have in your cupboards.
What's in the recipe?
Pea Shoots- This is the main ingredient, it's a delicious sweet and fresh tasting salad leaf. If you don't have pea shoots you could replace it with watercress, rocket or spinach. All have a delicious peppery and fresh flavour.
Pine Nuts- These offer a delicious nutty and rich flavour to work with the greens, but can be swapped out for almonds or walnuts. If you want an even richer flavour, toast the pine nuts until slightly brown.
Gnocchi- I find with gnocchi if you bring it to boil for 2 minutes, drain the water then add to a frying pan with oil or vegan butter it gives the best results.
Butter- I find using vegan flora block is great, be generous with the amount to use with the gnocchi and fry on a medium heat until slightly brown on each side.
Nutritional Yeast- Now if you're a hardy vegan you'll have this in your cupboard, but if you're not, it's a flake that gives a slightly nutty and cheesy flavour. If you're not vegan use a hard cheese such as parmesan or a vegan version of the same cheese.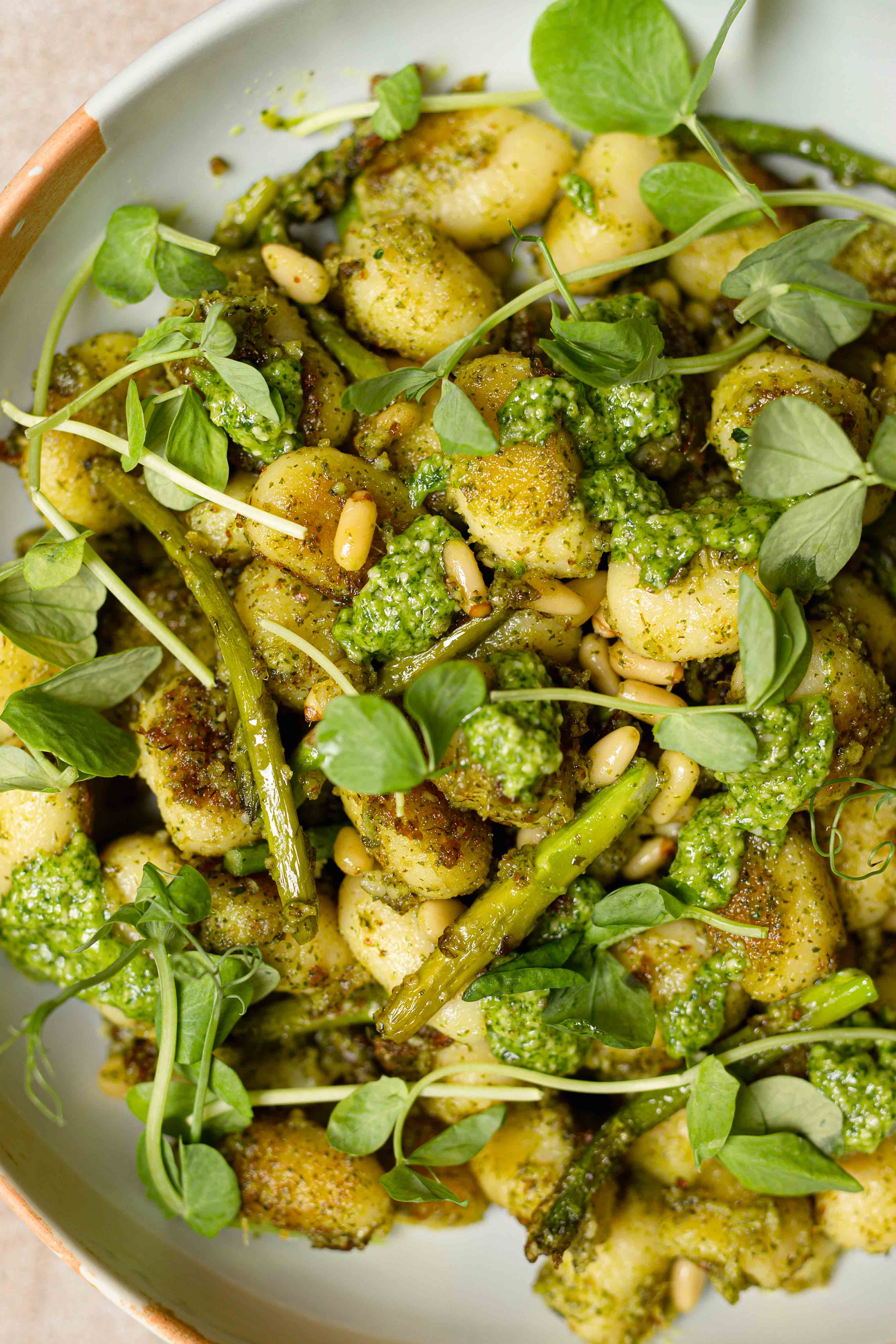 ---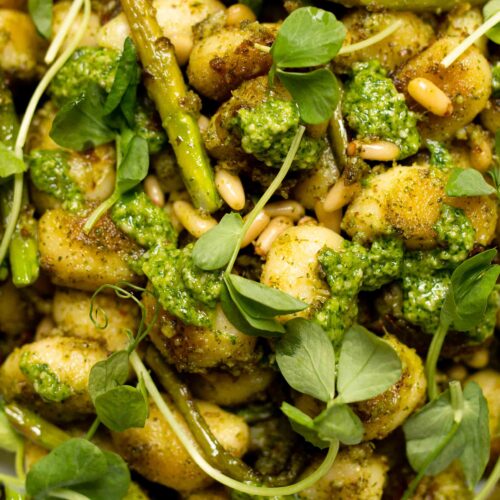 Pea Shoot Pesto & Buttered Gnocchi
Vegan buttered gnocchi with a homemade pea shoot pesto which is really simple, easy and quick to make. The flavour of fresh garden peas really comes through this dish which works beautifully with the buttery toasted gnocchi.
Ingredients
Peat Shoot Pesto
70

g

pea shoots

1

cloves

garlic

1

tsp

salt

1/2

cup

olive oul

1/2

cup

pine nuts

2

tbsp

nutritional yeast

1/2

lemon squeezed
For the Gnocchi
500

g

gnocchi

Pine nuts to top

150

g

asparagus
Instructions
Pop the gnocchi in a pot of boiling water and simmer for 2 minutes until the gnocchi floats to the top

In the meantime add all of the pesto ingredients to a food processor and blitz

Drain the boiling water then add the gnocchi to a frying pan and fry for a few minutes before adding the pesto along with the asparagus and pine nuts and continue to fry until crispy on the bottom

Serve in a bowl with a few sprigs of fresh pea shoots and enjoy!
Notes
you can swap pea shoots for watercress or rocket or spinach!
Swap pine nuts for walnut or toasted almonds
Don't have nutritional yeast? Don't worry, it just adds a nutty cheesy flavour but isn't essential
Don't have gnocchi? Just use some cooked pasta instead!