A Trip To Tel Aviv
Inspired by my trip to Israel (with the guys from Vibe Israel) here is a really simple pita recipe, which is topped with the beautiful seasoning za'atar. It's not often I write about my recipes and the inspiration but I loved the whole experience of trying this bread in a busy side street in Jerusalem. It was humid November afternoon and we had been waving through the busy streets in Jerusalem.  Our amazing tour guide had just hopped across the stream of people to grab a huge pita, straight off the burner which was topped with garlic, za'atar and lots of olive oil.
---
As we were all tearing pieces off the bread we listened to a story of how the pitas came about, from the old wives tales of the women creating small businesses selling their version of pita. With tough competition from other bakers, it was about creating the most delicious. It was fascinating hearing how old some of these recipes would be whilst eating away. Either way I hope this version does it justice and inspires you to try za'atar pita.
---
These photos were taken by the very talented Amir Menahem – a magician when it comes to capturing  Vibe Israel tours!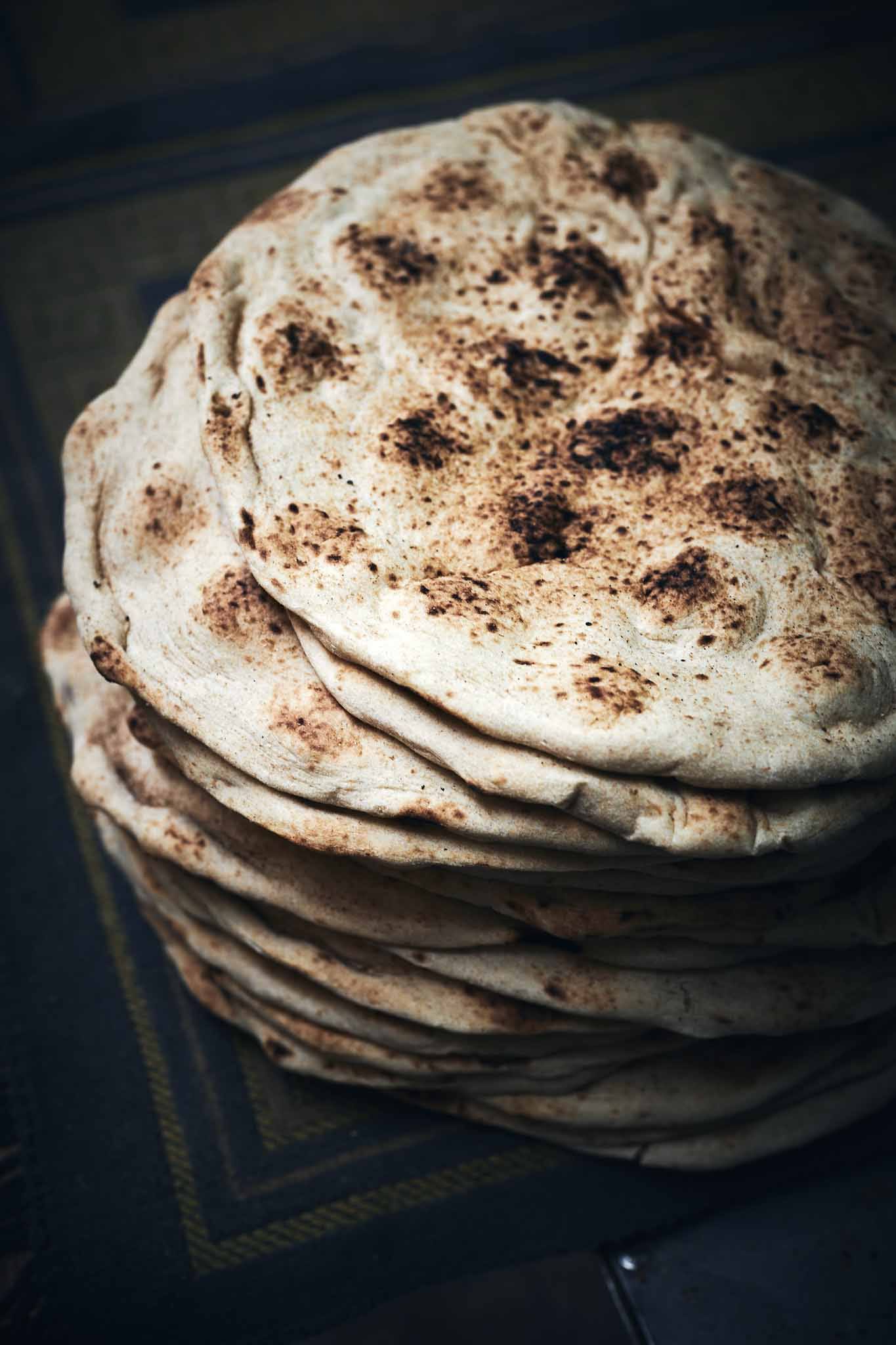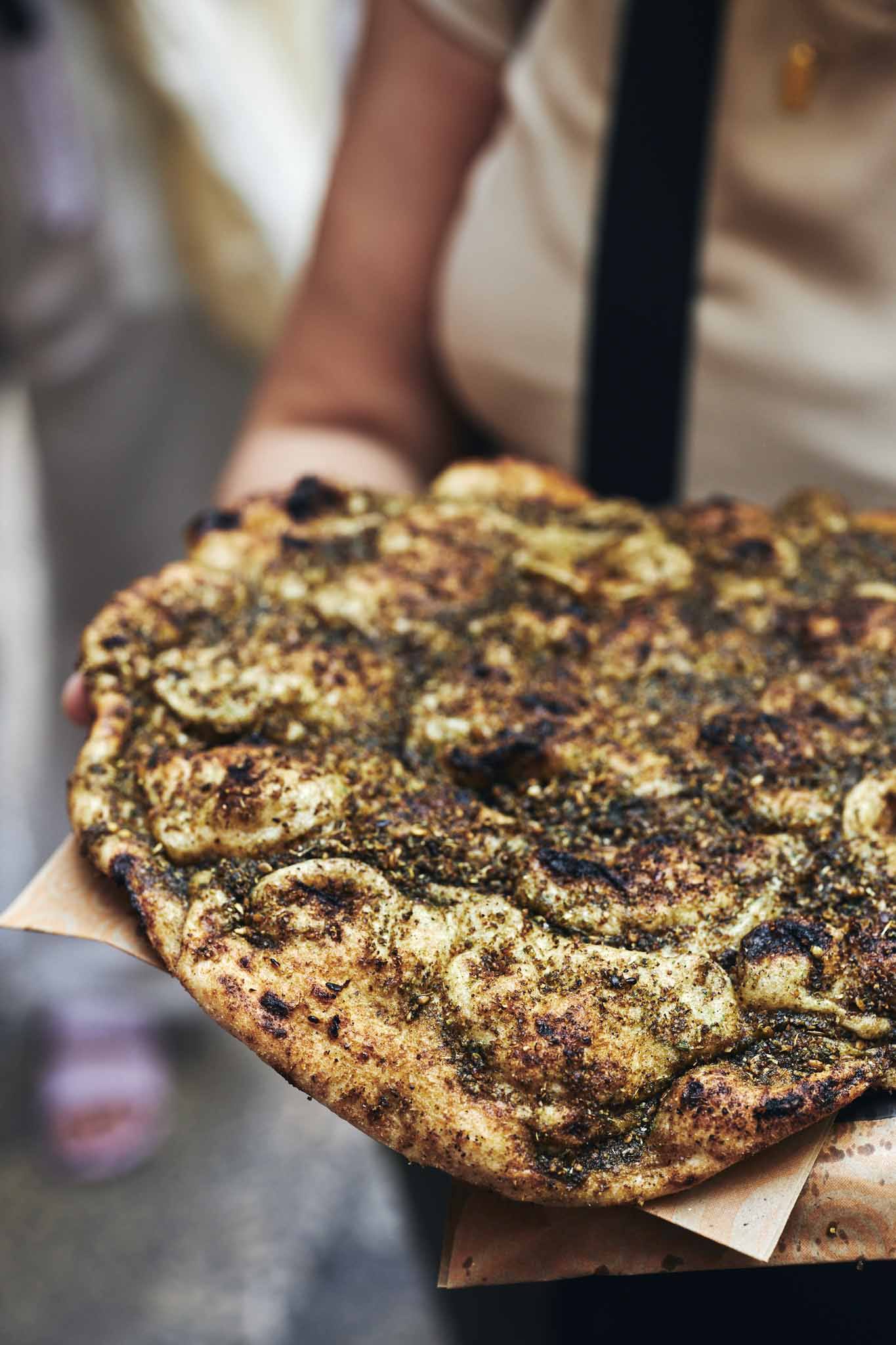 ---
Break Down Of Ingredients
Quick Yeast
For this recipe, you don't need to activate the yeast before hand, it's an 'all in one' recipe. The key is to have luke warm water to activate it once mixed together.
Strong White Bread Flour
You can use plain flour however I'd highly recommend strong white bread flour if you can get your hands on some.
Za'atar
I was lucky enough to pick up fresh za'atar from Israel when I visited in 2019. You can find za'atar in most supermarkets however if you have a middle eastern supermarket in your town / city, I will bet they have the best quality produce!
Extra Virgin Olive Oil
Again, sourcing a good quality olive oil will give this recipe a slight edge. Using a beautiful oil to garnish will compliment all of the flavours.
---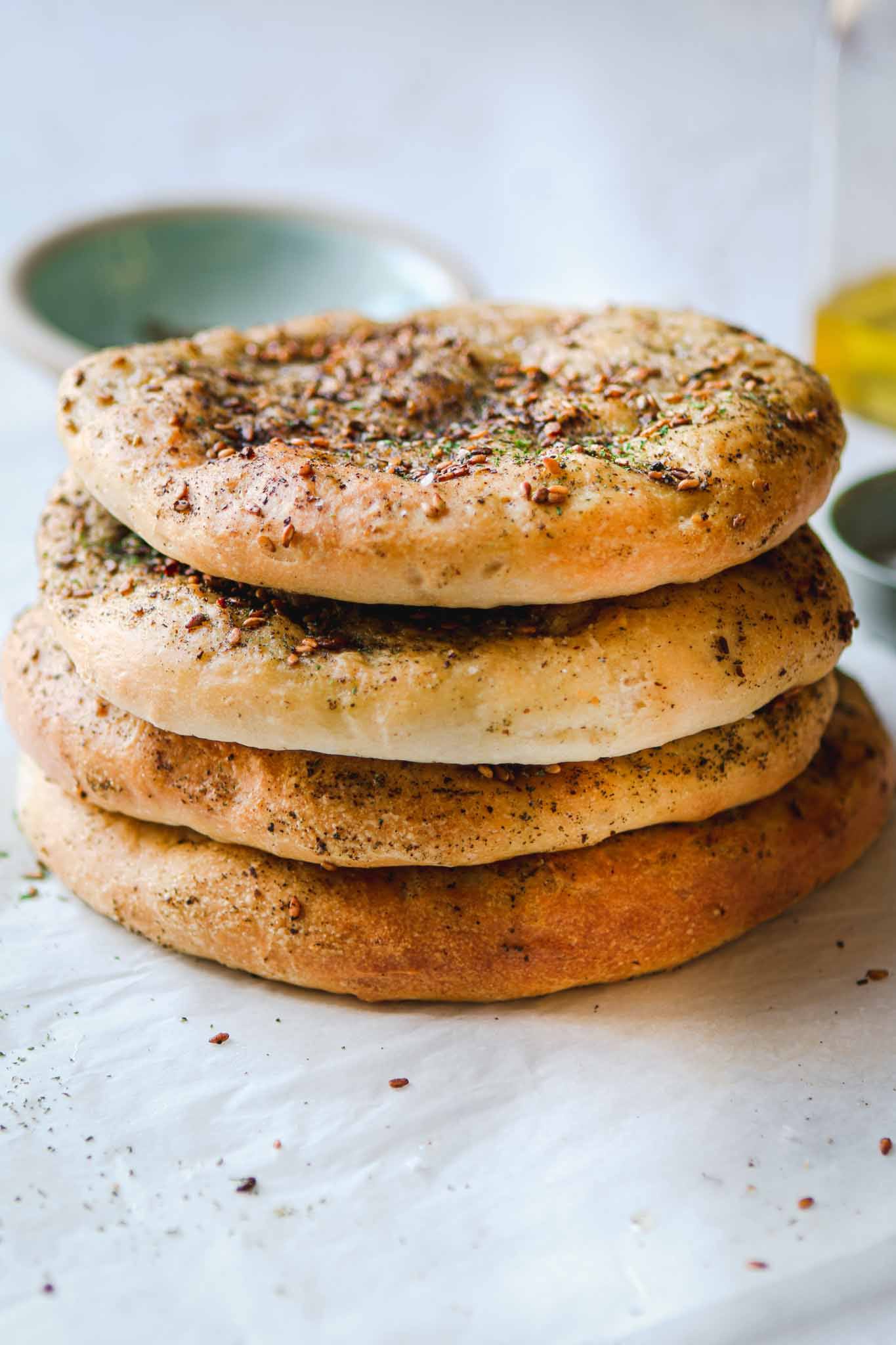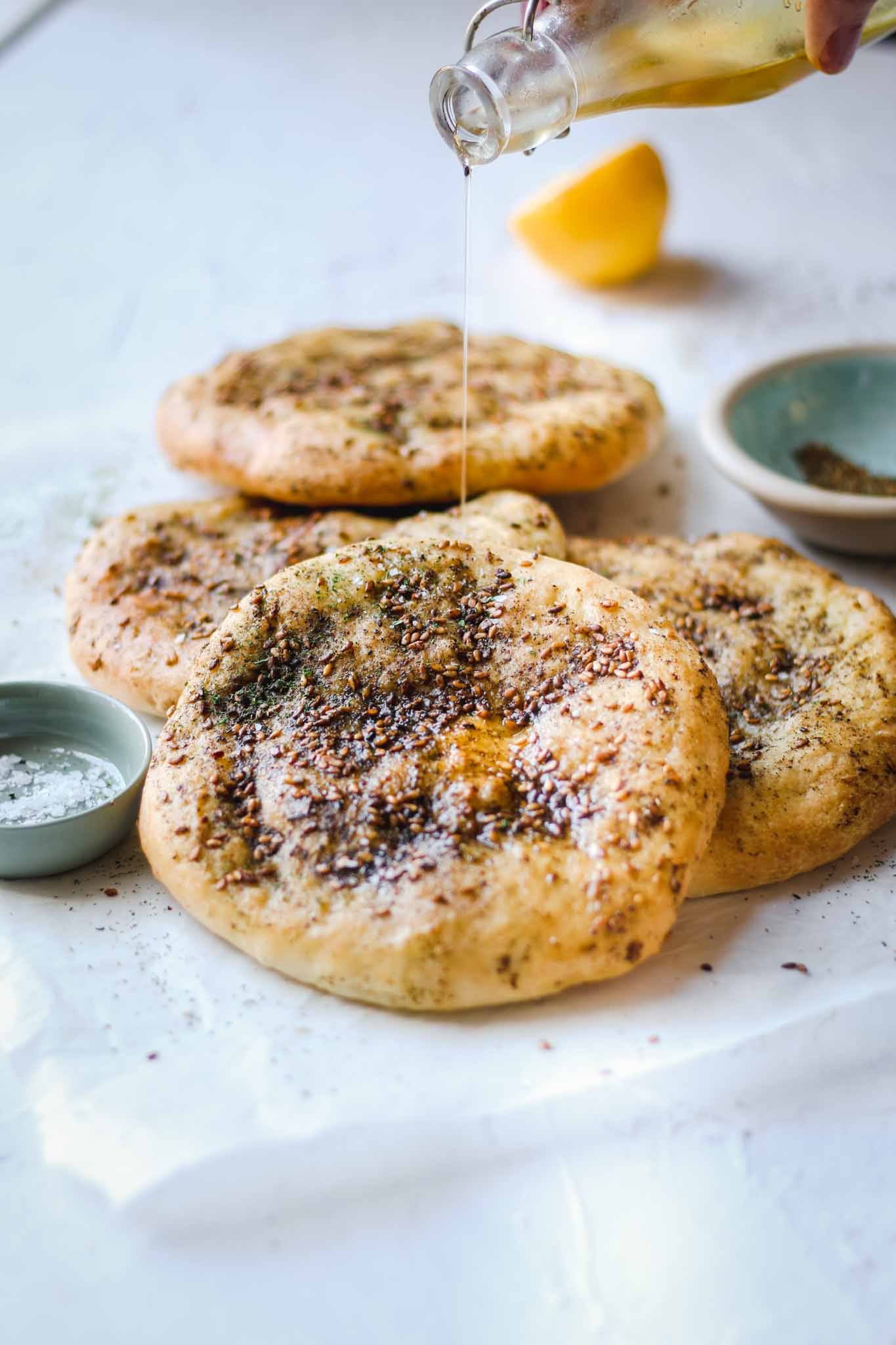 ---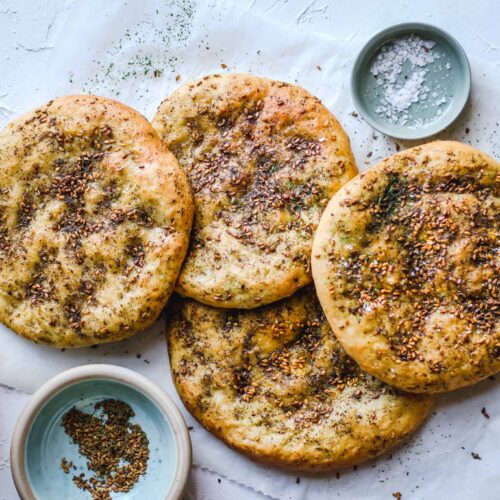 Za'atar Pitas
Za'atar Pitas inspired by my visit to Jerusalem in Israel. Beautifully fluffy on the inside and with a golden surface topped with za'atar seasoning from Tel Aviv.
Ingredients
380

g

plain flour

1/2

tsp

salt

1

tsp

caster sugar

7

g

instant yeast

280

ml

lukewarm water

1 1/2

tbsp

olive oil

1/2

tsp

sea salt

2

tbsp

za'atar seasoning

2

tbsp

olive oil
Instructions
Simply mix the dry ingredients together in a bowl, then pour in the lukewarm water and olive oil, bring together to form a loose dough

Move onto a floured surface and knead for around 5 minutes

Pop back into the clean bowl with a glug of olive oil at the bottom to stop it sticking, cover in a tea towel and leave to proof for around 1 hour (if it's cold in your home it make take 1.5-2 hours)

[preheat the oven to 200°C fan]

Once risen, knock back the dough and divide into 4 (you can divide into however many pitas you'd like to make)

Using your fingers, prod the each ball of dough until you've created the pita shape (should be around 1-2cm thickness)

Mix the olive oil and za'atar in a bowl and brush over the tops of the pitas and add a good pinch of sea salt to each then bake on a tray for around 12-15 minutes or until golden on top

Allow to cool and dip into some delicious hummus or extra virgin olive oil