Za'atar Pulled Chicken Pitas Recipe (Vegan Friendly)
These pitas stuffed with vegan pulled chicken (using Linda McCartney) are a delicious lunch idea, or simply double up the portion to make a feast at dinner. Using za'atar after being inspired by my trip to Israel with Vibe Israel it has influence from the Middle East.
---
Recipe Breakdown
Vegan Pulled Chicken – The Linda McCartney pulled chicken is a great product. It doesn't taste meaty but has a really good texture so is a perfect balance for veggies and vegans who want an extra protein source.
Homemade Pita- This is completely optional, however you'l be surprised to see how easy it is to recreate these at home (and how cheap!)
Za'atar- This is a selection of herbs and seeds from the Middle East consisting of oregano, thyme, sesame seeds and cumin.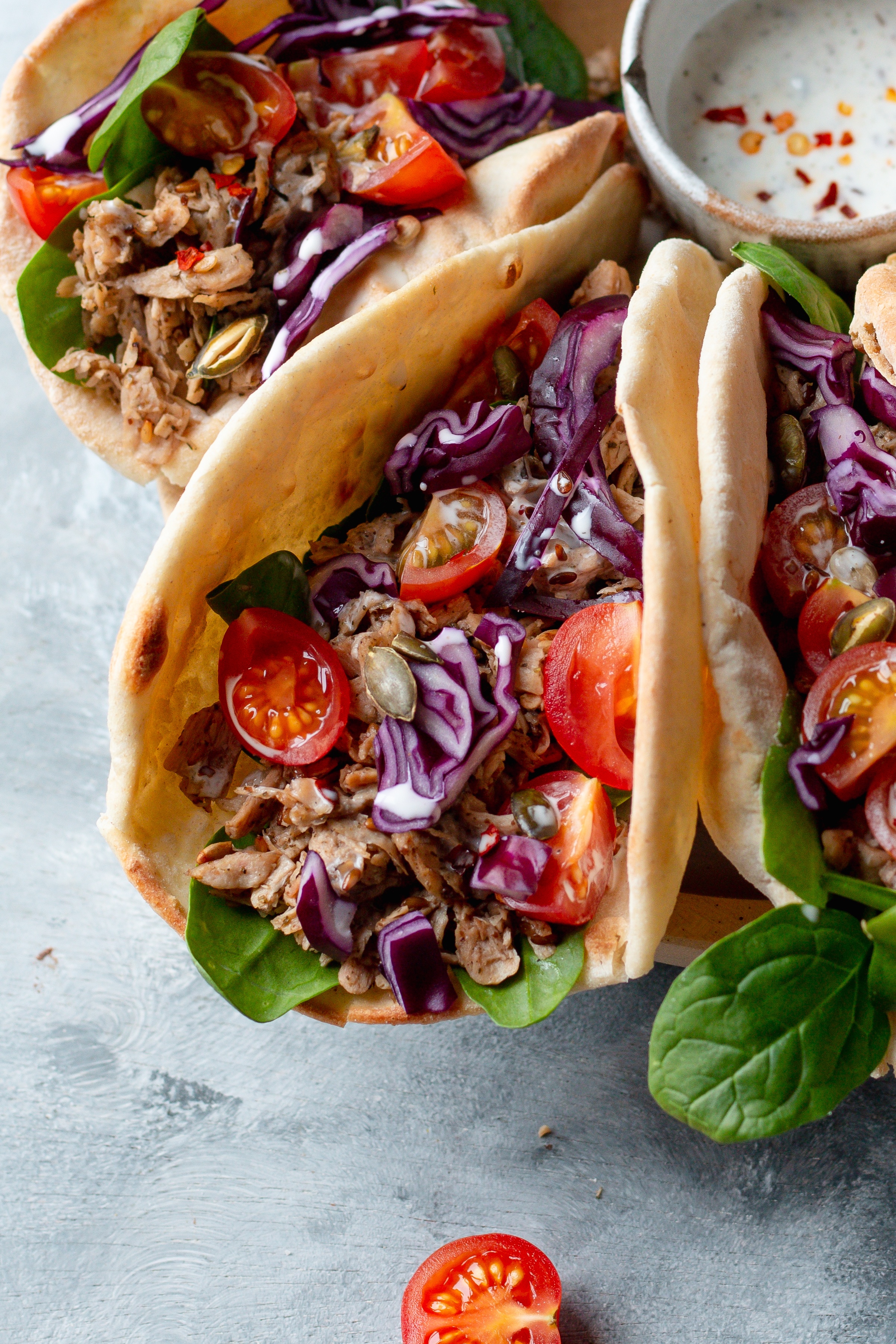 ---
Tips for the pitas
Prove- Allow the dough to prove within a warm spot in your home. Don't try to speed up the process by popping it in the oven on a low heat. If it's really cold, it may take a little longer and the same applies if it's a beautiful summers day – it might only take 30 minutes.
Thin or Puffed- If you want a pita with the air pocket in the middle roll out the dough to around 1.5cm thick, whereas if you want a thinner more 'flatbread' texture, simply roll out to around 0.8mm.
High Temperature- Get your oven as hot as it can go, these pitas love high heat. If you have a pizza oven even better however if not, just whack up the heat to around 220-250ºC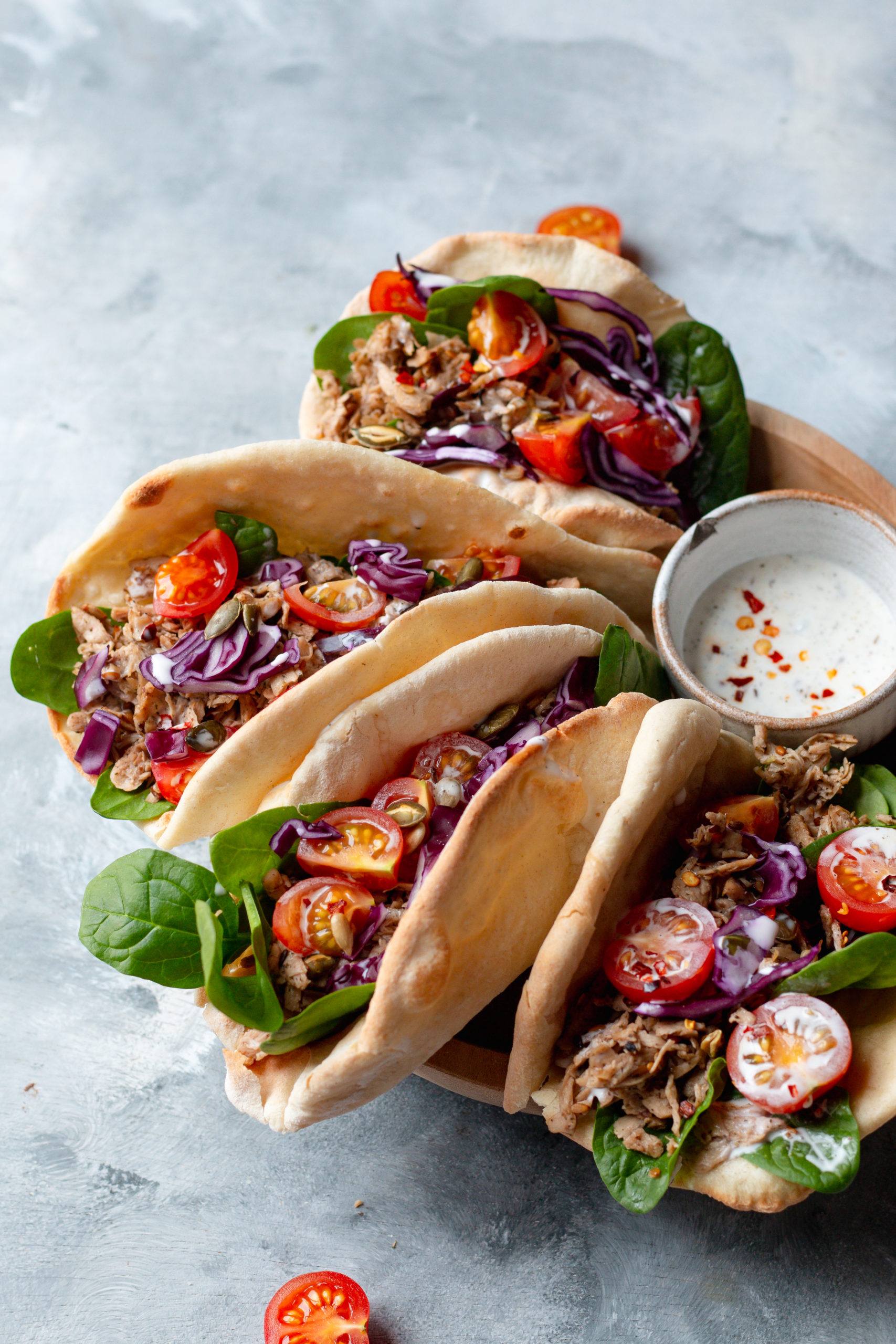 Za'atar Pulled 'Chicken' Pitas
Inspired by my trip to Tel Aviv, these za'atar pulled 'chicken' recipes were part of a project with Linda McCartney to give a delicious vegan lunch idea.
Ingredients
1

pack of Linda McCartney 'pulled chicken'

1

heaped tbsp za'atar

1

tsp

rapeseed oil

2

tbsp

water

1/4

tsp

salt
For the mayo:
2

tbsp

vegan mayo

1/2

lemon squeezed

1/2

tsp

za'atar

1

tsp

water
For the filling:
100

g

seasonal tomatoes

1/2

small red cabbage

Large handful spinach

2

large handmade pittas per person:

250

g

plain flour

1

tbsp

olive oil

150

ml

warm water

1

tsp

fast yeast

pinch

salt
Instructions
Add the pulled chicken to a pan with the oil and fry for around 5-6 minutes, then add a splash of water

Season with the za'atar and salt and continue frying for a further 3-4 minutes. Set aside

Take the fresh pitas out of the oven then layer with the spinach, pulled chicken, thinly sliced cabbage and fresh tomatoes

Garnish with the mayo dressing and enjoy!

For the mayo, simply mix the ingredients together.
method for pita
Mix the warm water and yeast, sit for five minutes

Then mix with the other ingredients

Knead together for 10 minutes, leave to rise in a warm place for 1 hour

Knock back the dough, divide into 8 equal balls,

Roll out each portion with a rolling pin until around 1cm thick then bake at 250ºC for 5-6 minutes
---