Vegan Pop Tarts
Who else has childhood memories filled with pop tarts before school? These are an absolute throwback to a sugary delicious brekkie or after school treat so I thought I would give them more of a 'grown up' feel. Using homemade shortcrust pastry, homemade jam and icing they are a little lower in sugar and filled with real fruit but still delicious.
---
Step by Step Ingredients
Shortcrust pastry – No where near as time consuming as puff pastry, this is a really easy pastry to make. This pastry is vegan and even be made gluten free by simply swap for 2 types of gluten free flour.
Homemade Jam – Depending on what fresh or frozen fruit you have, this can be changed to fit what you have. Whether you want a blackcurrant, raspberry or mixed berry it's completely up to you. The measurements will work the same.
Cinnamon Icing – I chose to add a little cinnamon for colour and flavour but this isn't essential. You can make the icing pink by simply adding 1 tsp of the blackcurrant jam to the mix.
Sprinkles – Now pop tarts are renowned for their sprinkles and toppings so please feel free to add any! I've just topped mine with icing and a few berries but if you're making these with kids feel free to get creative.
---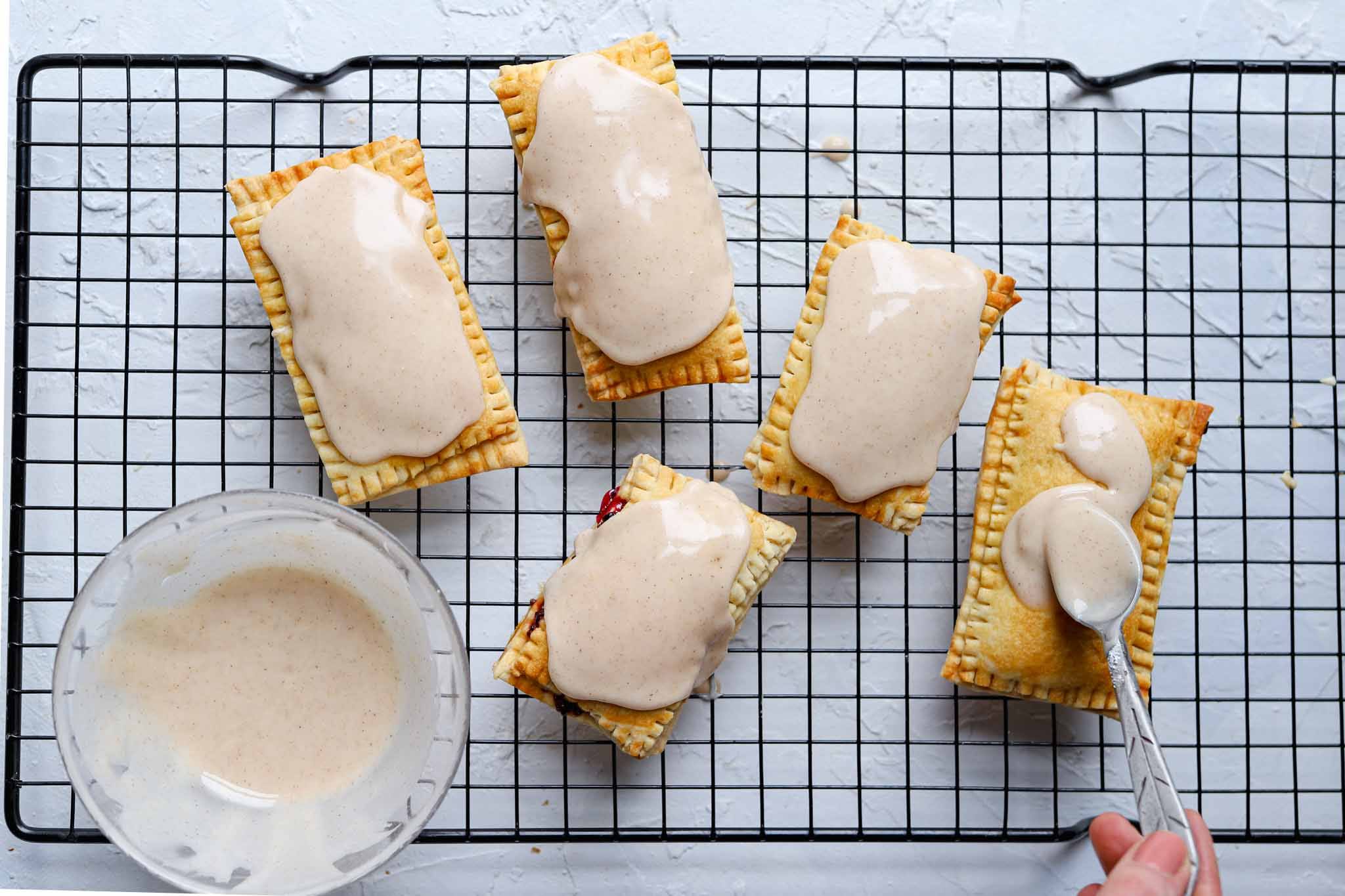 Useful Tips
Thin Pastry – Without running the risk of making it too thin, you want a thickness of around 0.8mm so that it's thick enough to hold the filling but not too thick that it'll just be a mouthful of pastry.
Seal the edges- By using a fork to prod the edges it really helps seal the pop tarts to stop any spillages.
'Egg wash'- Instead of a regular egg wash I simply mix date syrup / sugar syrup with a splash of water to brush over the top to help get a beautiful crust.
Jam- No need to use blackberries, it can be whichever jam you would like to make, or even a good quality shop bought.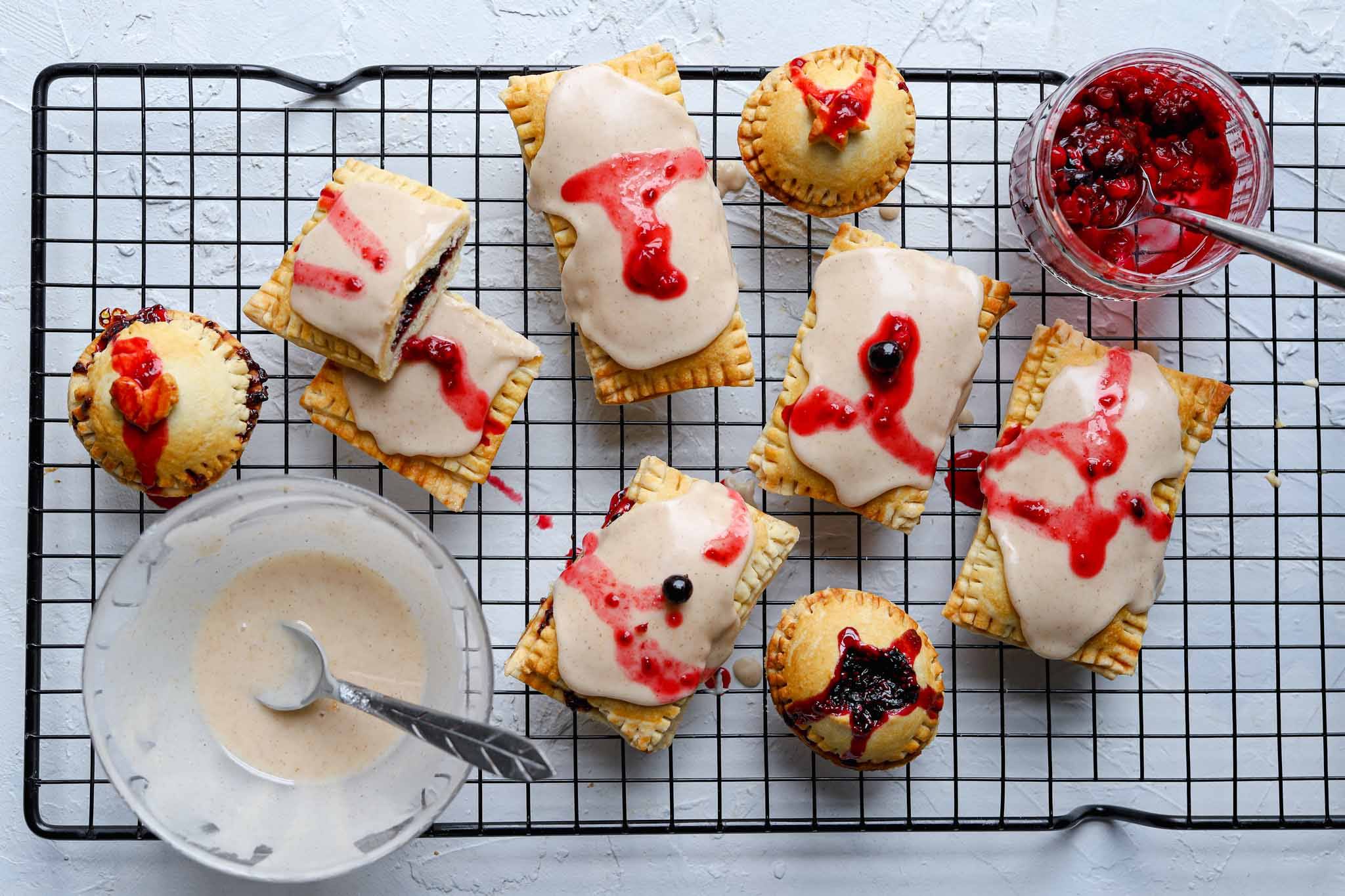 ---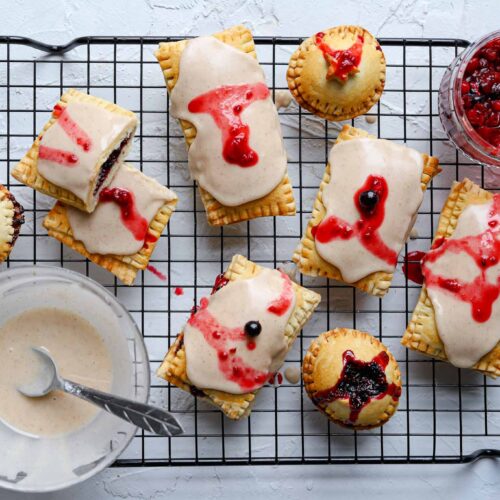 Homemade Vegan Pop Tarts with Blackberry Jam
Homemade shortcrust pastry with a delicious blackberry jam filling topped with a cinnamon icing. All homemade, lower in sugar than store bought pop tarts and a childhood classic!
Ingredients
For the Shortcrust Pastry
300

g

plain flour

1 1/2

tbsp

caster sugar

1

tsp

salt

120

g

plant based butter

cubed at room temperature
For the Blackberry Jam
200

g

blackberries

70

g

caster sugar

2

tbsp

chia seeds

1/4

tsp

sea salt

1

tsp

water
For the Cinnamon Icing
5

tbsp

icing sugar

1/2

tsp

cinnamon

1

tbsp

plant based milk

or water

1 1/2

tsp

plant based butter
Instructions
For the pastry
In a large bowl mix the flour, salt and caster sugar together then add the cubed plant based butter then bring together using your hands or a silicone spatula

Mix and fold together until a smooth ball of pastry has formed then place back in the bowl, cover and leave to rest in the fridge for a minimum of 30 minutes
For the jam
Simply pop all of the ingredients into a pot over a medium heat and allow to combine, bubble for around 8-10 minutes and set aside to thicken and set

Take the pastry out of the fridge and place on a floured work surface, then using a floured rolling pin roll out till around 1cm thick

Using a cookie cutter or just a knife slice out 12 equal rectangles to form the pop tarts *note, you can use which ever shape you would like*

Preheat the oven to 180ºC

Lay 6 of the rectangles onto a lined baking tray then spoon on the blackberry jam, around 2 tbsp per pop tart repeat until all are covered *if you have leftover jam either add more to the pop tart filling or set aside

Match up the other 6 pastry rectangles over the top then using a fork pinch the very edges of the rectangles to seal them, then give the top of each pop tart a brush with either oat milk or sugar water to help get a golden crust

Pop in the oven to bake for around 25-30 minutes until the pastry is golden on top
To make the cinnamon icing
Simply mix all of the ingredients together in a bowl until smooth. You may need to add a little more liquid or a little more icing sugar to get the right texture, but it need to be thick instead or runny to sit on top of the pop tarts

Cover each pop tart then add a tiny bit of jam to create a pretty pink stain
---