Ginger, Garlic Noodle Curry Recipe
This noodle curry is packed with flavour from using lots of fresh ginger and garlic, paired with crunchy tenderstem and silky smooth udon noodles.Whether it's a week night dinner, cooking for friends or instead of ordering from Wagamamas, this noodle dish will hit the spot.
---
Ingredients Breakdown
Udon / Wheat Noodles- I've used a medium noodle, so a little thicker than an udon. However you can use udon noodles, or if you're gluten free, rice noodles or soba noodles.
Ginger- This is a key ingredient as it gives the curry a beautiful fragrant and slight kick to the dish. You can either grate the ginger or finely dice it.
Tamari- I love using a bit of tamari in most dishes as it gives a lovely umami flavour.
Ginger- I use 4 cloves for this recipe however please feel free to use just three, especially if they're large cloves.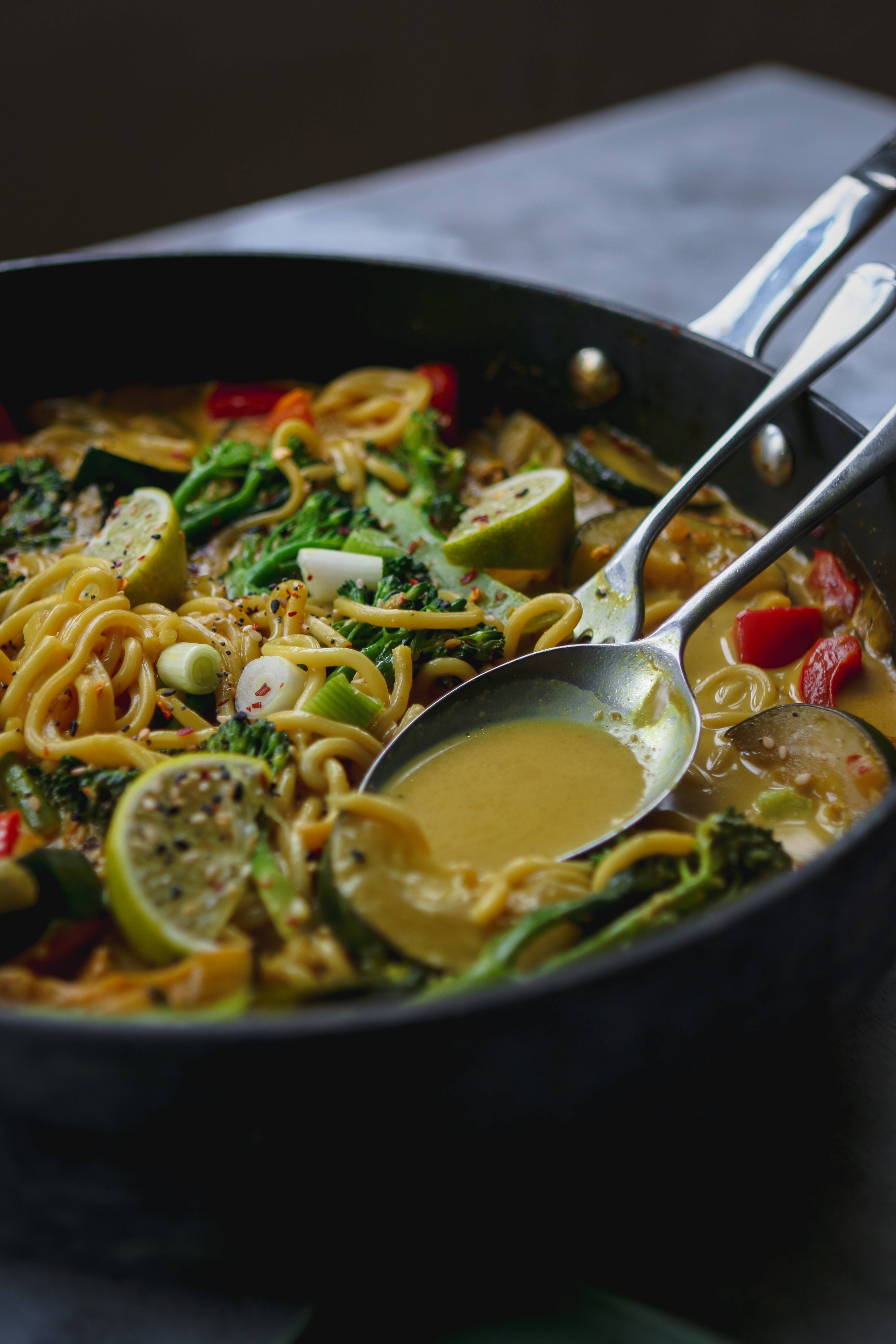 Tips For Cooking This Recipe
Fresh Ginger- If you half the pice of fresh ginger then grate one half and finely chop the other half. The finely chopped half will be added at the beginning of the recipe as instructed, then add the grated half after you've added the coconut milk.
Timing the Tenderstem- By simply adding the tenderstem to the dish right at the end, then placing a lid over the top, helps steam the vegetable. Be sure to only steam for around 4-5 minutes to prevent it going soggy.
Fresh Lime- This is an important ingredient as adds the acidity. If you half the lime, add half of the juice at the beginning with the vegetable stock, then squeeze the remaining half over the curry once finished (or just a little squeeze over each serving bowl).
---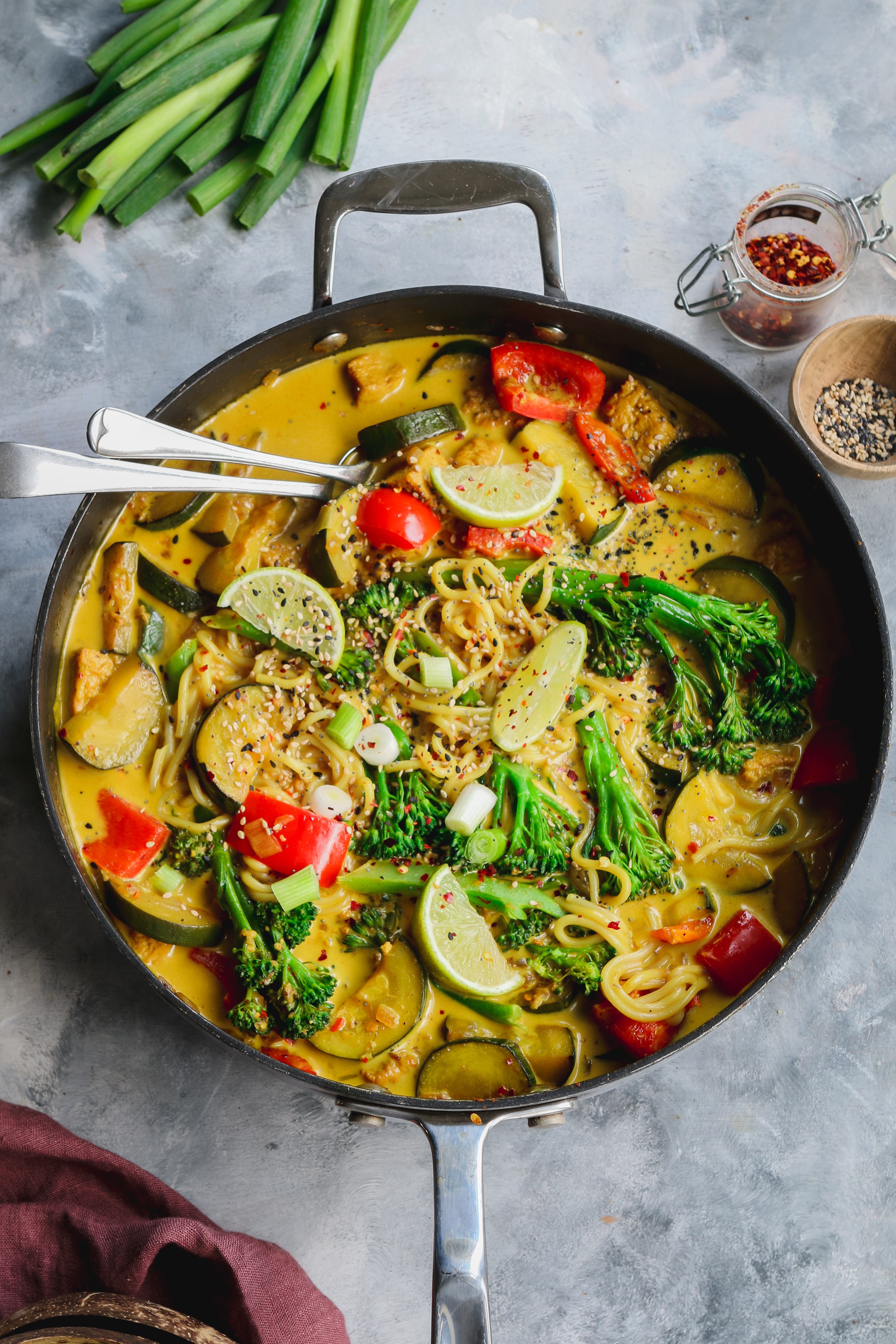 Ginger, Garlic & Tenderstem Noodle Curry
Delicious, vibrant and full of flavour - this noodle curry is really simple to put together and tastes just as good as your favourite takeaway. Perfect for making when you have friends over for dinner.
Ingredients
For the stock
1

white onion

3

cloves

garlic

thumb size piece of fresh ginger

1

red chilli

1 400

ml

tin coconut milk

1

tbsp

tamari

1

tsp

turmeric

1

tsp

cumin

700

ml

veg stock

made using stock cube and water
Veg & Noodles
3

spring onions

1

courgette

2

peppers

5-6

Tenderstem

1

pack ribbon noodles

if gluten free use soba or flat rice noodles

1/2

lime squeezed
Garnish With
2

spring onions

1

tbsp

sesame seeds

toasted is even more delicious

large pinch salt

tsp

chilli flakes

optional for extra heat

1/2

lime squeezed

to garnish each dish at the end
Instructions
Use either a large pot or a deep pan, pop it on a medium heat with a drizzle of sesame oil

Finely dice the onion, ginger and chilli then add to the pan and fry for around 5 minutes

Once they have softened add the minced garlic and cook for a further 1-2 minutes

Roughly chop the peppers, courgette and spring onion into bite size chunks, add to the pan with the tamari and the squeeze of 1/2 lime

After 5-6 minutes of frying add the veg stock, turmeric and cumin and bring to a simmer for around 10 minutes

Turn the heat right down then add the coconut milk, noodles and Tendertem, pop a lid on top and leave to steam for around 5 minutes

Garnish with sesame seeds, finely chopped spring onion, chilli flakes and a pinch of salt then add the other squeeze of 1/2 lime just before serving

Enjoy!