Easy Vegan Chicken and Leek Pie using Puff Pastry
This delicious vegan take on a classic chicken and leek pie is one of the EASIEST recipes to make, using only a few key ingredients and relatively cheap to make. Perfect leftovers for lunch the next day, this pie is one of my favourite savoury pies to enjoy.
Made in partnership with the British Leek Grower's Association
What's in the recipe?
Leeks- Using green ends and all, don't be scared to use the full leek. Remember to give them a quick rinse under a tap to make sure there isn't any dirt hanging around.
Vegan Chicken- Now you can use any brand for this however I used the quorn chicken pieces as they absorb the flavour of the cream and leeks really well. I think they stay deliciously juicy and good in texture when cooking so feel free to give these a go.
Puff Pastry- Did you know that most puff pastry is accidentally vegan? Be sure to check the label before hand.
Vegan Cream- This is really easy to find in shops now a days which is great, I've used Oatly Single Cream for this (the one in the black and white packaging)
Dijon Mustard and Sage- These are the two bits of flavour you'll add to the pie, if you don't have dried sage swap for dried or fresh thyme instead.
---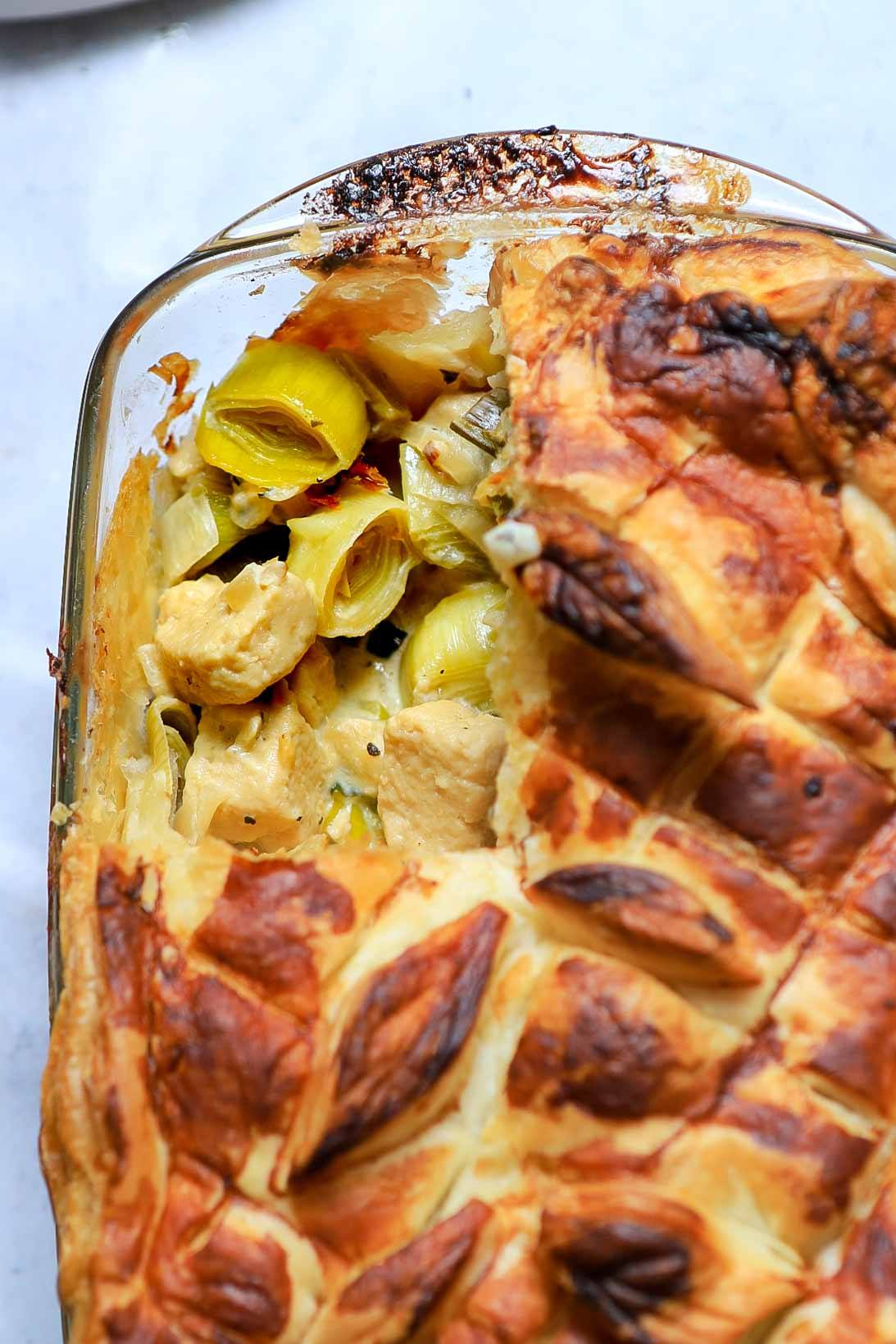 Cooking tips:
When baking- Bake uncovered for the first 20 minutes or so, but if you see the pastry on top starting to turn a really dark golden colour, cover loosely with baking parchment or foil to bake for the final 15 minutes or so.
Don't overcook the leeks to start with – The very start of cooking the vegan chicken and leeks is just to take the edge off and bring the flavours together, they only need around 7-7 minutes of cooking at max.
---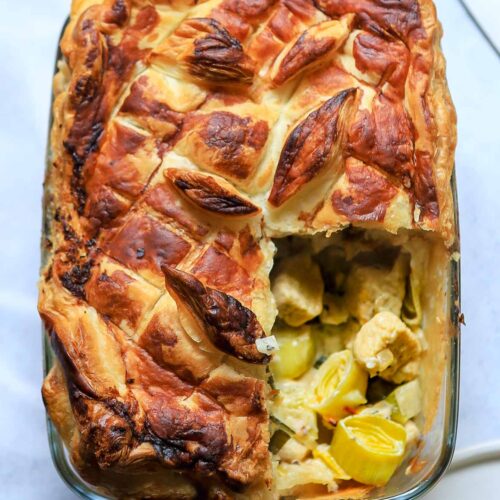 Vegan Chicken and Leek Pie
Easy vegan puff pastry chicken and leek pie using only five main ingredients. Plant based but delicious in flavour and ready in less than an hour. Easy to prep in advance and perfect for leftover lunch.
Ingredients
1

white onion

1

large leek

green ends and all

250

ml

vegan cream

1

stock cube with 100ml boiling water

1

clove

garlic

1/2

tsp

dijon mustard

1

tsp

dried sage

Salt and pepper

300

g

vegan 'chicken' pieces such as Quorn

375

g

puff pastry sheet

2

tbsp

tamari

sub for 2 tbsp melted vegan butter with a pinch of smoked paprika
Instructions
Start by chopping the onion, leek and garlic then add to a non stick pan and fry for 5 minutes before adding in the dried sage and stock cube & water

Add in the vegan chicken (if using from frozen, pop in the microwave for 3 minutes first) then stir vegan cream and dijon mustard and allow to simmer for a further 5 minutes

Preheat the oven to 200ºC fan

Grab a baking dish, I opted for a 20x30cm dish, line with just over 1/2 of the puff pastry sheet, spoon in the filling then using the other piece of puff pastry, create a lid pinching together the edges to seal it

Score on a pattern on top, feel free to get creative, brush with the tamari and pop in the oven to bake for 35 minutes, checking on it after about 25, if the pastry is turning too brown on top, add a piece of foil or baking parchment loosely over the top until finished baking

Serve up hot, along side some steamed veggies and enjoy!