What is Szechuan?
Szechuan is a spicy marinade  / sauce made with chilli, garlic and ginger and oil that originated from the Sichuan province of China.
Breakdown of ingredients
Sesame oil- Using sesame oil gives a beautiful nutty undercurrent to the sauce.
Birdseye chilli- This isn't a must if you don't like heat, simply swap for 1/2 tsp chilli flakes. I've recommended just 1 small dried birdseye chilli.
Light brown sugar- Adding sugar to a marinade or sauce like this is a must. The sugar adds a beautiful sweetness that compliments the garlic and chilli. It also helps preserve the sauce when stored.
Garlic- A crucial ingredient in this recipe is the garlic. The garlic and chilli combination is perfect together and gives such a strong flavour to whatever you're marinading (perfect for tofu).
Fresh ginger- Much like the garlic, grating in fresh ginger will add a lovely fragrant element to this recipe.
Tamari or soy-  This ingredient adds a bit of umami and saltiness to the recipe. You can swap tamari for soy sauce if preferred.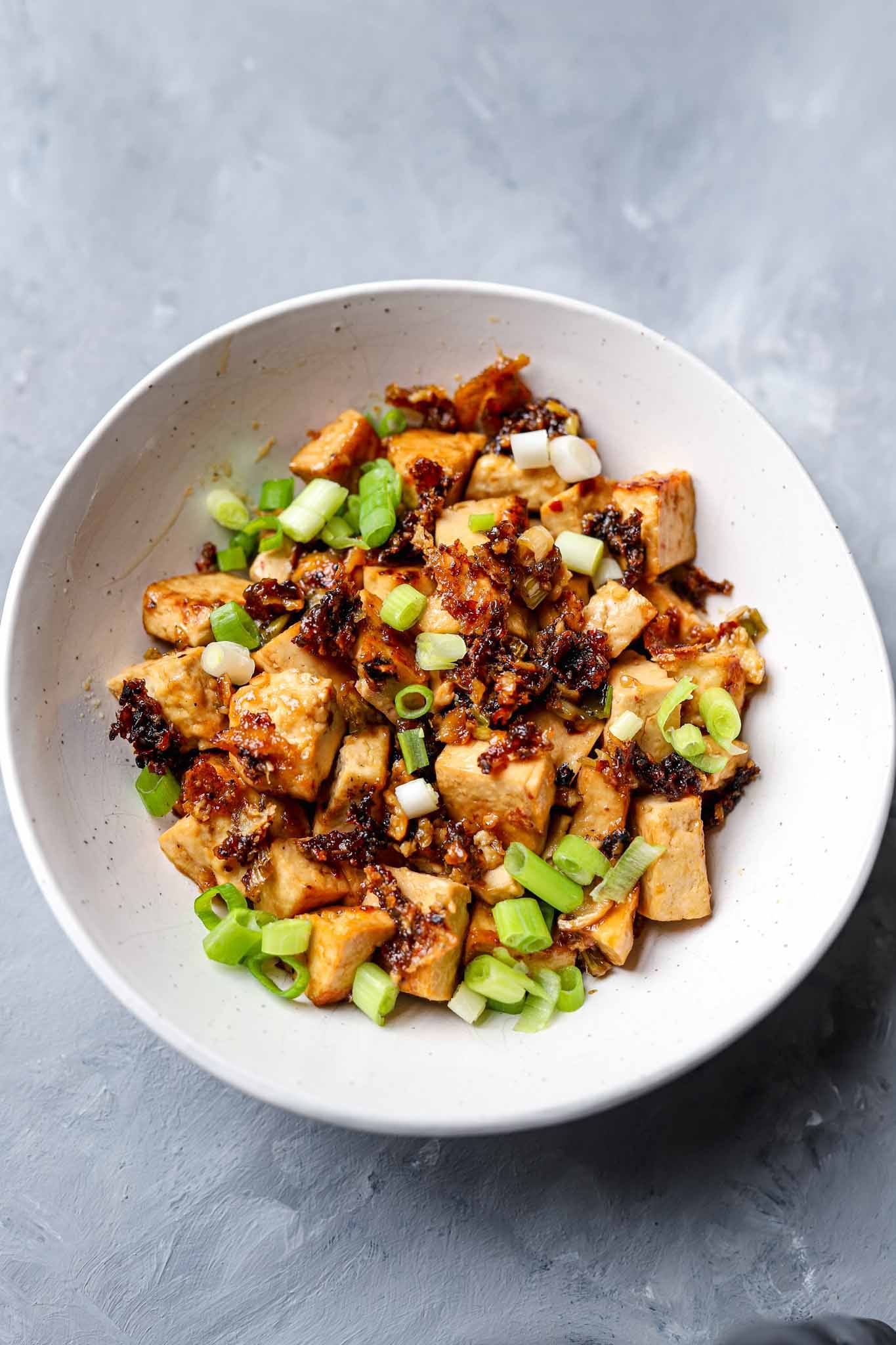 ---
Other ways you can use this recipe:
I have a handful of recipes that I incorperate this szechuan sauce into. It's so versatile and takes no time to make so it's ideal when you're in a hurry.
Szechuan Fried Gyozas- Frying gyozas in the szechuan gives a beautiful spicy crispy base. I also serve this in a side dish as a dipping sauce
Quick Stir Fry- Even just tossing crunchy veg in a pan with this sauce makes a delicious 10 minute stir fry for a week night meal.
Chilli & noodle soup – Possibly one of my all time favourite 15 minute meals is my Chilli and noodle gyoza soup recipe which I've linked at the bottom of this page. It's so full of flavour and slightly less spicy as there's 700ml of water added to the dish.
---
Example of the Szechuan sauce to fry gyozas and add to noodle soup.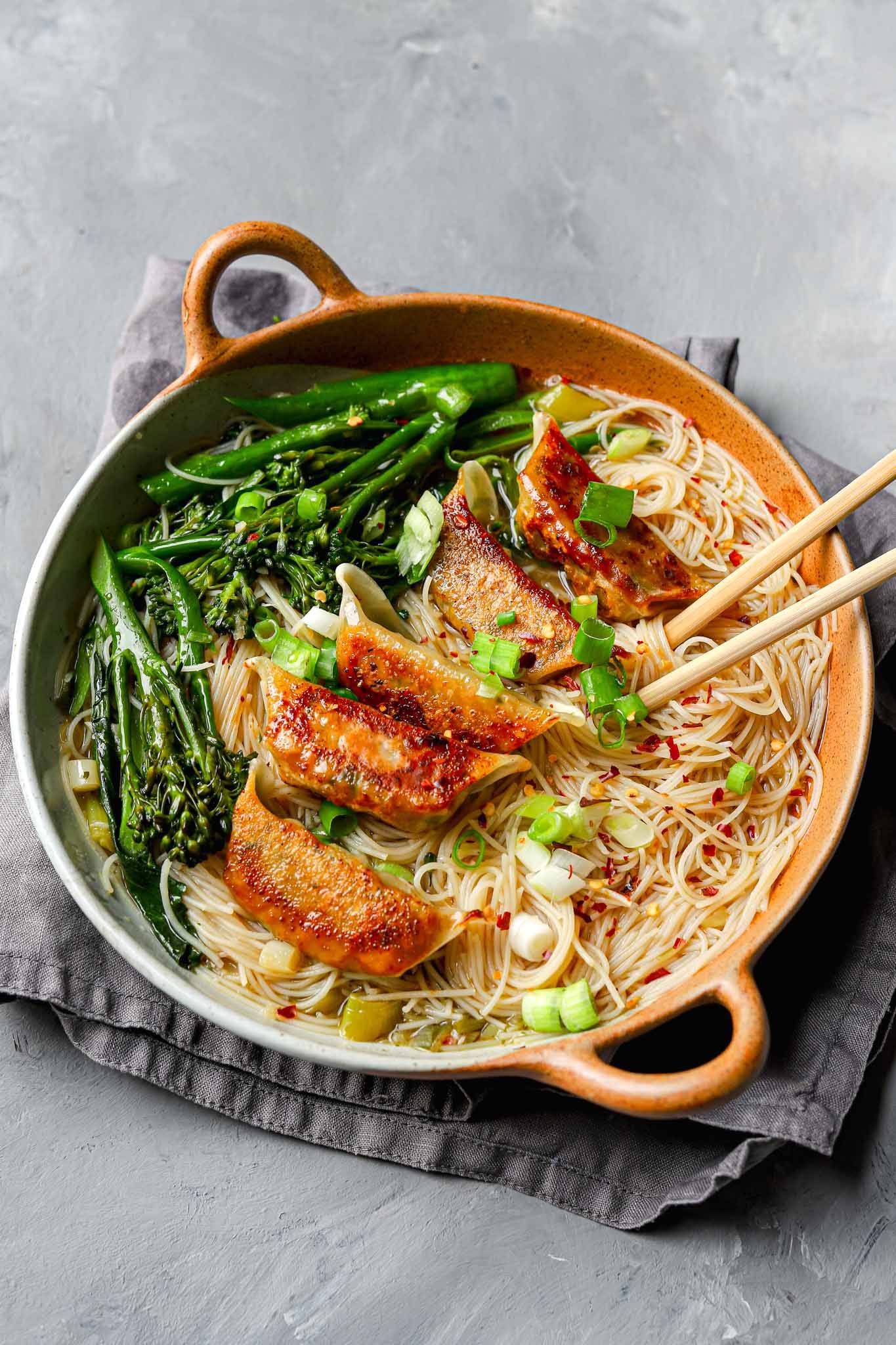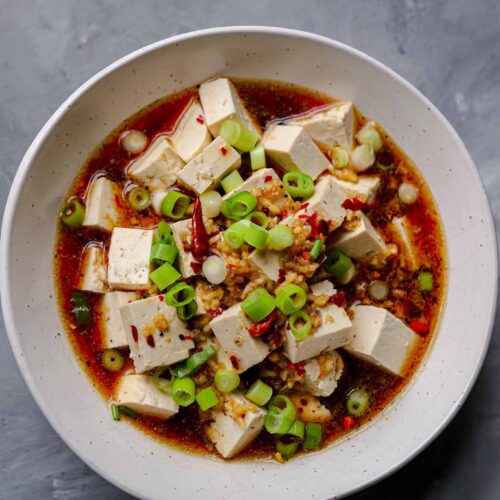 Homemade Szechuan Sauce
A delicious homemade Szechuan sauce using cupboard ingredients to make a delicious marinade. Made from chillies, ginger and sesame oil this will add a punch of flavour to your recipe
Ingredients
¼

tsp

black ground peppercorns

even better if you have szechuan peppercorns

1

small dried birdseye chilli

1

tsp

chilli flakes

3

cloves

minced garlic

3

cm

piece of fresh ginger

grated

2

tbsp

light brown sugar / coconut sugar

1 ½

tbsp

sesame oil

2

tbsp

tamari or soy sauce

½

tsp

rice vinegar or white wine vinegar

4-5

tbsp

water

If coating over tofu add 1 tbsp corn flour to thicken
Instructions
Simply add all of these ingredients to a bowl and whisk together then transfer into a sterilised jar / airtight container *will store up to 2 weeks in the fridge*

When ready to marinade simply coat the tofu / vegetables in the szechuan sauce and leave for a minimum of 20 minutes - it's better if marinated for a full 24 hours.
If you like this recipe why not try my
chilli and gyoza noodle soup here.