Grilled BBQ Watermelon Skewers (Perfect Vegan BBQ)
These grilled bbq watermelon skewers transform the flavour of the sweet watermelon usually eaten as a snack. The marinade creates a delicious umami packed flavour which works perfectly with the watermelon when grilled on a high heat. Ideal for skewers when paired with corn on the cob and peppers to have at a BBQ.
What's in the recipe?
Watermelon- I've used 1/2 a watermelon to make 6 packed skewers. Cutting the watermelon into similar size cubes helps with the cooking process.
Corn- I've chosen a precooked corn on the cob, however if you have it raw, simply parboil for 15 minutes to soften.
Garlic- Lots of delicious garlic to marinade the watermelon and veg. Paired with the soy sauce and smoked paprika, it creates a delicious dressing.
Soy Sauce- You can use soy sauce or tamari if you're gluten free. This helps create a lovely rich flavour with the garlic and soaks up into those veggies.
Smoked Paprika- I prefer smoked paprika as it has a lovely rich undertone to the spice. You can use regular hot paprika if you prefer more spice to smokey.
---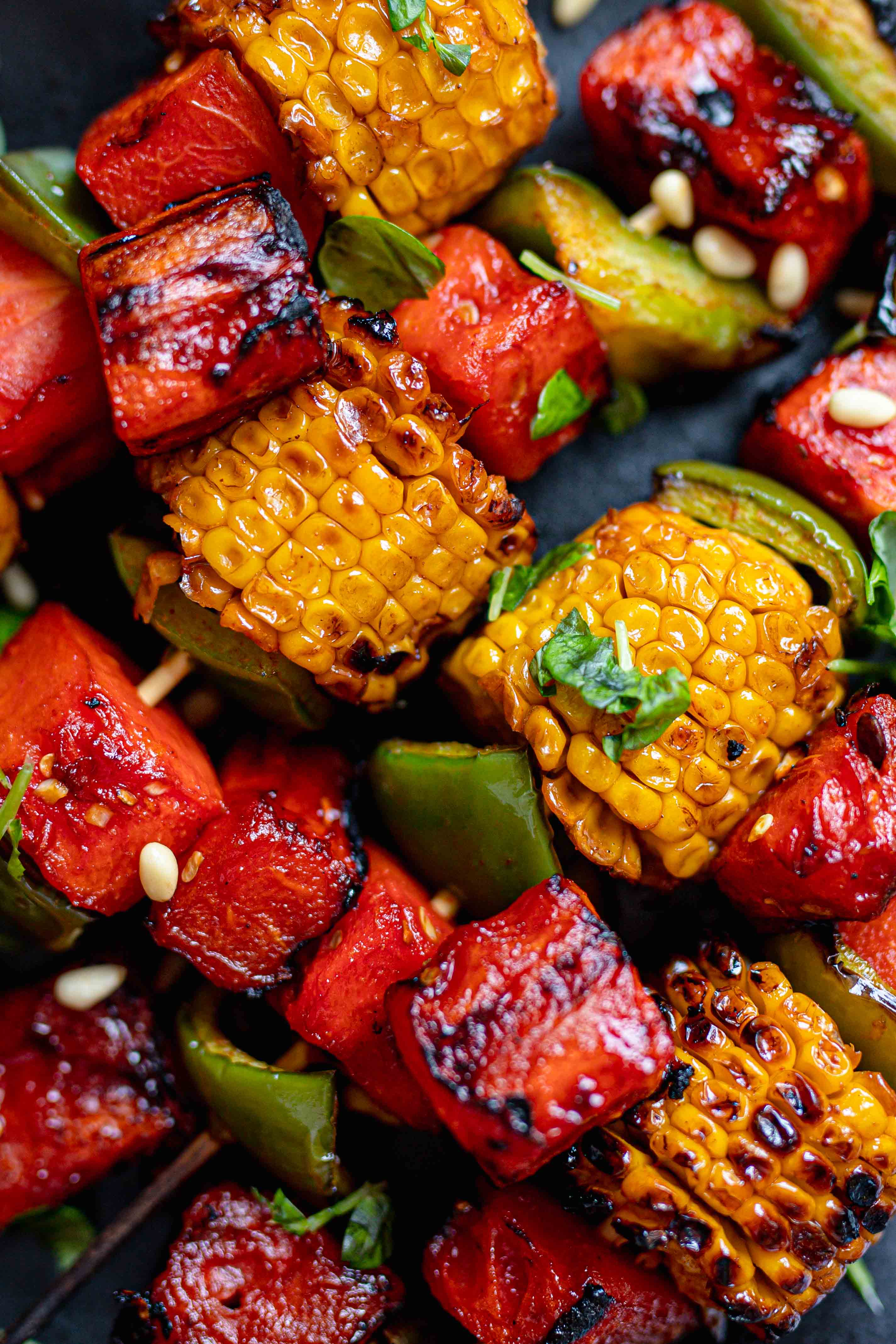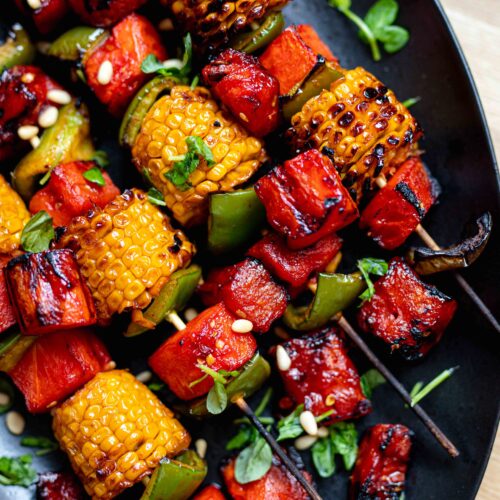 Grilled Watermelon Skewers
Grilled BBQ watermelon skewers perfect for a vegan BBQ. Flavoured with garlic and soy sauce marinade this grilled fruit transforms from a sweet to umami packed bite.
Ingredients
1

green pepper

2

corn on the cob

precooked

1/2

watermelon

3

cloves

garlic

4

tbsp

soy sauce

2

tbsp

garlic infused olive oil

1

tsp

smoked paprika

Good pinch salt & pepper
Instructions
Start prepping the corn by popping in a pot of boiling water for 15 minutes to soften

Prep the watermelon by slicing into cubes along with the pepper

In a large dish mix the soy sauce, olive oil, paprika, and minced garlic cloves then add the pepper and watermelon, quarter the sweetcorn and add in once softened

Salt and pepper the veg and leave for at least 15 minutes

Get the BBQ on, add the marinated veg to skewers (should make 4-5) and add to the grill, leave to sear on each side for around 5 minutes

Enjoy topped with fresh herbs and pine nuts, or just enjoy as is!
Notes
Once you have the skewers on the bbq, brush in the leftover marinade to make sure there's none going to waste
If you don't have precooked corn on the cob, simply chop each cob in half and add to a pot of boiling salted water for 15 minutes to soften
Leaving for 30 minutes to marinade will help add flavour, if possible marinade for a few hours to soak up the flavour
If you like this recipe why not try
Grilled Lettuce Recipe