Christmas Potato Stuffing Wreath Recipe
The Ultimate Potato Stuffing Wreath for Christmas. This recipe is a perfect centrepiece on the table this holiday. whether you're vegan or not. Making the most of the humble potato, this ingredient is the star of the show.
This recipe is created in collaboration with Seasonal Spuds
What's in the Potato Stuffing Wreath?
Potatoes- In this recipe we want a crispy delicious potato. They're technically twice baked, first of all to cook them, then when mashed in with the other ingredients. Think of this as a mash up between stuffing and a delicious giant roasted potato.
Cranberry Sauce- What is more festive than cranberry sauce? Use store bought or home made, either works.
Rosemary and thyme- The two perfect herbs this time of year are rosemary and thyme. Fresh or dried work for this recipe, but fresh herbs look fantastic to garnish.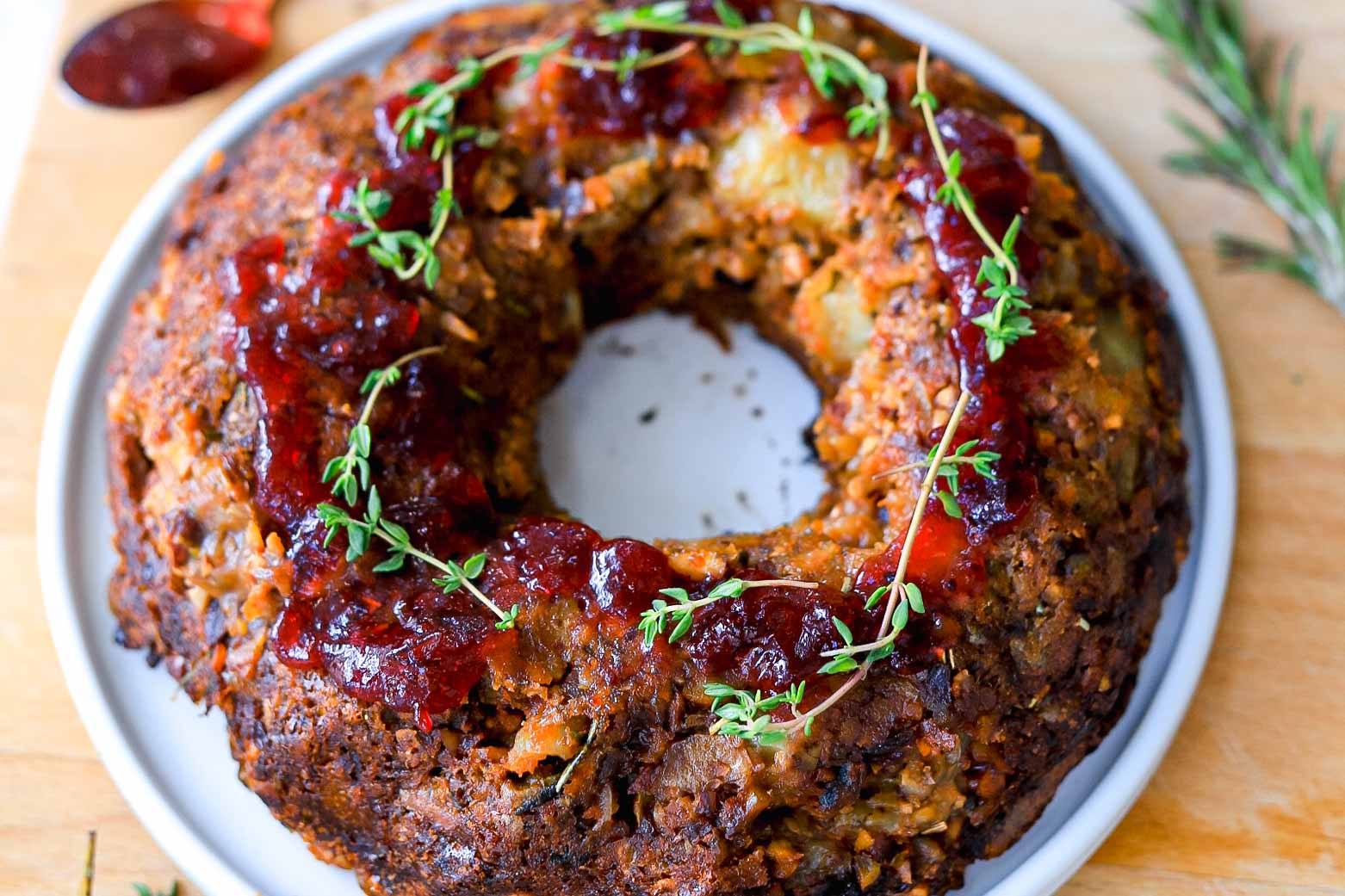 Cooking tips for the Potato Wreath
Use a decorative tin- You can use a bundt tin to cook the wreath, just remember to grease the tin so the potato doesn't stick to the inside.
Roast at a high hear for crispy coating- Depending on your oven, you may need to increase the temperature or the roasting time to get a delicious crispy coating.
Season well- The inside of the stuffing needs to taste delicious, so be sure to season well with salt, pepper and herbs. If you're a garlic lover be sure to get a few extra cloves in.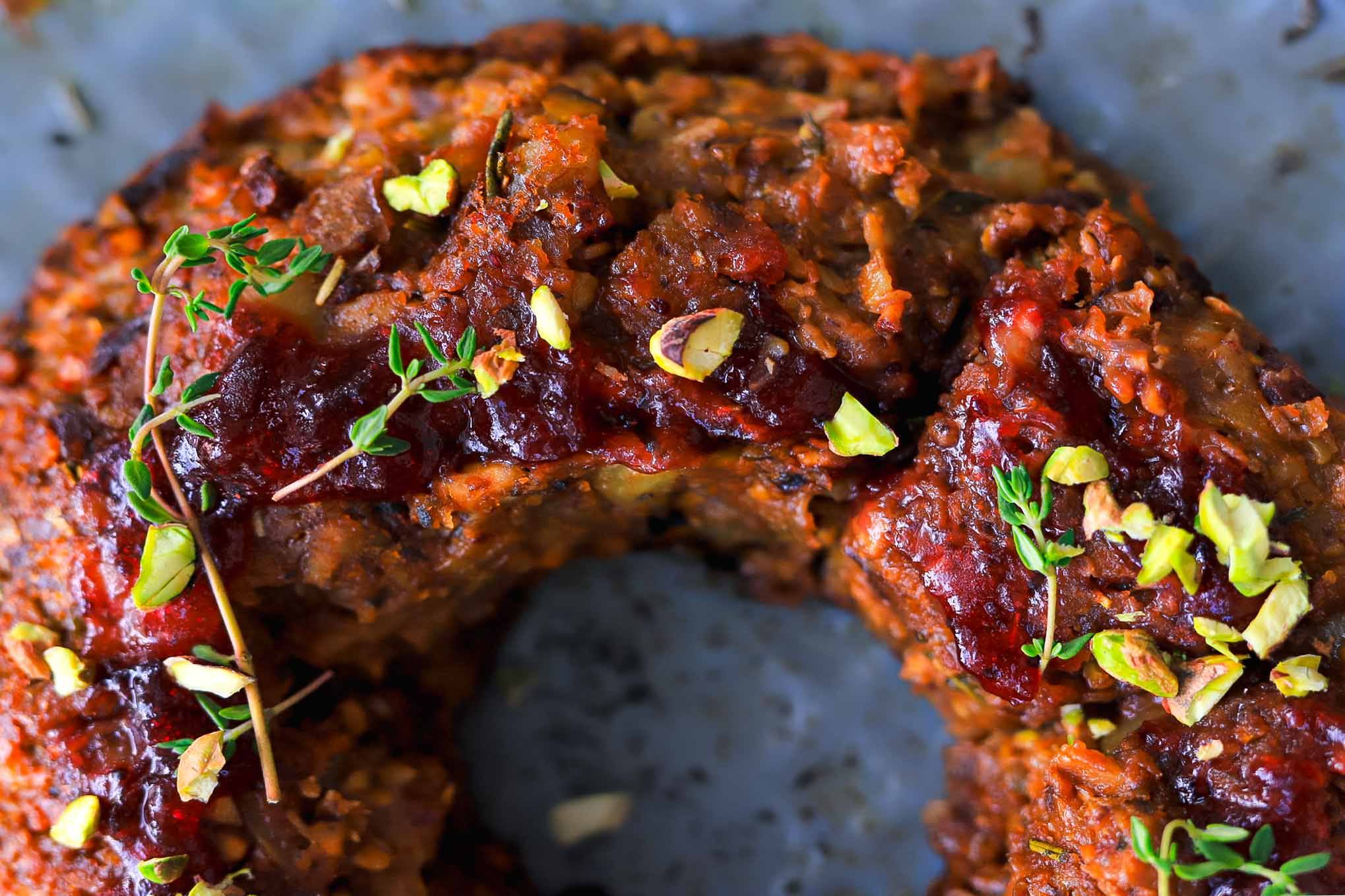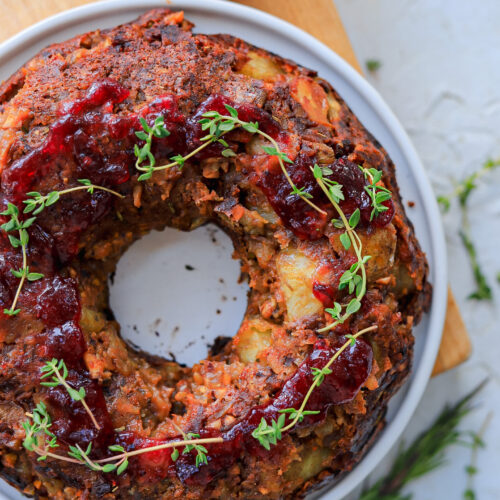 Potato Stuffing Wreath
The Ultimate Potato Stuffing Wreath for Christmas. Perfect for a centrepiece on the table this season. Perfect whether you're vegan or not.
Ingredients
1

tbsp

olive oil

1

red onion

5

cloves

garlic

400

g

white potatoes

100

g

mixed chopped nuts

we used pistachios and walnuts

3

sprigs each of fresh rosemary and thyme

Large pinch of salt & pepper

1

tbsp

tomato puree

80

ml

water
Instructions
Start by preheating the oven to 200ºC, drizzle olive oil onto a large baking tray, place in the middle of the oven to heat up.

Quarter the potatoes, then add to the pan with the hot oil, sprinkle in salt with a few sprigs of fresh rosemary then bake for around 25 minutes

Prepare the filling by dicing the onion, add to frying pan with a drizzle of olive oil for around 4 minutes

Finely chop the garlic cloves then add to the pan with the onion, toss in the dried rosemary, sage and thyme, mixed chopped nuts and fry for around 6-7 minutes

Add the tomato puree with a dash of water and mix until combined and set aside

Once the potatoes have roasted, add to the pan then roughly mash together before adding to a greased baking sheet, mould to the shape of a wreath and bake for a further 20 minutes

Take out once crispy, then drizzle a little cranberry sauce over the top and a few sprigs of thyme leaves
If you like this recipe why not try my Tates in Blankets