Easy Pesto & Cheese Twists
These vegan friendly pesto cheese twists are so easy to make, only have 4 main ingredients and are perfect for a treat, packed lunches or gatherings. Everyone will be going back for more, vegan or not!
Let's get into the recipe
Puff pastry- Look if the Queen Mary Berry doesn't always make her own pastry, I'm not going to either! There's plenty of good quality shop bought pastry that is accidentally vegan. You can of course use a GF one if needs be.
Vegan Mozzarella- The vegan cheese world has come on leaps and bounds in the last few years. Follow Your Heart, Applewood, and Violife all have some pretty delicious vegan cheese options out on the market.
Pesto- You can of course make your own pesto, I have a few different recipes, but for this I've used a shop bought one (Sacla's Vegan one) to keep this recipe as simple as possible.
Pine Nuts- I've added just a handful of pine nuts, you can swap this for blanched almonds, toasted walnuts or just skip the nuts completely.
Tamari- Optional ingredient but I use this to brush the pastry. It gives an amazing umami flavour to the crust as well as a beautiful golden colour. Just brush this on top before baking.
---
Cooking Tips
Spread the pesto, pine nuts and mozzarella on only half of the rolled out sheet of puff pastry
Fold the sheet over to create a sort of pesto filled sandwich
Slice down (either way) to create the strips, I ended up with around 12 but if you like, you can slice them a little thinner to get more
Pull apart the folds once twisted to expose the beautiful filling
Space the pastry strips apart to they don't go soggy in the middle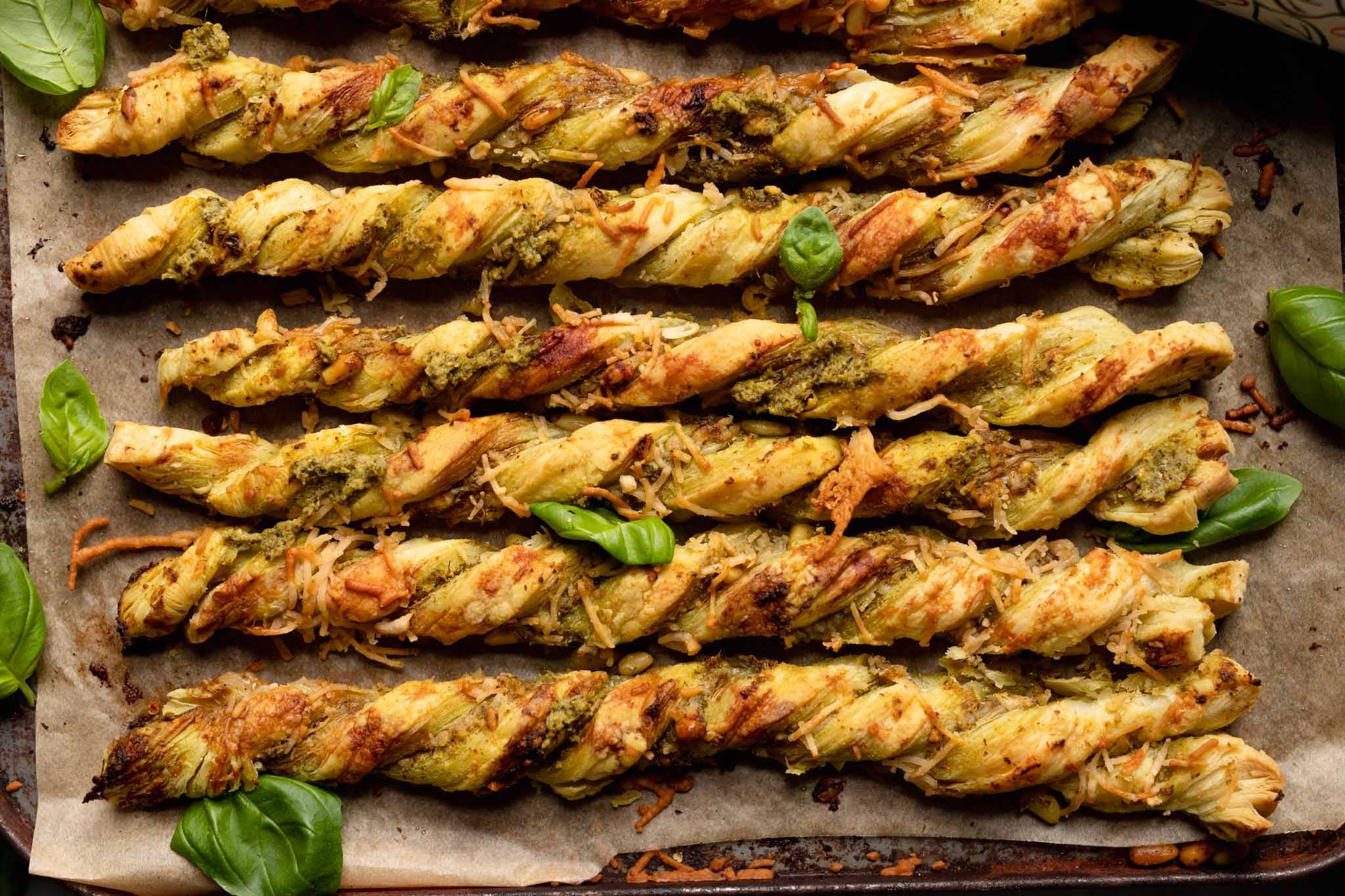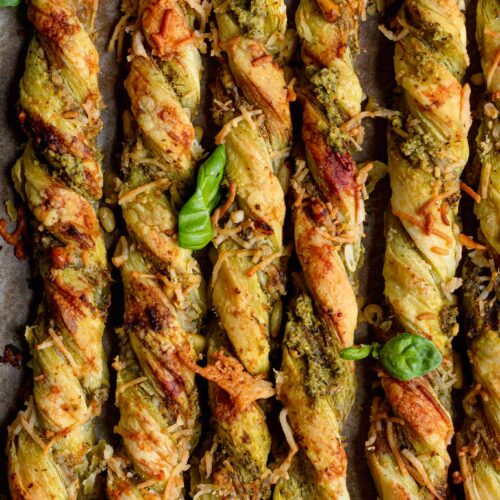 Vegan Pesto Cheese Twists
Easy 4 ingredient puff pastry cheese twists filled with pesto, pine nuts and mozzarella (all vegan friendly). It takes around 10 minutes to make and 25 minutes to bake.
Ingredients
1

sheet or block of puff pastry

80

g

jar of vegan Pesto

around 3 heaped tbsp

80

g

vegan mozzarella

handful of pine nuts

around 50g

2

tbsp

tamari to coat the pastry

optional
Instructions
Roll out the block of pastry & spoon on the vegan pesto covering one half of the sheet

Scatter the pine nuts and mozzarella on top then fold over the other half on top

Slice to create the layered strips (you should end up with around 6-8 strips depending on whether you've folded lengthways or short ways)

Twist the pastry then place back on the sheet *tip, push the folds apart a little to allow the pesto to bubble through*

Brush with tamari to get a beautiful golden glaze on top

Bake at 200ºC for 25-30 minutes
Notes
If you don't have tamari to coat them with, use a vegan melted butter or olive oil.