Is Japanese Cuisine Healthier?
Earlier this year I had an amazing opportunity to travel to Japan with the Panasonic team. A hop to Amsterdam, a skip to Seoul and a jump to Osaka, we finally arrived in Japan. Over the few days we had cooking workshops, presentations and demos to really grasp the concept of experiencing fresh and traditional food.
---
Experience Fresh
On our first day we had a live cooking demo whilst in the Panasonic HQ, showing ways in which water is used to cook food instead of oil, and how the techniques of knives comes into play when preparing vegetables.
One of the key messages I took from our time over there, was the importance of technique whether it's from the way you prepare the food or the way you cook it to really preserve flavour and keep the nutritional value.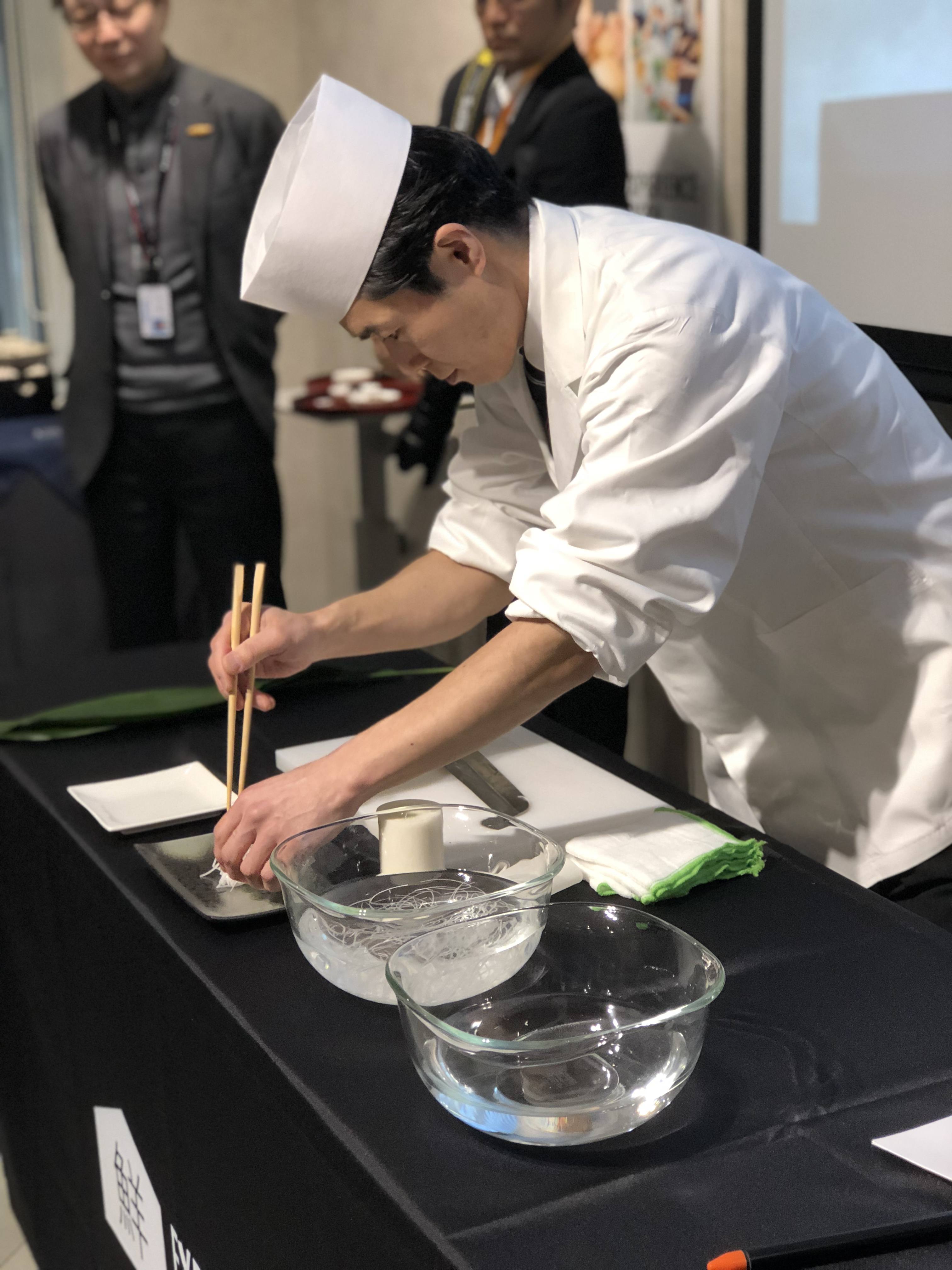 Some of the most common ways to cook food in Japan:
Steaming
Simmering
Poaching
Grilling
So by using heat and water, the produce can retain a lot more flavour than for example coating it in oil and frying it. These  techniques have been practiced to centuries and are still practiced today. What was interesting was learning how the team at Panasonic had worked this into their Microwaves, Bread Makers and Juicers.
Demo Time
We had a live demo to show the difference between a non-panasonic microwave steaming feature vs. the Panasonic brand, where we were asked if we could taste the difference, and we did.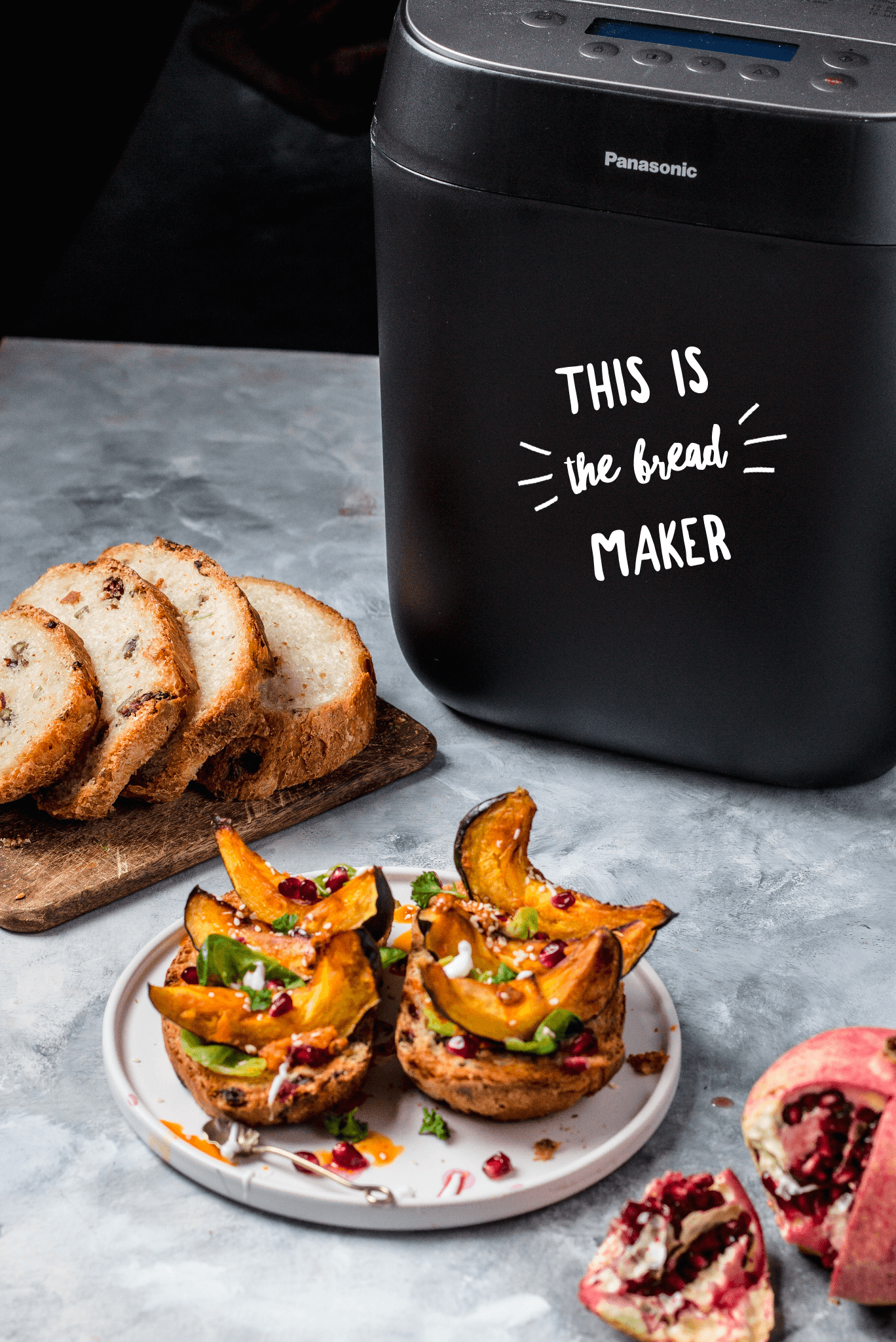 Another example is from the slow juicer, demonstrating the separation of liquid and pulp when using non-panasonic products vs. their own. Again, we were impressed to see the richness of colour, flavour and smell from the Panasonic brand, which had been developed to slowly squeeze a high quality, nutrient- packed juice from the tomatoes.
Then for the bread (my favourite part) which isn't traditionally a staple ingredient within Japanese cooking, however looking to the masters of bread making they developed the Croustina to produce the ultimate hard crust. We had a try of a pumpkin and nut crusty slice which was pure heaven after only having a tofu broth for breakfast hours earlier.
---
Ohhhhmami, that tastes good
'Umami' is the illusive word every cook looks to achieve in their cooking. It's the thing that you can't quite put your finger on, but keeps you going back for spoonful after spoonful of food - basically it's the perfect balance of sweet, sour, saltiness and bitterness.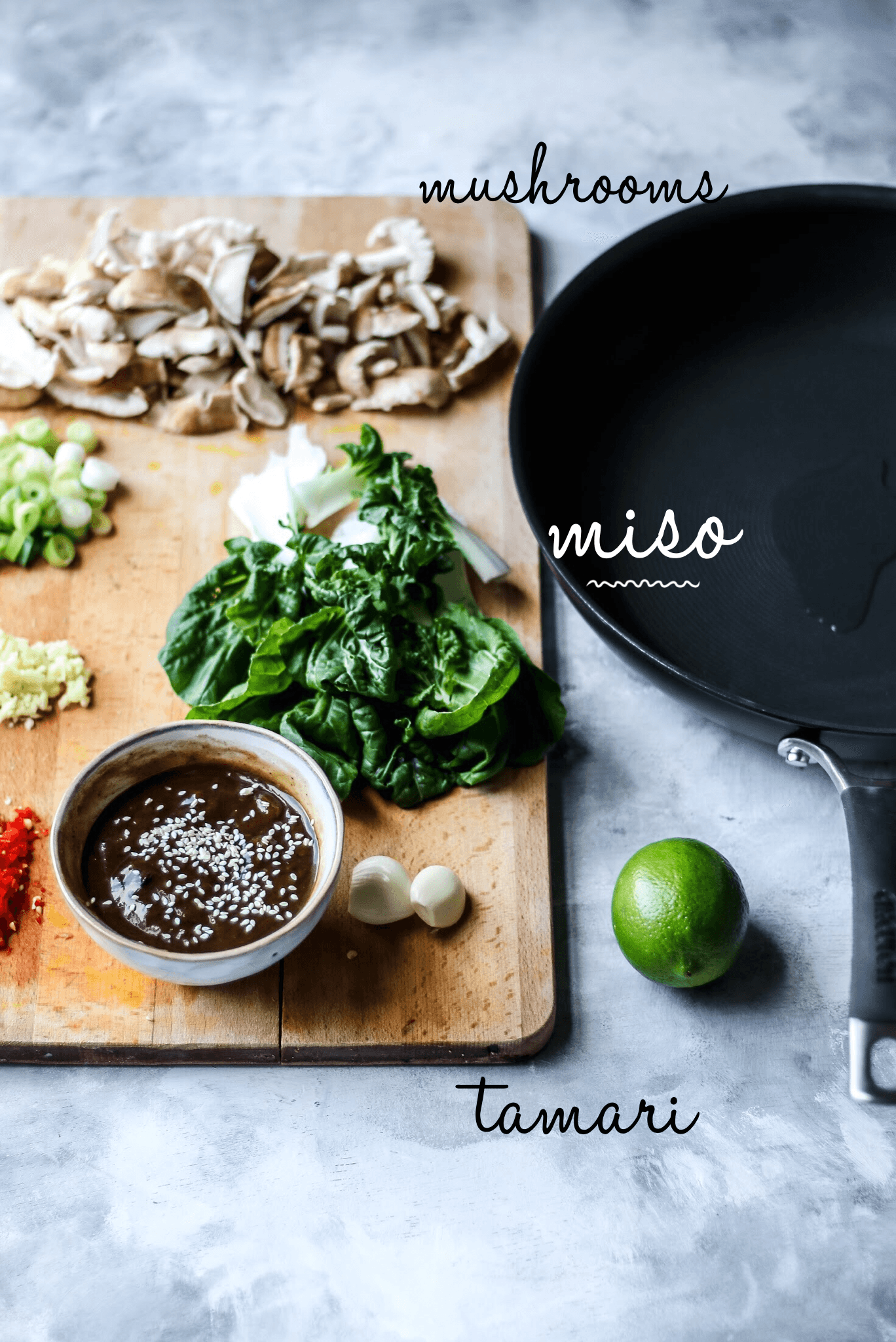 As a vegetarian I was also listening out for how to get the 'umami' taste when cooking. One of the two ingredients were shiitake mushrooms and tomatoes, due to the levels of glutamate. A backbone of many Japanese dishes is called Dashi and it a delicious stock that requires umami. The theory is if you have a really good stock dashi you needn't over flavour your produce.
---
Recipe Time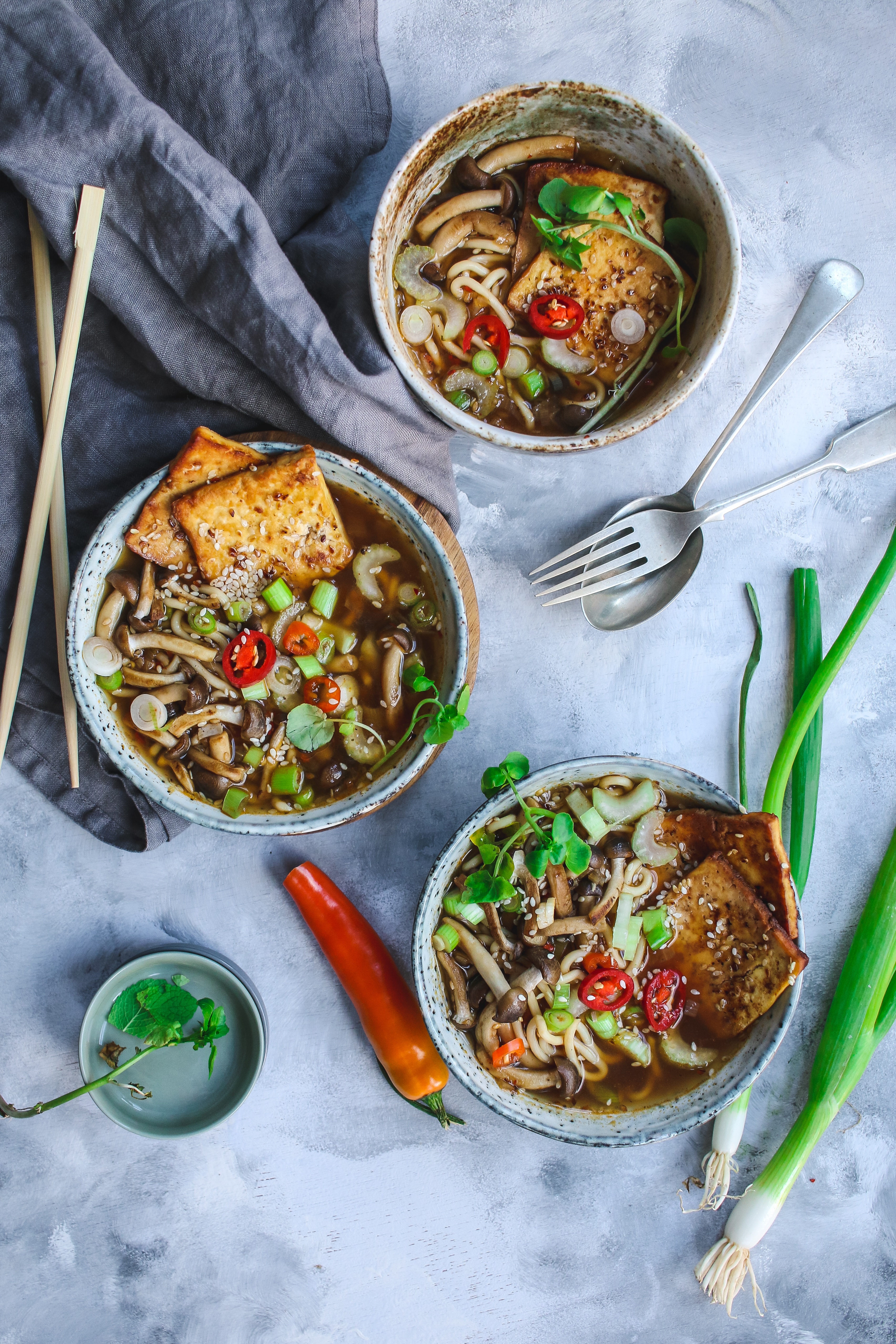 Here is a recipe I created, trying to envelop the learnings from the trip.
Ingredients:
3 spring onions

3cm fresh ginger

1 red chilli

2 shallots

3 cloves garlic

2 tbsp tamari

150g  of Shimeji mushrooms

2 bay leaves
140g firm or silken tofu cubed

150g udon noodles

1 sachet brown rice miso paste(I used ClearSpring miso)

1.5l of veg stock
For dressing
½ finely sliced red chilli

1 celery stalk

1 tbsp sesame seeds
Method
Prepare the vegetables first, finely chopping the shallots, chilli and garlic, then add the chopped shallots to a pot with a dash of water and allow to cook for around 5 minutes
Add the chopped chilli, fry for a few minutes followed by the garlic, then grate the ginger into the pot and fry for a minute or two
Add the stock, miso, bay leaves and tamari to the pot and allow to simmer for around 5 minutes
Add the shimeji mushrooms, udon noodles and cubed tofu to the pot and allow to boil in the stock for 6-7 minutes
Taste test, adding seasoning if needed, test if the mushrooms and noodles are cooked then serve up into bowls
Top with freshly chopped chilli, finely chopped celery and sesame seeds
*Note, if you want a crispy tofu, cube the blog then add to a small frying pan with 1 tsp sesame oil and press to crispen under the heat, add sesame seeds for a final 2 minutes of frying for a toasted crust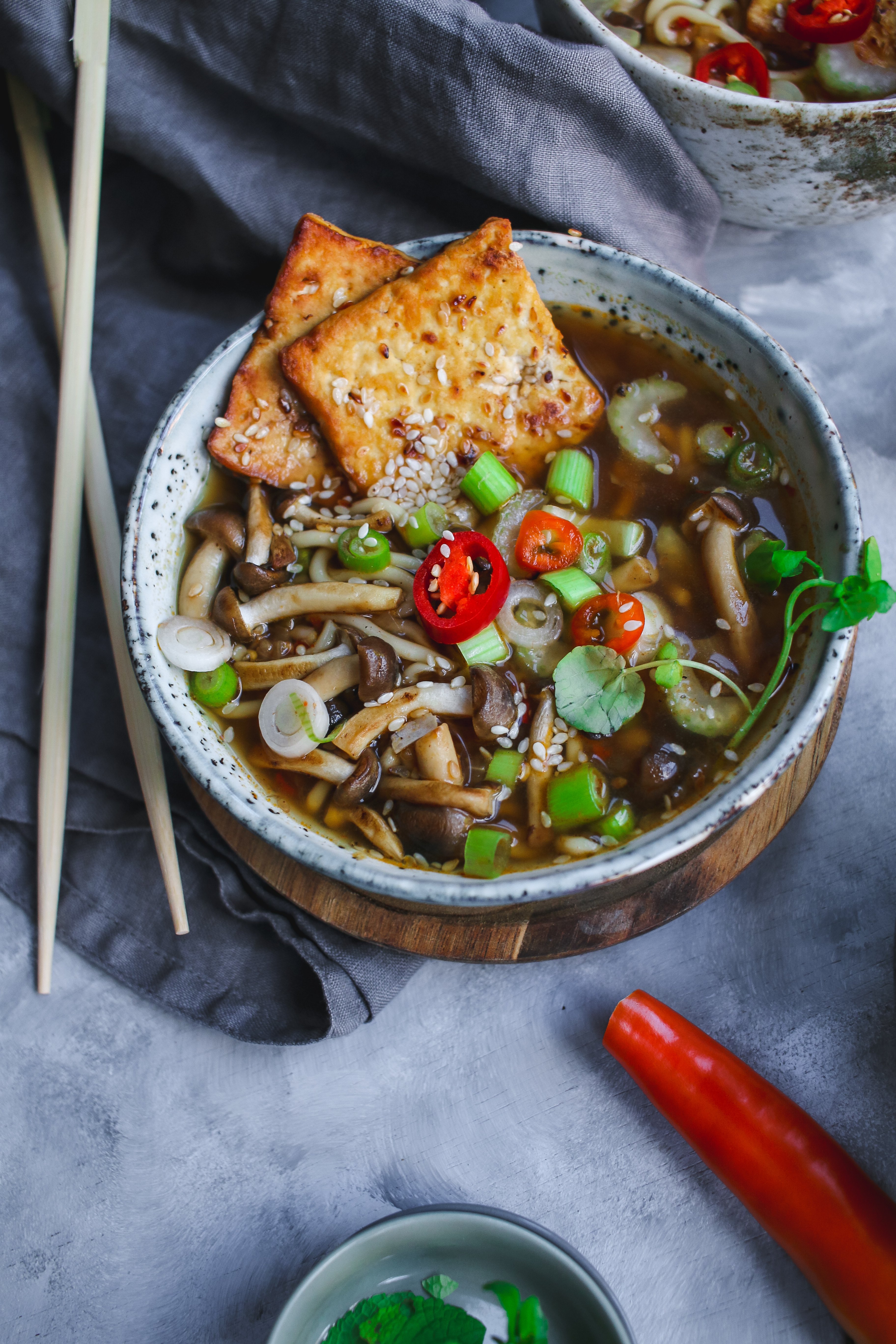 Take a peek at what we got up to in Japan day by day