#Goodforyourbowl
This is in Advertisement with Birdseye
I've teamed up with Birds Eye to show off their range of frozen pulse and bean mixes to
create a delicious autumnal recipe. The aim is to show off how quickly they cook (max of four 4 minutes from frozen) so are the perfect addition to your winter bowls. The recipe for this delicious potato, chickpea & spinach stew is just below.
---
I used to attach a stigma with frozen veg and thought it wasn't as healthy as fresh, however freezing locks in all the goodness and fab stuff such as fibre and protein - making sure you're getting one of your 5 a day. They're a great way to bulk out meals (especially those who are new to veggie meals) keeping you full through the autumn evenings.
I'm all about quick and easy recipes so having a bag of frozen pulses means I can have everything ready in rapid time! Curries, stews and hot pots carry a stigma that they take hours to prepare, whereas in fact this can be ready in 20 minutes (especially if you're using parboiled potatoes).
Best Types of Meals
I've used the Birds Eye Chickpea and Spinach Mix in a stew however there are loads of ways you could incorporate them into recipes such as:
Soups
Chillies
Stir Frys
Salads
Curries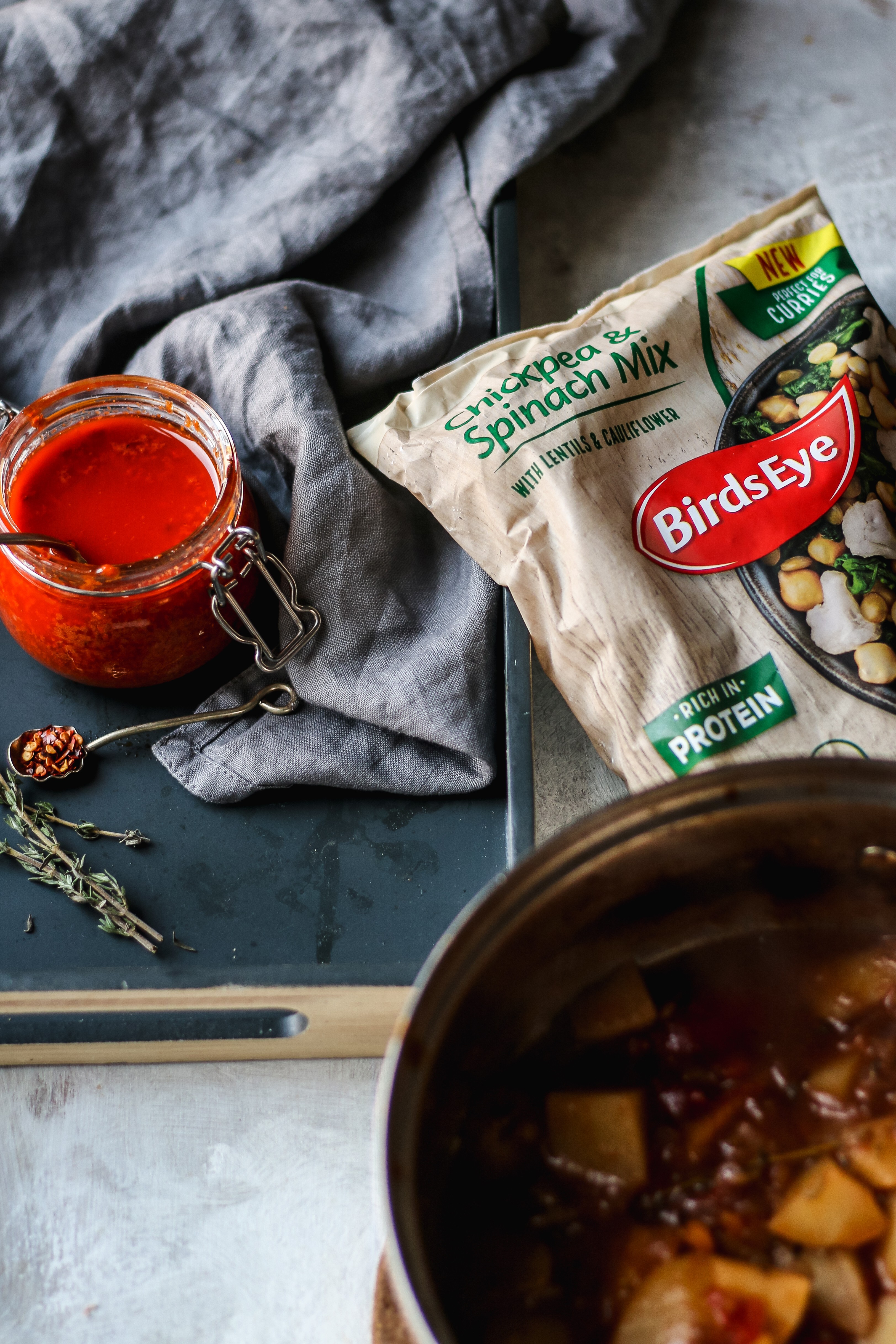 There are three different variations including Chickpea and Spinach Mix, Italian 3 Bean Mix and Mexican Bean which are great to have in your freezer for those evenings where you're looking for a quick meal to prepare.
You can buy the Birds Eye Pulse Mixes for £2 in Tesco, Asda and Ocado (I've popped a link just below).
https://www.tesco.com/groceries/en-GB/products/299531651
https://www.tesco.com/groceries/en-GB/products/299531639
---
RECIPE
Ingredients:
250g Birds Eye Spinach & Chickpea Mix
1 red onion
3 cloves garlic
4 small potatoes (cubed)
2 chargrilled peppers
1l vegetable stock
½ cup passata (can use tinned chopped tomatoes also)
1 tsp fennel seeds
1 tsp ground coriander
1 tsp cumin
1 heaped tsp smoked paprika
For the harissa:
½ cup olive oil
1 tsp chilli flakes
2 tsp cumin
½ tsp coriander seeds
2 tsp smoked paprika
4 cloves garlic
1 small roasted red pepper (I used ½ cup of jarred)
For the toasted seed topping
1 tsp black sesame seeds
1 tsp white sesame seeds
2 tbsp cashew nuts
Method:
Finely chop the red onion and fry off in a drizzle of olive oil until softened, then add the

minced garlic for an extra 60 seconds

Add the chopped peppers, and chopped potatoes and cook for a further 5 minutes on the

hob

Then add the stock and all the spices and bubble for 15 minutes

Add the 250 Birds Eye Spinach and Chickpea mix and cook for a further 4 minutes

Serve up in a bowl and top with a dollop of DF yogurt, drizzle of harissa and the toasted s

eeds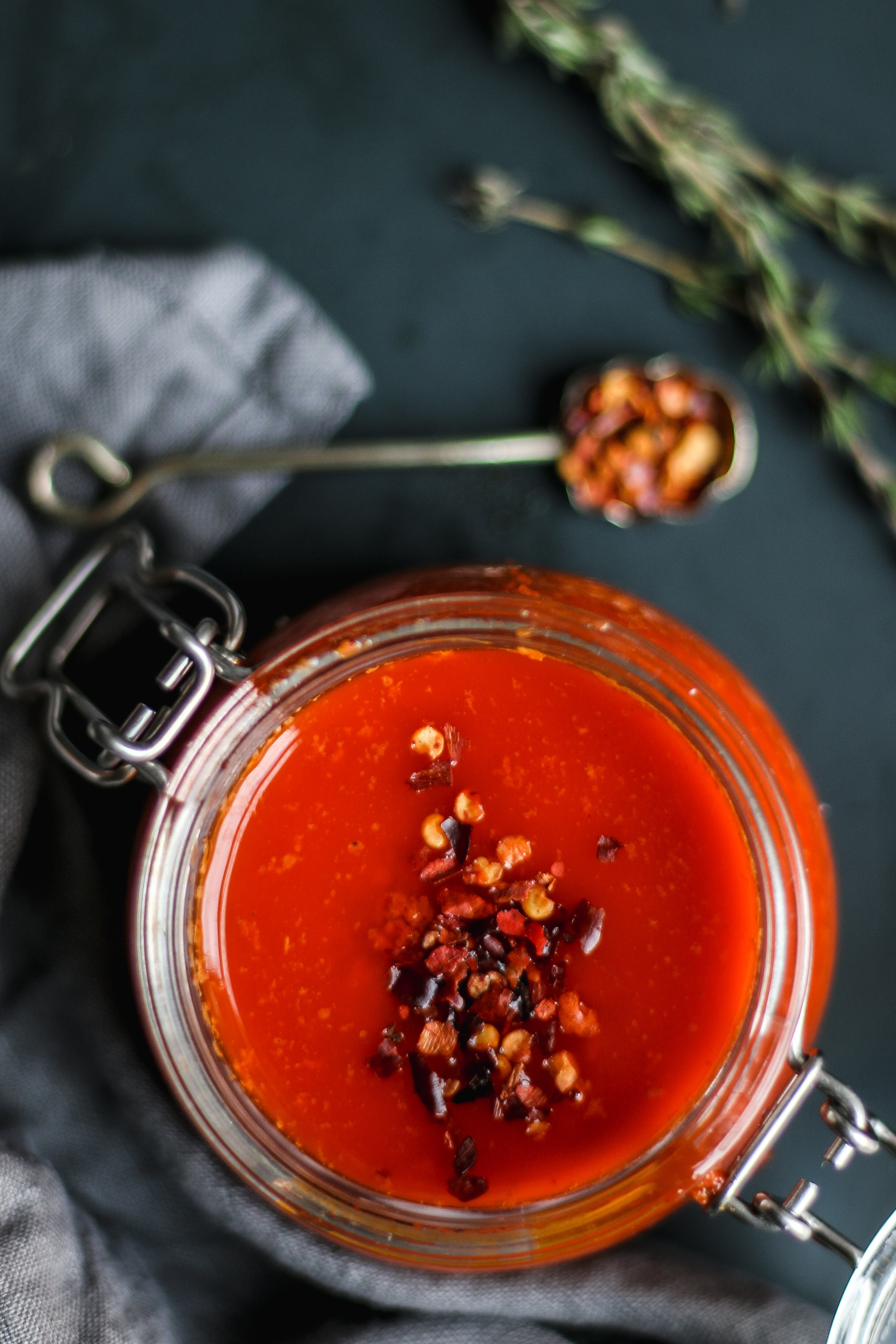 For the harissa
Simply blend all the ingredients together in a food processor