Harissa Beans Vegan Recipe
These homemade harissa beans are vegan friendly and cheap to make. Using white beans as they are so creamy, you can also use the stock that comes in the jar to thicken the sauce. This is perfect for breakfast, lunch or dinner served with toasted sourdough lathered in butter (vegan optional of course!)
What ingredients do I need?
White beans- The best beans out there are from Bold Bean Co. The stock in the jars is great quality so you can use the entire jar of ingredients. These offer a really creamy texture full of flavour.
Harissa- This ingredient adds so much flavour to a recipe so be sure to add it to the beans for a kick of flavour.
Tomato puree – The puree will need a splash of water to loosen it up, but feel free to use the stock that comes in the jar of beans.
Pesto- The perfect topping is a creamy pesto. My top tip is to get a jar, add a little more olive oil and shake. This gives you a slightly more indulgent pot of pesto.
Fresh herbs- Like every recipe, adding fresh herbs helps add flavour. The fresh basil works a treat against the rich tomato sauce.

Cooking Tips:
Creamy Texture- You want the texture to be really creamy and smooth. This will alter depending on what beans you are using / the quality of the stock. Be sure to keep an eye and add a little more water to the pot if it looks quite sticky and dry.
Season to perfection- The trick between good food and delicious food is seasoning. Taste test as you go.
Add fresh herbs- This makes such a difference, along with good quality olive oil. It's the difference between a tasty recipe and a really delicious bowl of food.
If you like this recipe why not try: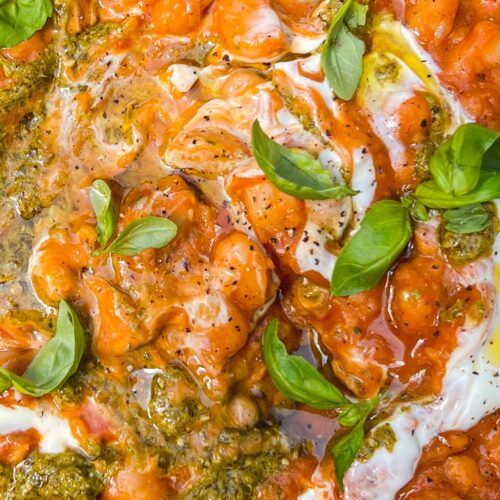 Harissa Beans
These homemade harissa beans are vegan friendly and cheap to make. Using white beans as they are so creamy, you can also use the stock that comes in the jar to thicken the sauce. This is perfect for breakfast, lunch or dinner served with toasted sourdough lathered in butter (vegan optional of course!)
Ingredients
1

shallot

finely chopped

1

clove

garlic

finely chopped

4

tbsp

tomato puree

250

g

white beans

plus stock from the jar (I use Bold Bean)

1

tsp

harissa

1

tsp

dried oregano

pinch

salt & pepper
Toppings
2

tbs

vegan yogurt

2

tbsp

pesto

handful

fresh basil leaves
Instructions
Start by finely chopping the shallot and garlic clove then fry in a glug of olive oil for few minutes before adding the tomato paste, loosen the paste by adding a splash of water

Pour in the beans along with any stock (Bold Bean Co offer the best beans!) and mix in the harissa and dried herbs and seasoning

Once the beans have cooked for a few minutes to heat taste test adding any additional seasoning then serve with vegan yogurt and pesto with a few fresh basil leaves
Notes
Depending on what beans you use will depend on how much stock you get. You want the mixture to be creamy but not runny. If there is not much stock with the beans, add in a splash of water at a time until you get a texture like the photographs.