Easy Vegan Oreo Cookies
These delicious and easy vegan Oreo cookies are crispy on the edge and gooey in the middle. Perfect vegan baking idea that is easy to make and tasty, and best yet – they're plant based! You can freeze the cookie dough balls and bake straight from the freezer if you want to make the batch for yourself.
What's in the Oreo Cookie?
Oreos- I've gone for a double cream Oreo biscuit as the creamy filling spreads and makes the cookie even sweeter.
Sugar- You want to use two types of sugar for this cookie recipe. golden caster sugar and light brown soft sugar. They caramelise and work so well to create this golden and sweet texture.
Butter- I've made this recipe with loads of different vegan butters and it works fine with any! At the moment I love the Flora plant based butter block. But if I'm just picking something up from my local corner Sainsbury's I'll use the Pure free from spread. They have slightly different outcomes but you won't really notice the subtle difference.
Chocolate Chips- I love using a dark chocolate chip which melts when baked and creates puddles of chocolate in the centre of the cookies.
Plain Flour- If you want a slightly thicker cookie, add 25g more plain flour. I like mine a little thin and crispy so prefer a buttery cookie in comparison.
---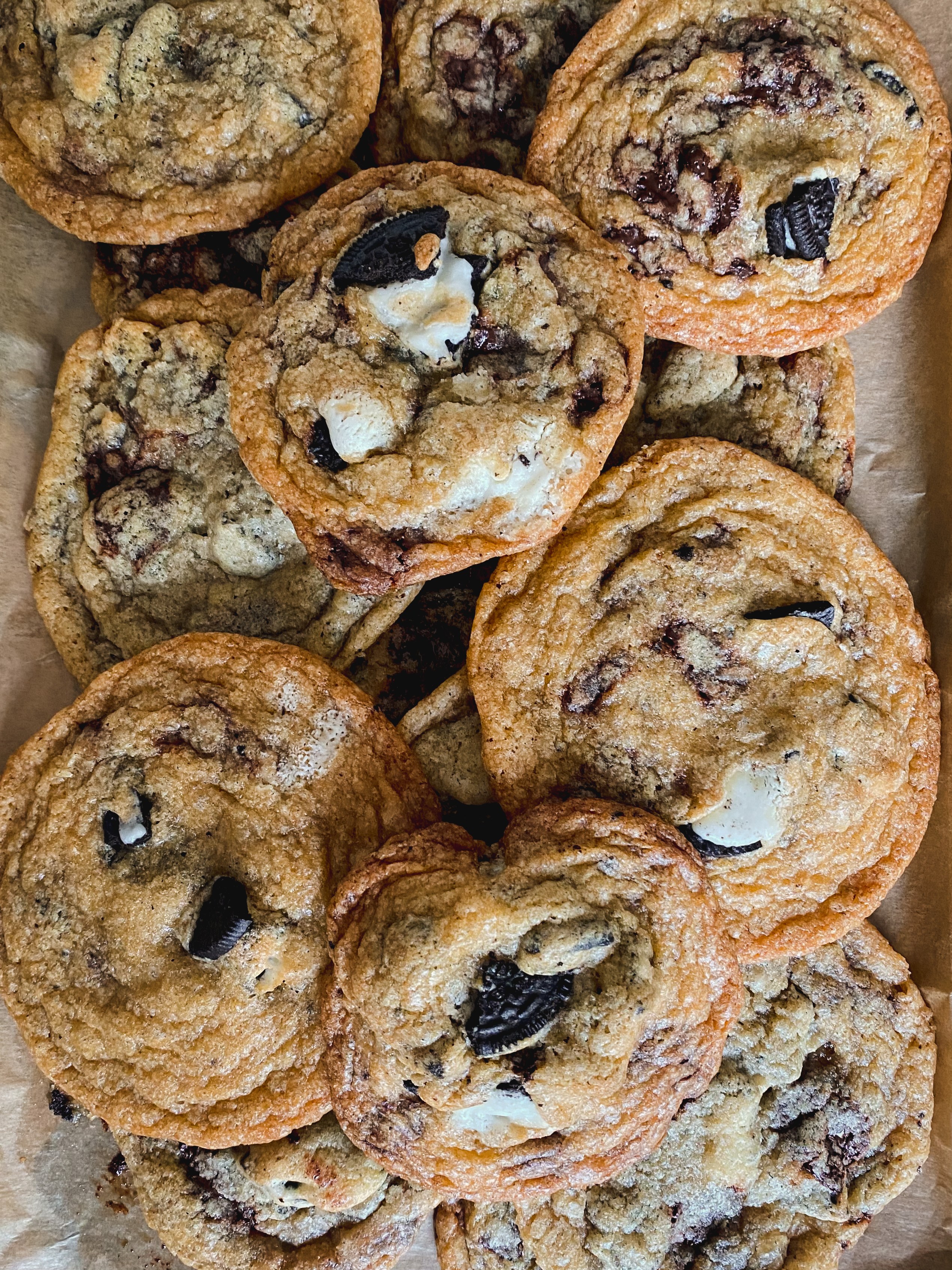 ---
Can you freeze?
Yes! If you want to make the Oreo Cookies ahead of time, or just baking for yourself and want to save the batter, simply roll the cookie dough balls, pop in a plastic tupperwear box and freeze. When freezing, if you make sure the dough balls aren't touching or on top of each other that will help make sure they keep their shape and don't just form into one huge cookie.
Add 3-4 minutes baking time on top when they are frozen.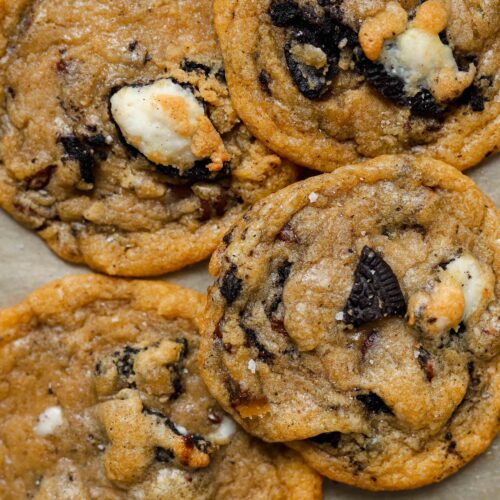 Vegan Oreo Cookie
Vegan Oreo Cookies made easy! Such a simple recipe and quick to make, they're gooey in the middle and crispy on the edges. The batch makes around 16-20 cookies depending how large you like them, great for making for friends or to leave in the freezer when you need something sweet.
Ingredients
220

g

plain flour

200

g

vegan butter

130

g

light brown sugar

70

g

golden caster sugar

sub for white caster

1/2

tsp

baking powder

1/2

tsp

baking soda

1

tsp

vanilla extract

1/2

tsp

sea salt

150

g

chocolate chips

1

pack of Oreos

roughly crushed
Instructions
Preheat the oven to 180ºC (fan oven setting)

Add the room temperature butter, vanilla extract and two types of sugar to a large mixing bowl and beat together

Add the flour, baking soda and powder and salt to the bowl and mix together until smooth

Pour in the chocolate chips and roughly crushes oreos, mix together then shape into the cookie dough balls

Place the dough balls on a lined baking tray (only about 6 per tray as they will melt down and spread out on the tray)

Bake for around 10-12 minutes, until just baked, then take out of the oven and leave to cool for around 5-10 minutes
Notes
If you don't have golden caster sugar, regular white caster sugar will also work
If you want to freeze some of the batch, roll into cookie dough balls, add to a plastic container and freeze, bake straight from frozen, add an extra 3-4 minutes of baking time
If you wan't a super thick cookie, make two smaller dough balls and stack them on top of each other (sort of like a snowman)