Oat & Raisin Cookies Loaded with Chocolate Chips
The die hard oat & raisin cookie lovers might hate the idea of chocolate chips, but I promise you it just adds another level of delicious cooke heaven.  I experimented with two types of cookie dough, one with a slightly thicker cookie and one thinner and crispier. It's out for public vote and it was split, so I've met in the middle and added around 80g of oats.
Let's get into the recipe
Oats & Raisins- No surprise here, oats and raisins are pretty key for this recipe. I've opted for 'fast oat's which is basically just porridge oats however this recipe will work with whichever you have in your home.
Chocolate chips- I've gone for a dark chocolate chunk because I feel like chocolate makes every cookie recipe better. If you're not a lover of the idea, simply add around 40g more raisins.
Caster & Light Brown Sugar- The key to a good cookie is a brown sugar, it adds a sort of molasses, caramel flavour. I've used caster and light brown for this recipe. Note if you change which sugar you use, it will change the outcome of the cookie. Baking is science!
Plain Flour- I haven't tried this as a GF cookie, but I know a good tip is to mix the kind of GF you use, such as a GF plain and a rice flour.
Ginger & Cinnamon -Now these two spices work beautifully together. I prefer more ginger than cinnamon, so if like me you love ginger, change the amount to 1/2 tsp as opposed to 1/4 tsp.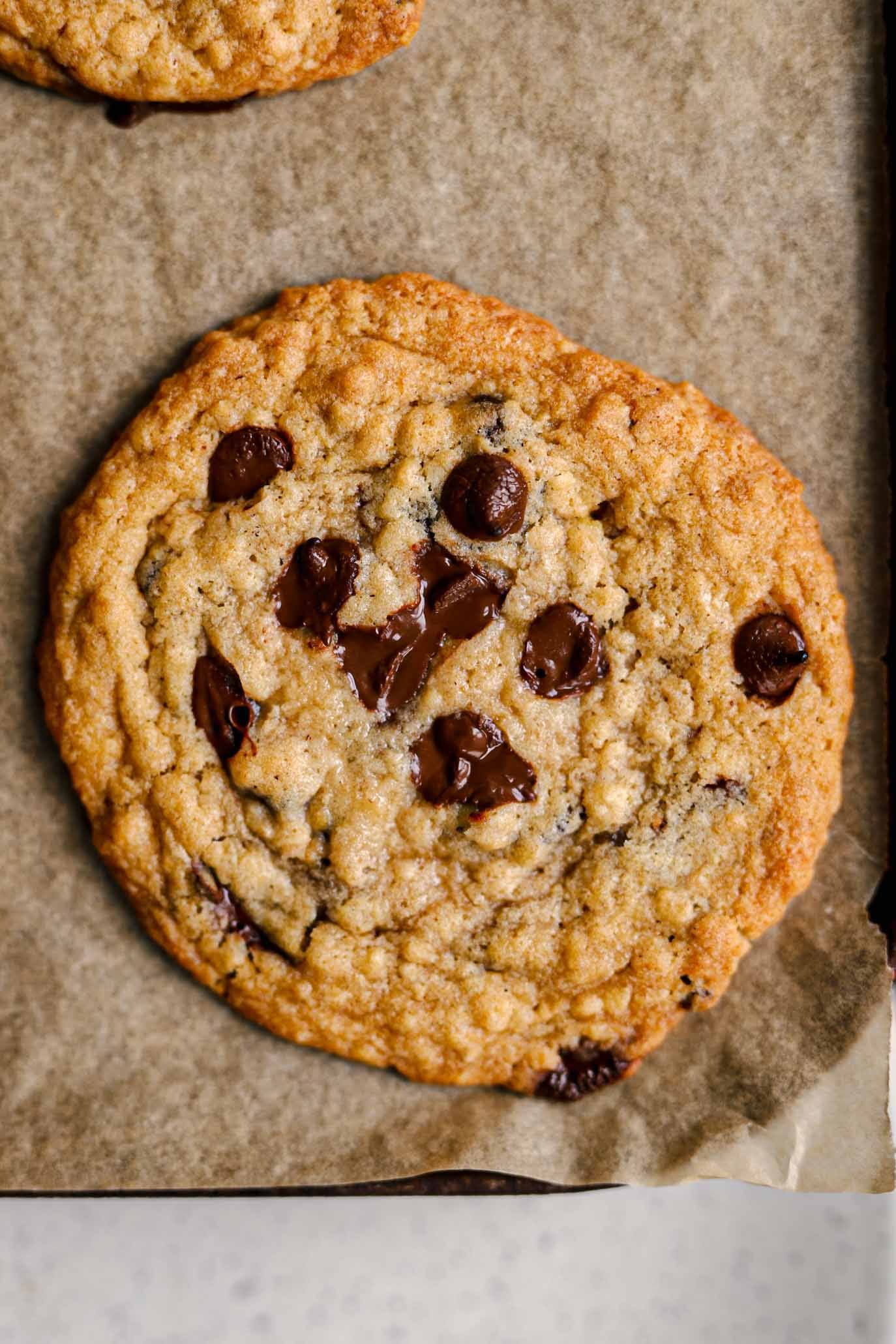 ---
Thin and Crispy Cookie or Gooey & Chunky?
To get thin & crispy cookies – I added only around 40g of oats to get the result pictured above. It means the butter:flour ratio is more equal meaning a thinner and crispier cookie
Thicker chunky cookies- I used 80g of oats for the thicker cookie shown at the top. It just means there's more of a dry ingredient so holds it's shape a little more when baked.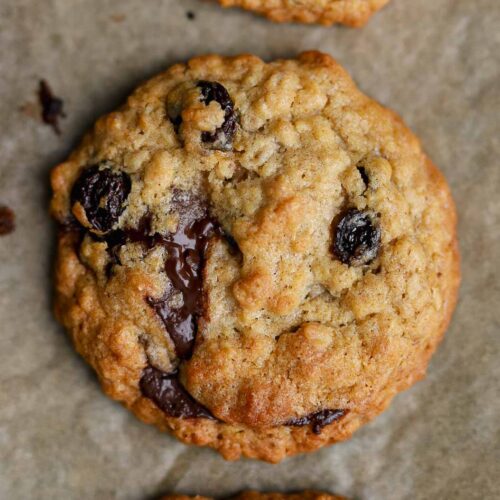 Oat & Raisin Chocolate Chip Cookies
Oat & Raising cookies but with a chocolate twist, because I believe chocolate chips are always needed in a cookie recipe. Easy, vegan and beautiful! Hope you enjoy this vegan cookie recipe as much as I do.
Ingredients
80

g

caster sugar

120

g

light brown sugar

200

g

vegan butter

(I used Pure vegan spread)

220

g

plain flour

80

g

oats

1/2

tsp

baking powder

1/2

tsp

bicarbonate of soda

100

g

raisins

1/2

tsp

cinnamon

1/4

tsp

ginger

80

g

chocolate chunks

optional
Instructions
Preheat the oven to 200ºC

In a mixing bowl beat the brown sugar, caster sugar and butter together

In a separate mixing bowl mix the dry ingredients together then add the butter and sugar, then mix until combined (using a silicone spatula will work best)

Roll out two 3cm sized ball of cookie dough, then stack them on top of each other (sort of like a snowman) on a lined baking tray - note you should fit about 6-8 on a tray as they need to be spaced apart

Bake for 10 minutes (remember they continue to bake whilst on the tray, so don't leave them in too long)

Most important stage, leave them for at least 8 minutes to cool down and set, then enjoy!