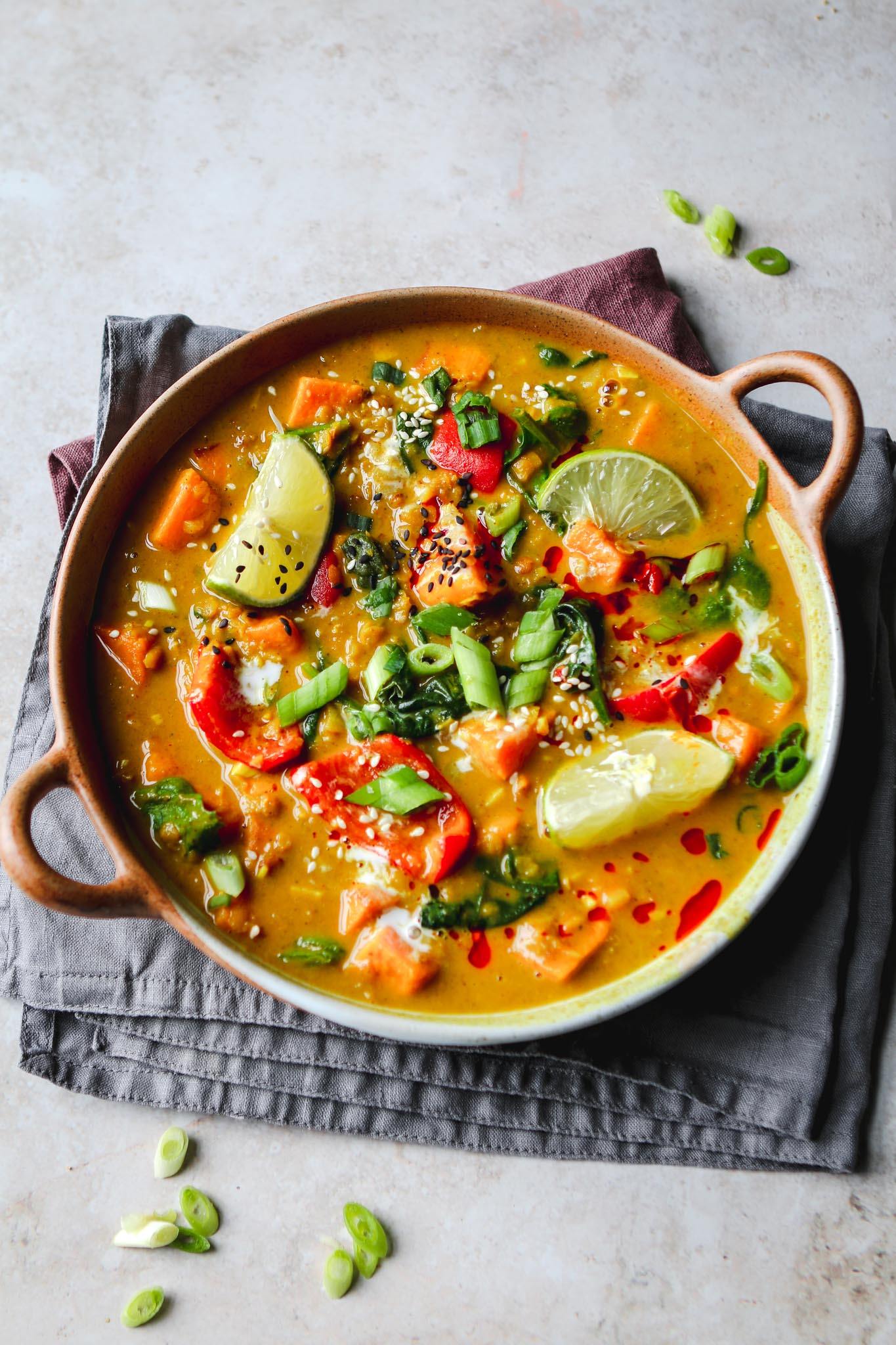 Massaman Inspired Sweet Potato & Lentil Curry
Inspired by the peanut based massaman curry, I've made a version based on what was in my cupboards. Luckily it turned out absolutely delicious I wanted to share the recipe with you.
Ingredients
For the curry
1

tbsp

olive oil

1

white onion

finely diced

4

large cloves

garlic

finely diced

1

red chilli

finely chopped

1

thumb sized piece of ginger

(½ grated and ½ chopped finely)

2

stalks fresh lemongrass

400

ml

veg stock

90

g

red lentils

½ cup

1

tsp

tamari

1

tbsp

peanut butter

400

ml

tinned coconut milk
Veg
1

red pepper

cut into large slices

1

medium sweet potato

70

g

fresh or frozen spinach
Spices & seasoning
½

tsp

salt

1

tsp

cumin

1

tsp

paprika

¼

tsp

ground cardamom

¼

tsp

cinnamon

½

tsp

ground dried coriander

½

tsp

turmeric

2

bay leaves
To garnish
1

lime quartered

2

spring onions finely chopped

1

tsp

black & white sesame seeds

Drizzle chilli olive oil
Instructions
Heat the olive oil in a large pan, when hot add the diced onion and chilli and fry for around 4-5 minutes

Add the chopped ginger and pepper chunks and fry for a further 3-4 minutes before adding the finely chopped garlic and allow to cook before tossing in the sweet potato chunks

Stir in the spices, lemongrass stalks and bay leaves and heat for a few minutes before adding the lentils and stock

Bring to a simmer for 10 minutes then turn the heat down to a medium temperature whilst adding the tamari, grated ginger, peanut butter with a generous pinch of salt and bubble for a further 15 minutes until the lentils have softened

Once the lentils have broken down add the spinach and coconut milk and stir together, giving a taste test after a few minutes - this is the perfect chance to add any more seasoning or spice to your preference

Serve up with basmati rice or naan (or both) with a fresh squeeze lime, sprinkle of sesame seeds and finely chopped spring onion

Enjoy!
Notes
if you have pre-soaked your lentils you will only need around 400ml of water + stock cube, however if cooking them from scratch, rinse them and add an extra 200-300ml water to the pot when cooking
Don't forget to take the lemongrass stalks out of the curry before serving
Prep time: 15 minutes
Cooking time: 30 minutes
Serves: 4 portions with rice / naan