Easy Spinach and Chickpea Curry
Try this recipe for a quick curry packed with flavour but on a budget. This spinach and chickpea curry uses a few key ingredients such as coconut cream, ginger, garlic and chilli to give loads of flavour as well as keeping it rich and creamy. It's easy to make different versions of this recipe depending on what ingredients you have in your fridge, but hopefully you can have a good base
What's in the recipe?
Chickpeas- these are such a great way to bulk out a curry, keeping the cost low and adding a bit of protein to the recipe.
Spinach- wanting to add a kick of greens to your curry? Spinach is such a good way to bulk out a curry as well as adding a bit of iron to the recipe.
Coconut cream or milk- to make the creamiest curry, using coconut cream with boiling water will give you a rich and delicious meal.
Spices- to give the curry a bit of depth, turmeric and cumin are brilliant spices to add to give it a beautiful colour too.
Garlic, ginger and chilli- these are great base ingredients to make a delicious curry. To make the most out of these ingredients, chop them super fine so more flavour is released.
---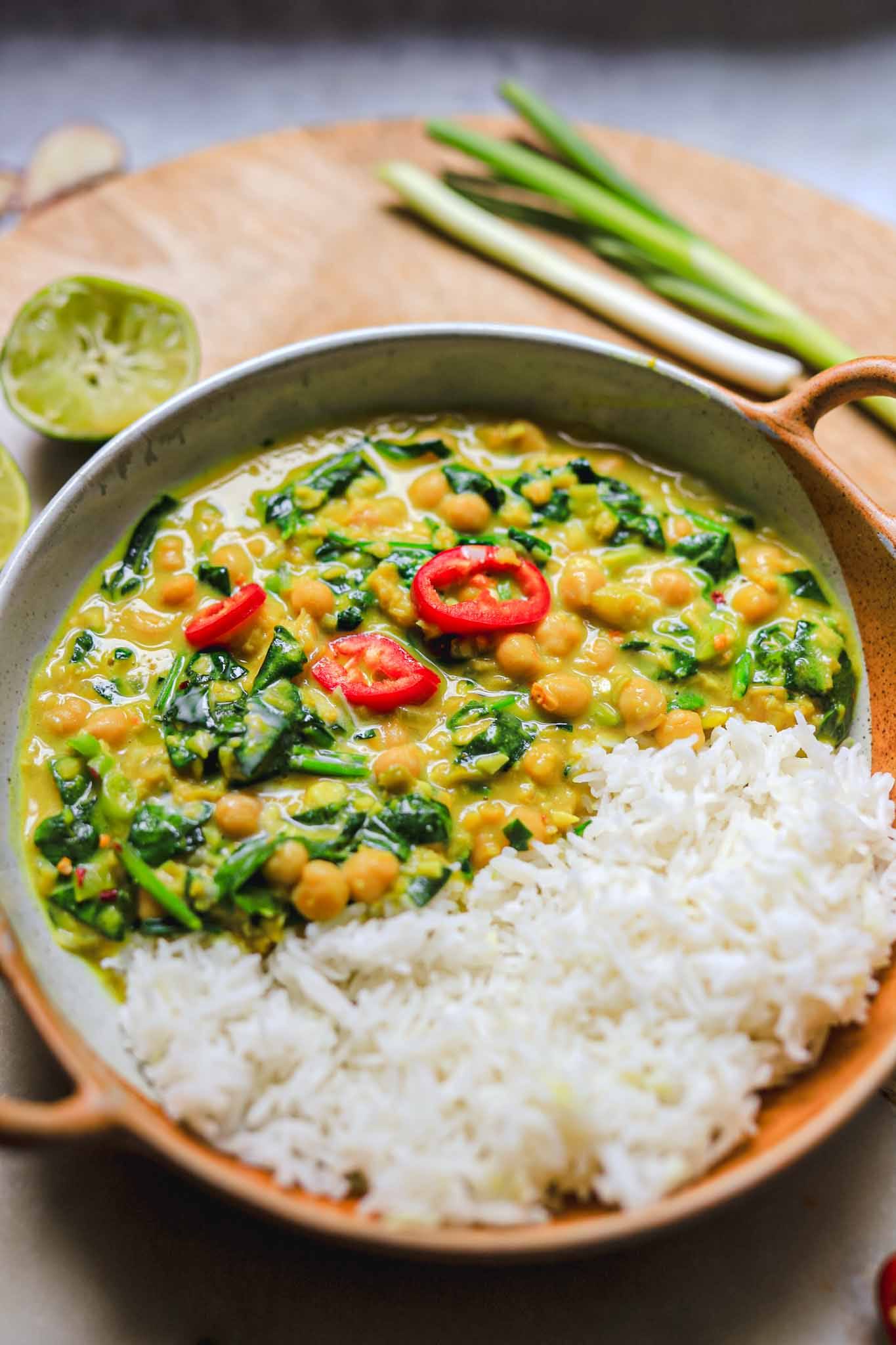 Cooking Tips:
Chop the ingredients super fine- When using ginger, garlic, onion and chill, it helps to chop them really fine. This releases more flavour and stops you comping down on large pieces of garlic.
Don't let the coconut milk boil- This isn't a strict rule, but it helps to keep the coconut milk at a simmer to stop any splitting happening.
Chop the spinach before adding- You want to add the spinach within the last 4 minutes of cooking to stop it going really soggy. It also helps to chop the spinach before adding to make it easier to eat.
If you like this recipe why not try:
Curried Lentil Soup
Easy Spinach and Chickpea Curry
Ingredients
2

shallots

finely chopped

thumb size

piece

fresh ginger

finely chopped

1

red chilli

finely chopped

4

cloves

garlic

finely chopped

4

stalks

spring onions

finely chopped

250

ml

coconut cream +400ml stock water

substitute for 400ml tinned coconut milk

1

tin

chickpeas

drained and rinsed

1

tsp

turmeric powder

1

tbsp

cumin powder

100

g

spinach

roughly chopped

1

lime

squeezed

180

g

basmati rice

80

g

red lentils**

(around 1/2 cup) washed
Instructions
Start by finely chopped the chilli, shallots and ginger then add to a large pan or pot with a good glug of neutral oil, fry for around 5 minutes

Finely chop the garlic then add to the pot, followed by the drained chickpeas, spices, spring onions and washed lentils, continue to cook for around 2-3 more minutes before adding the coconut cream and stock water

Stir together and allow to simmer whilst the rice cooks, season generously with salt and squeeze the lime juice into the curry

To prep the rice, I wash the rice until the water runs clear, then add to a pot covering the rice with water till it sits only the pad of a finger above the rice, bring to the boil for around 5 minutes then pop a lid on the pot, turn the heat off and leave to steam for 10 minutes

Taste the curry, adding a little more seasoning if needed then add the chopped spinach, serve up after a few minutes and enjoy
Notes
To make the stock water just add a stock cube to boiling water. If you're using tinned coconut milk just add to the pot with the coconut milk, you may need around 250ml water to loosen.
When adding the lentils, you may need to add more water to the curry depending on how long the lentils have been soaked for. Just keep an eye on the curry and keep adding 100ml at a time until it goes the consistency in the video and photos.