Break tradition and go bespoke!
In this blog post I am sharing the best vegan friendly places to eat in Edinburgh, from gorgeous interiors to an array of menu choice, these are the places you need to eat when visiting! Nestled within the beautiful streets of Edinburgh are tonnes of gorgeous places packed with personality and great food, with so much choice, so whether you're vegan, vegetarian, gluten free or a meat lover there are some fantastic places to try that offer something a little different to your usual chain. Edinburgh is a fantastic city with so many bespoke bistros and cafes to visit so before you head to a chain restaurant stop and read this blog!!
For Brunch
Loudons
Loudons has a reputation for 'the place to brunch' filled with young girlfriends catching up over an Instagram worthy plate full of poached eggs with avocado on toast. The interior is fresh and airy with different zones to sit in - given that you can get a spot as this place fills up fast!
In terms of the menu - like so many of the cafes in Edinburgh it had variety. I read that menu three times through and still couldn't decide, so after a snap pressured decision of an toast concoction I instantly regretted my decision. After asking the waitress what the girl next to me was having she sneakily went over to check and like a true detective (she was a CLASS waitress) depicted it was in fact the superfood pancakes!
Lewi had the veggie burger with homemade slaw which - admittedly after stealing a large bite, can confirm it was delicious. So many veggie burgers lack flavour or are like deep fried baby food puree however this had a slight spice, a crunchy crumb and was full of flavour.
Southern Cross Café
If you like boho interiors with friendly staff the southern cross cafe on Cockburn Street is worth a visit. Don't let the small window entrance fool you as there are loads of seats inside on the ground floor and up the spiral staircase.
With lots of home baked sweet treats and a range tea's and coffees this is a lovely place to grab your brekky. This is also a great place to go for lunch as they have a range of burgers and energy boosting meals.
https://www.facebook.com/scrosscafe/
Graze on Grassmarket
If you want somewhere that is tasty and budget friendly then Graze of Grassmarket it worth a trip. They serve a range of breakfasts from a graze box with five fillings to a healthier porridge and fruit option. They also have a large selection of tray bakes, vegan cakes and healthy salads to choose from so this is perfect for breakfast or lunch!
Lewis had the breakfast box filled with bacon, eggs, toast (which was a griddled seeded delicious bread) and I opted for traditional Scottish oats with fresh berries and honey - both very happy customers!
http://www.grazeongrassmarket.com/
Pumpkin Brown
This gorgeous cafe is filled with organic, healthy and vegan friendly eatery nestled in the Grassmarket. It is hard to miss as the beautiful shop front is teeny tiny, but  look out for their sign and barstools sitting outside and pop in!
Their super healthy range of breakfast bowls are a fantastic way to kickstart your day or if you are fancying something sweet why not try one of their amazing looking brownies.
Look at their vegan friendly menu, http://www.pumpkinbrown.com/
Hula Juice Bar
Stepping out of the rainy streets of Scotland and into Hula cafe is like being transported to a quaint coffee shop in the Bahamas, with their vibrant colours, tropical plants and outdoor style furniture! I LOVED this cafe, and to have it nestled within the Grassmarket made this not only 10/10 for the food but for location!
We visited for breakfast having a massive bowl of porridge with nutella - you gotta treat yourself sometimes…..  And boy was it good! Bare in mind we had already had breakfast (yes we really are that greedy) but we were desperate to try the food at Hula so queue the second serving so between us we had a bowl of porridge, a green smoothie and a cappuccino. I'm not really a smoothie gal as I loved munching on food rather than drinking it but their smoothies are renowned so I had to give it a go, and thank goodness I did! It was delicious enough to convert me into a green smoothie cliche of the typical health food fanatic (minus the extra large dollop of nutella  in my porridge.) Overall you need to visit this cafe, it's a gorgeous place! They sell lifelong coffee cups, vegan products and an abundance of gorgeous things for your kitchen.
The staff were lovely, and the decor was right up my street - being an interior designer I have a love for quirky design and this definitely ticked the box! The menu was fantastic with so much choice, so for all of you like variety and a health conscious options, you will love Hula Cafe!
As I mentioned, this was actually our second breakfast because of course as a food blogger you have to have at least 6 meals a day when visiting a new city!
Follow their Instagram, they're seriously awesome!: @hulajuicebar
Find their menu here, http://www.hulajuicebar.co.uk/menu/
For Dinner
Hendersons vegan restaurant
Whether you're vegan, vegetarian, gluten free, coeliac, carnivore, you name it - Hendersons are worth a visit. Their food is comforting, delicious, and exactly what you need after a day of exploring Edinburgh. 
There are a few Hendersons cafes in Edinburgh each as gorgeous as the next, but we decided to visit the vegan restaurant for the full experience. The interior is beautiful with rustic furniture, wooden flooring with mustard, green and mauve inside - very chic. Much to Lewi-the-carnivores surprise there was an abundance of choice on the menu and all imaginative. There is nothing less inspiring for vegan / vegetarian food than 'nut roast' or 'tomato soup' but thankfully the menu had comfort food like cottage pie, coconut stir fry, gelato and cakes. 
I chose the haggis option - when in Rome and all that..... and Lew had the sweet & sour tofu stir fry with an oat milk cappuccino followed by coconut gelato. The food was i n s a n e. Not sponsored, no advertisement, just pure delicious food - even the carnivore boyfriend loved it! 
Find their menu here, https://www.hendersonsofedinburgh.co.uk/locations/vegan
Dough
This pizza place on Rose Street is a must if you are in want of a delicious stonebaked pizza. After travelling around Italy for a month it's safe to say I have eaten my fair share of pizza and Dough offer a pretty delicious slice!
With only a few cosy seats inside and two benches at the front you have to be quick to grab a spot but boy is it worth it! If you have enjoyed a few beers at the local pubs they do takeaway, so you can enjoy strolling the scenic streets of Edinburgh with a delicious pizza in hand - who can complain with that?
Great news, they also do a gluten free base and a VEGAN mozzarella pizza - yay for vegan cheese!!
Lewis had the meat feast, and me the mozzarella and damn was it good. It was freezing outside but this pizza warmed us right up, and had every person passing eyeing up our food - understandable so, it was so bloody good!
Find their menu here, http://dough-pizza.co.uk/
Coffee & Cake
Mary's Milk Bar
Mary's milk bar is a intimate gelato bar with only a few perfectly placed chairs inside looking out onto the castle.
Mary trained as a chocolatier in Italy, with the fresh gelato made daily so you know you are in safe hands. If you're dairy free there are fruit sorbets to choose from so you can enjoy your frozen delight too!
The interior is just as gorgeous as the gelato with pastel coloured walls and quirky vintage decorations dotted about it is a great place to go!
Cockburn Café
We had just arrived after a long journey and were in need of caffeine.... cue the extra large cappuccino. Cockburn street (try and say that with a straight face) is a beautiful street filled with delicatessens, cafes, boutiques and wine bars and is definitely worth wondering up and down.
If you get the timing right, when the sun sets it catches at the top of the hill slowly cascading down the beautiful buildings - very Keats I know!
This little cafe is very cute with fairy lights falling down the staircase, with rustic wooden window seats and a selection of handmade treats it should definitely be a pitstop. 
Grassmarket Pop Up Market (Saturday)
Brownies? Macarons? Hand crafted chocolate? Get yourself to the Grassmarket pop up market on a Saturday! With local businesses displaying their best creations looking tempting and delicious it's hard to resist…..
So whether it's extra thick brownies, whisky infused chocolates or pastel coloured macarons take your pick at the market - if in doubt try one of everything!
Want to see my top 5 things to do in Edinburgh?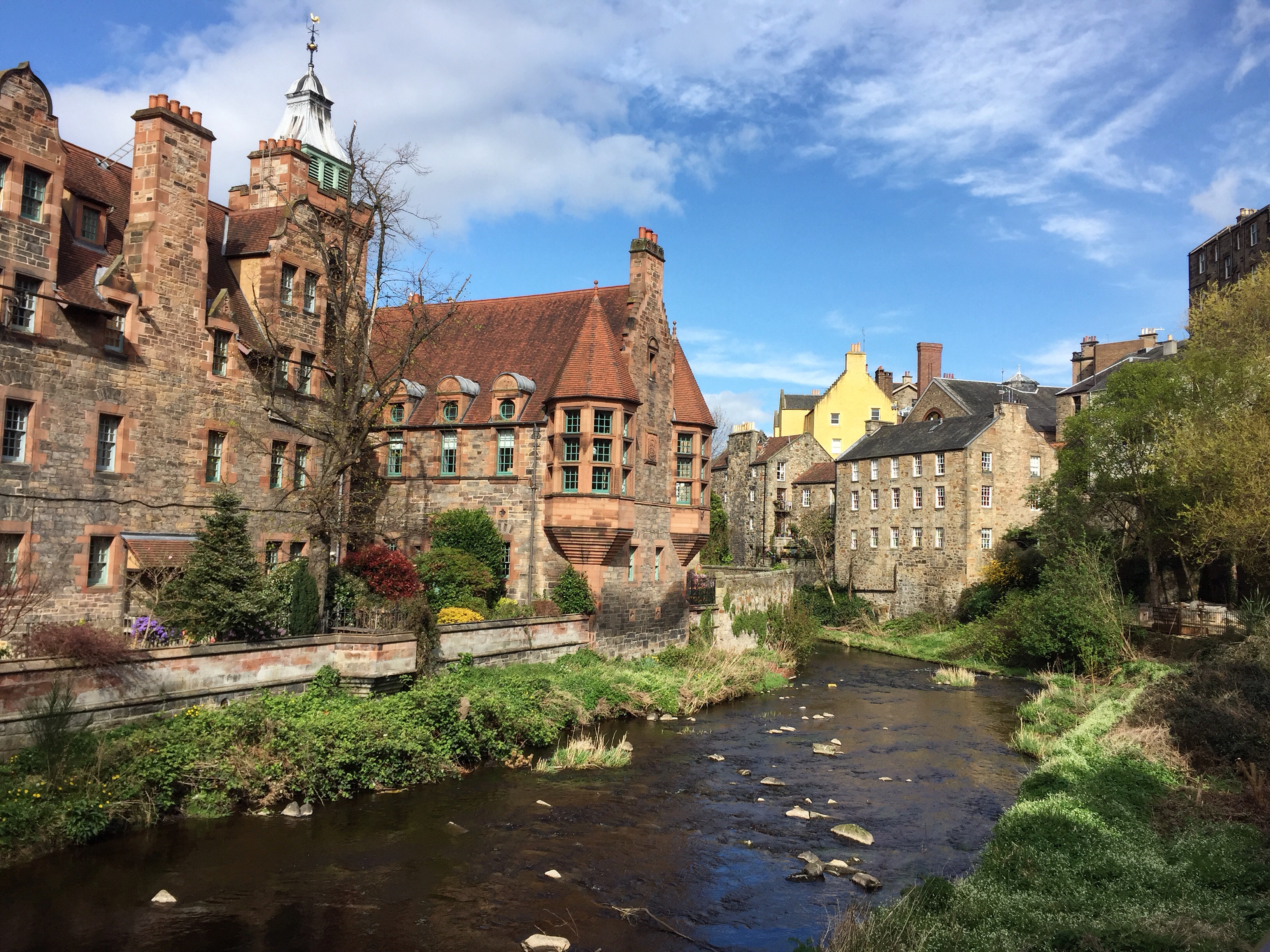 Read my blog post sharing the places you need to visit when in Edinburgh here - most of them free!