It's National Chocolate Week and I am celebrating by sharing the best vegan chocolate dessert recipes. This one is for all you chocoholics like me, who think a dessert is not a dessert unless there is some form of the rich cacao in there! I am sharing recipes that range from SUPER easy to make, to ones that require a bit of patience but are definitely worth while. 
Keep reading for the last recipe - by far my favourite!
Raw Pistachio Chocolate
Ingredients
1/2Cup Coconut Oil
1/4 cup Cacao Butter
2/3 Cup Raw Cacao (Try to Buy One Without Any Added Sugar)
1/4 Cup of Maple syrup
Pinch of Himalayan Salt
1/4 cup Chopped Pistachios
Method
Slowly melt the cacao butter and coconut oil in a bowl, add the maple syrup and Cacao powder and mix.
Make sure to keep the mix below boiling, you want to slowly combine the ingredients.
Add a pinch of salt & leave to set in a tray in the fridge and finish with scattering the chopped pistachios on top (some will melt into the centre)
Once set, take out the fridge, cut into pieces and enjoy! Remember it has a low melting point so keep it cool!
Chocolate & Fig Tarts
For the Base
180g Ground Almonds
1 tbsp chia seeds + 3 tbsp water (allow to rest for 10 mins to become gloopy)
1 tbsp Cacao Powder
Pinch of Salt
For the Filling
½ 400g Tin of Full Fat Coconut Milk (200g)
1/3 Cup Cacao Powder
1/3 Cup Coconut Oil
1 tbsp Vanilla Extract
3 tbsp Maple Syrup
100g Good Quality Dark Chocolate (I Use 80%)
Pinch of Salt
For the Base
Preheat the oven to 180˚C and Line 6 mini tart dishes or a 20cm dish.
Add the ground almonds to a medium size bowl and add chia and water mix
Add the cacao powder and a pinch of salt
Use your hands and mix together until well combined and sticky
Delicately Line the pastry dishes with the mixture, making sure there is a thin and even layer and prick the base with a fork three times to stop the dreaded soggy bottom
Place in the oven for around 8-10 minutes, but keep an eye on it so the edges don't burn
Take out and allow to cool before adding the mix
For the Filling:
Bring a pan of water to simmer and place a bowl over the top then slowly heat the coconut oil and milk
Add the chocolate and slowly melt together on a low heat
Add the cacao powder, vanilla extract, maple syrup, and a dash of salt
Once the tarts have cooled, add the mixture being careful not to spill over the edges
If you have any leftover chocolate mix, simply pour into a shallow tray and use is as a chocolate snack when those 4pm cravings hit
Leave in the fridge to set for 30-40 mins then sprinkle on the pistachio nuts and fresh figs
Leave in the fridge until serving
Enjoy!
Banana & Chocolate Bread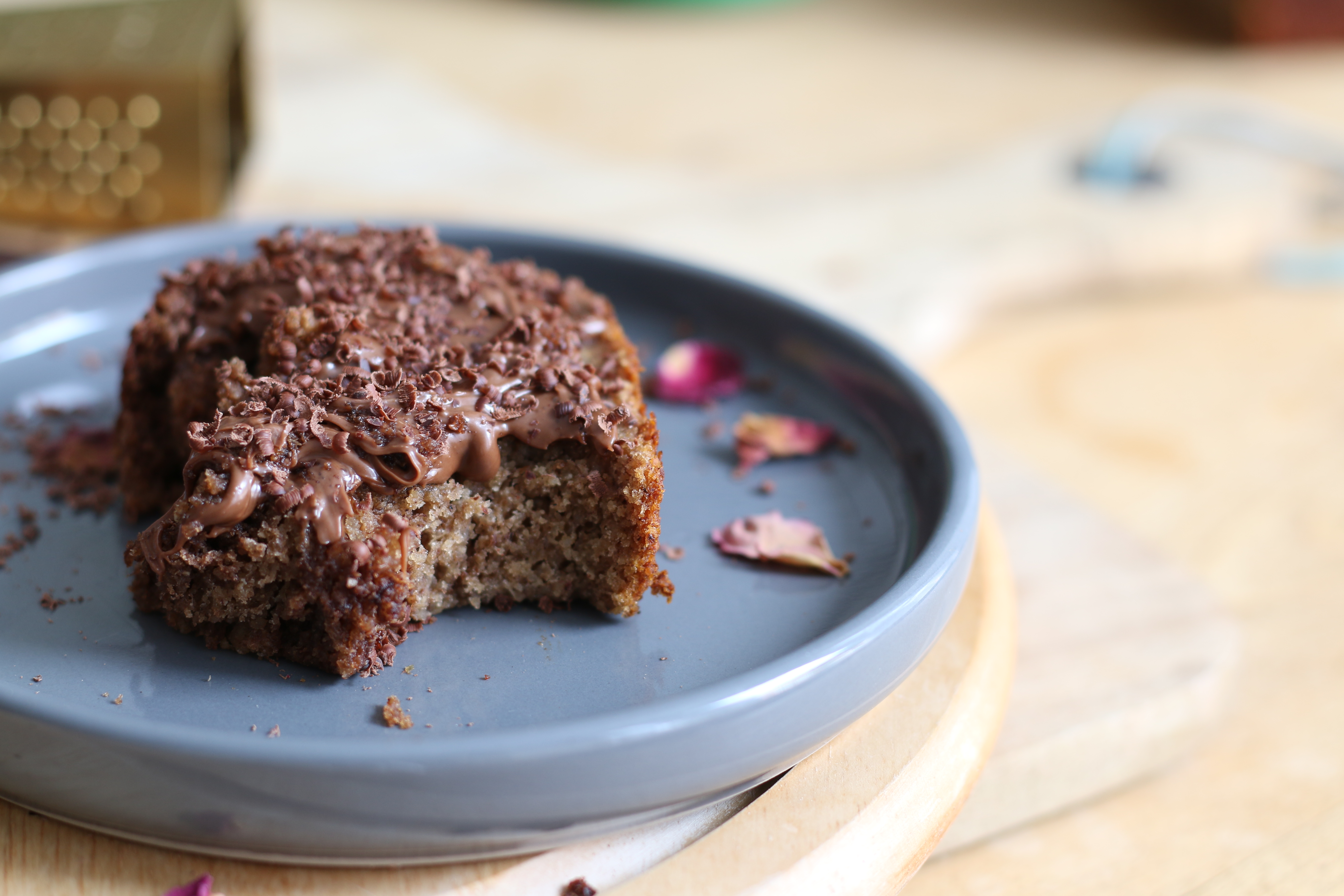 This Vegan Banana and Chocolate Bread is a fantastic recipe if you are wondering what to do with your overripe bananas. It is refined sugar free, so easy to make and requires few ingredients. It creates the most amazing smell through your house, perfect for a Sunday morning bake.
Ingredients
1 ½ Cups GF Flour Flour (Buckwheat or Rice)
3 Large Black bananas, Mashed
3 Heaped tsp GF Baking Powder
¼ Cup Maple Syrup
2 tbsp Coconut Sugar
3 tsp Cinnamon
3 Large Black bananas, Mashed
75g Coconut Oil (weight)
⅓ Cup Natural Chocolate Spread (I used Nuttvia)
Method
Preheat the oven to 200˚C and grease a loaf tin
Place all the dry ingredients in a mixing bowl and combine
In a separate bowl, mash the bananas with a fork then add the wet ingredients (including the melted coconut oil)
Combine the wet and dry ingredients making sure it is mixed well
Add the mix to the greased loaf tin then using a knife roughly stir in the chocolate spread (careful not to mix it too much as it will look more like a chocolate loaf like mine, woops!)
Bake in the oven for around 15 minutes then cover the top with baking parchment or tin foil
Bake for another 35-40 minutes then stick a knife in the centre. It should pull out clean then you know it's baked all the way through.
Slather on some chocolate spread and enjoy with a cup of earl grey tea
'Ferrero' Chocolate Truffles
Ingredients
2 Cups of Hazelnuts (Approx. 200g)1/4 Cup of Maple Syrup
1/4 Cup of Cacao Powder
1/4 Cup of Water
1/3 Cup Dark Vegan Chocolate
Method
Preheat your oven to 160° and place the Hazelnuts on a tray, make sure to leave a call handful for later, then bake for around 7-8 minutes to soften them
Using a tea towel or muslin cloth gather the cooked nuts, wrap them up and give a good shake to try and release as much of the skin as possible (it is not an issue if the skin is left on)
In a food blender give the nuts a whirl for a few moments to help break them down into small chunks
Add the maple syrup, the cacao, and water then blend until a rough chocolatey/nutty texture appears
Heat a pan of water and place a glass bowl over making sure it is not touching the water and slowly melt the dark chocolate (of if you are using my homemade recipe)
Whilst the chocolate is slowly melting make small balls from the chocolatey nut mixture
Then dip them in the melted chocolate and leave to cool in the fridge until set
Repeat the melted chocolate process and whilst the chocolate is melting roughly chop the remaining hazelnuts into small pieces
Dip the truffles into the chocolate then coat in the chopped nuts and leave to set
Dipped Fruit in Raw Chocolate
All you need:
1 Punnet of Fresh Strawberries
1/4 Cup Coconut Oil
2/3 Cup Raw Cacao (Try to Buy One Without Any Added Sugar)
2 tbsp Maple syrup
Pinch of Himalayan Salt
1/4 Cup Chopped Pistachios
Method
Melt the coconut oil in a small pan on a low heat
add the cacao and maple syrup and stir until smooth
Add a pinch of salt
Prep your strawberries and pistachios
Dip the strawberries in the chocolate mix and lay on a plate with a little foil underneath (saves on cleaning)
Set in the fridge for around 20/30 minutes and enjoy!
Raw Chocolate & Raspberry Cheesecake
Ingredients
For the base:
1 Cup of Medjool Dates
1 ½ Cup of Organic oats
1/3 Cup Almonds
1/4 Cup Coconut Oil
1 tsp Vanilla Paste
1 tsp Maple Syrup (optional)
Dash of Water
For the Chocolate Filling
½ 400g Tin of Full Fat Coconut Milk (200g)
1/3 Cup Cacao Powder (Cacao is raw cocoa & unrefined, however cocoa will also work just as well)
1 tbsp Vanilla Extract
¼ Cup Maple Syrup
70g Dairy Free 80% Chocolate
Pinch of Salt
1 Cup of Raspberries For Topping
Cacao Powder for Dusting
Method
For the base:
Simply place all of the ingredients into a food processor and blend. Add a dash of water to make the texture nice and sticky
Grab your lined spring form baking tin ( I was extra lazy and used cling film) and fill the base with the Mornflake oaty mixture and leave to cool in the fridge
For the filling
Bring a pan of water to simmer and place a bowl over the top then slowly heat the coconut milk, vanilla extract and maple syrup
Add the cacao powder then add the chocolate and slowly melt together on a low heat
Take the cheesecake base out of the fridge and pour the melted chocolate filling on top
Once melted together
Watch how to make this recipe here!
You can find more of my dessert recipes here!
Or if you've overindulged on chocolate and are fancying something healthy and savoury, take a look at these babies.....