Let's talk toasties....
There isn't a situation where a toastie or grilled cheese won't improve your life in some way, so without further ado let's get grillin', toastin' and munchin' on these delightful carb filled feasts. 
---
No. 1 Kimchi Grilled Cheese
There's a reason this beautiful beast is number one, because it is inevitably the best toastie I have ever made - yes I'm being that bold. I think I've possibly peaked with my toastie abilities. So here we have it...

Ingredients
2 slices seeded sourdough 
3 tbsp kimchi (I use Biona Kimchi, Clearspring Sourkraut or Barrel & Bone Kimchi)
2 tbsp homemade pesto *recipe here*
50g Violife Pizza Cheese (this melts the best)
pinch salt 
Method
I use a toastie grill to get the deep lines however you could do this with a skillet, a simply frying pan with a little oil, or under the grill
Add the slices of sourdough to the grill to toast on the inside first
Once toasted, load it up with the kimchi, followed by the slices of 'cheese' then layer the other slice with homemade pesto and pop on top (pinch of salt & pepper optional)
Place the loaded sandwich into a toastie grill, pan or under the oven grill to toast the outside and melt the cheese
Enjoy. Every. Mouthful.
---
No. 2, Pesto & Cream Cheese Toasted Sarnie

Ingredients
3 slices sourdough bread
3 tbsp pesto
3 tbsp  vg cream cheese
handful of baby spinach leaves
1 red pepper
Method
Using a toastie machine or grill, heat the sliced pepper through until charred
Lightly toast each slice of bread till lightly golden
Layer the cream cheese with the spinach, pesto and charred peppers then place back in the toastie machine / grill until heated through
Enjoy
---
No. 3 Chilli Chickpea & Sriracha Toastie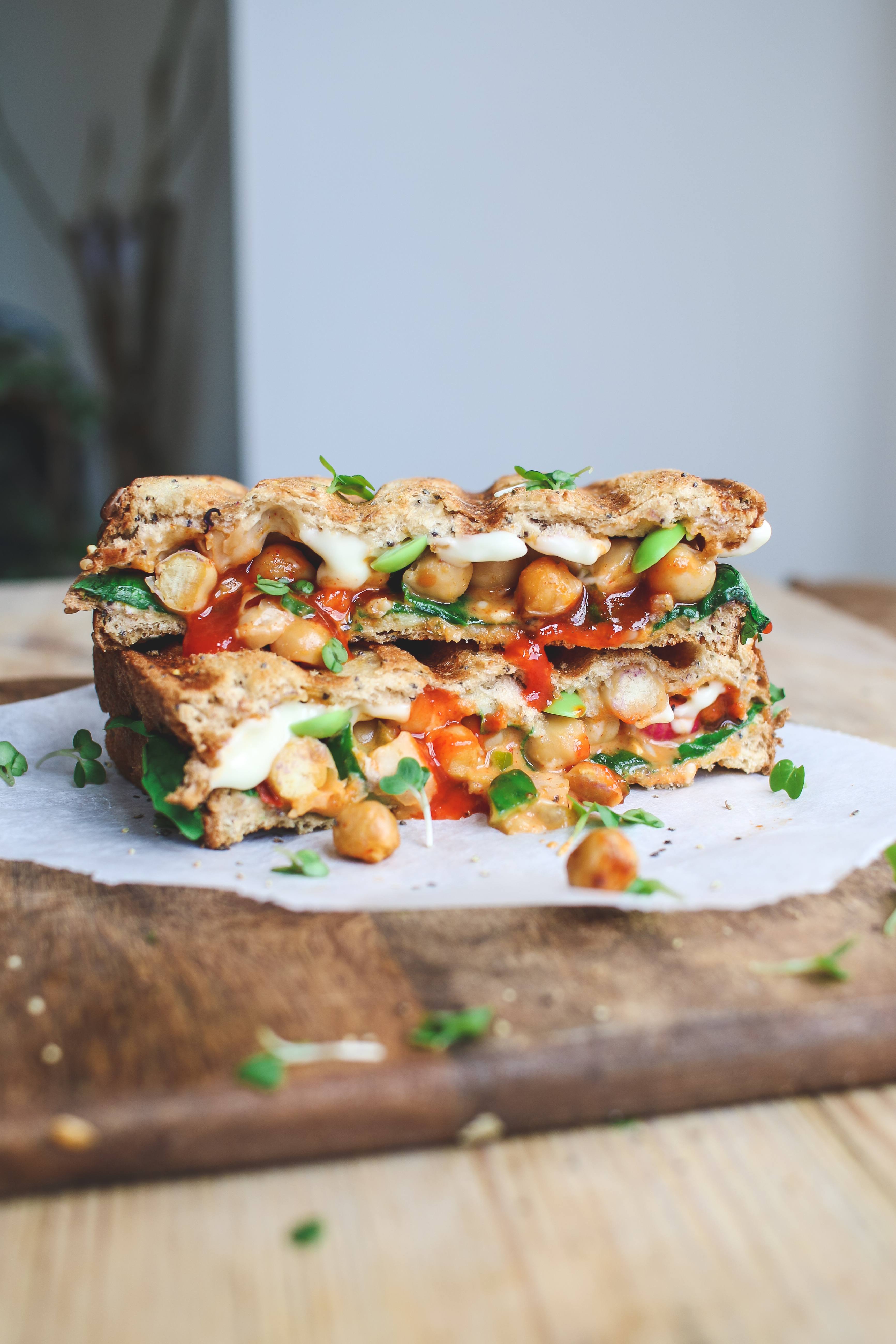 Ingredients
2 slices thick wholemeal bread
The Sauce
1/4 tin drained chickpeas (you can bake them first if you have time)
1/2 tsp mustard optional
2 tbsp vegan mayo 
2 tbsp sriracha 
squeeze lemon 1/2 lemon
pinch of salt
The crunch
1/2 small red onion 
2 radishes diced
3 slices cucumber diced
handful of spinach
Method
Chop and slice whatever veggies you want to add and pop into a small bowl
Add all of the sauces into a small bowl and mix together the pour over the chopped veg
Using a toastie machine, toast the bread slightly before adding the mix
Load up the slice with the chickpea stuffing and toast until crispy
Stack them and pack them if taking to work / school, otherwise grab a plate and enjoy!