Delicious Energy Packed Vegan Snacks!
Stop the press...... these just happened!
I am currently fighting my way through the last few weeks of my degree which is not only terrifying as I will have to learn how to be an actual adult but is eating away into all MY eating time.
I have managed to stay healthy for the past two years whilst studying but even this final push is testing me, with serious chocolate cravings and finding myself justifying eating an entire weeks worth of food in one day is okay....
So after reaching for the biscuit barrel one to many times this week I decided enough is enough! So I set my alarm for 6am and made the time to make healthy snacks! Find the full recipe here
It's really easy to focus on calories and sugar intake and every other 100000 things we think about when trying to eat 'healthy' so even though these granola bars are full of nuts, dried berries and dates they are still packed with all the RIGHT kind of ingredients.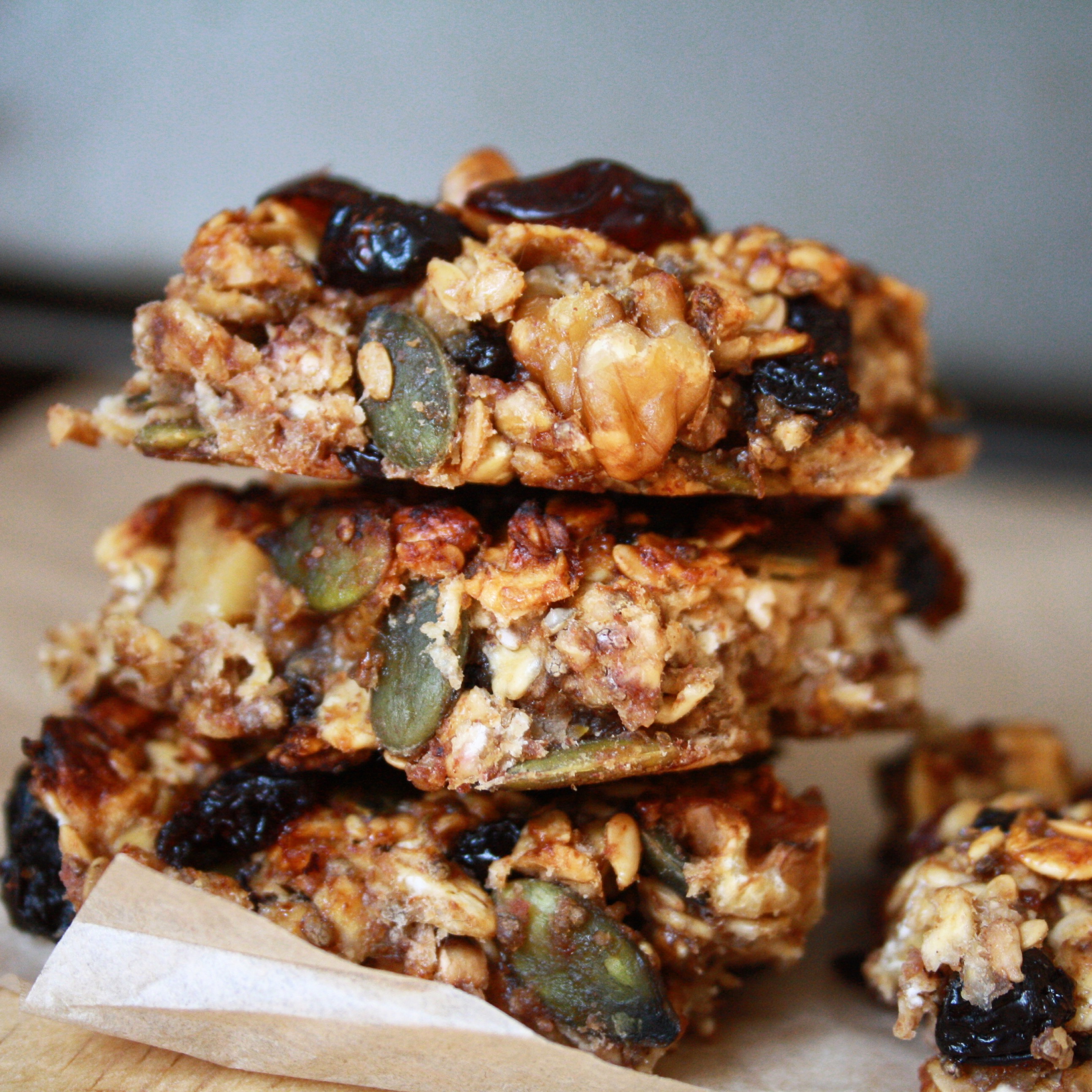 Breakdown of Ingredients
By using dried blueberries and goji berries instead of other dried fruits, you're getting an extra boost of superfood goodness! Foods such as oats, chia seeds, goji berries and blueberries are all packed with fabulous things such as omega oils, energy and antioxidants.
By adding small amounts of nuts, seeds and dates there is a good balance of natural sugar, and slow releasing energy to help keep you snacking for the rest of the afternoon. I find when I eat sugary snacks I crave more sugar just half an hour later, but by adding the wholesome slow energy releasing foods keeps those cravings at bay. 
Even though these have peanut butter in, don't panic yet! You can easily replace this with almond butter or cashew. However using an organic brand such as Meridian, that doesn't have any palm oil is a great option as it keeps the nasty additives out.
I add maple syrup however this is still full of sugar (even though it may be natural it still gives your blood sugars a spike, resulting in a crash a few hours later.) So if like me you are happy without it being oversewed simply leave the maple syrup out. If you are making these for kiddies and trying to lure them off all things sweet, these are a great stepping stone, which you can then reduce the amount of sugar you add!
Ingredients
Dry
1 1/2 Cups Oats (For this recipe I used Mornflake's Jumbo Oats)
1/3 Cup Dried Berries (I use a mix of blueberries and goji)
1/4 Cup Raisins
1/3 cup Pumpkin Seeds
1/4 Linseed
1/4 Cup Walnuts (any other nuts will do!)
3 tbsp Chia Seeds
1 tsp Cinnamon
1/2 tsp Ground Ginger
Wet
2 Really Ripe Bananas (the softer the better)
1/4 Cup Maple Syrup 
2 tbsp Peanut Butter (Try and find a nut butter that doesn't have palm oil if possible)
3 Medjool Dates
Method
Preheat the oven to 160˚C and line a baking tray with either coconut oil or baking paper
Simply measure out the dry ingredients and add to a medium size mixing bowl
In a blender or food processor add the wet ingredients (basically everything that's sticky) until the dates break down and a gorgeous binding mix is formed
Combine the wet and dry ingredients and give a good stir. If you want to add anything else to get creative then feel free! This really is a 'throw anything in' kind of recipe. I sometimes mix it up with different dried berries or different nuts depending on what I have in my cupboards that week.
Fill the baking tray with the mix and spread out evenly then place in the oven for 12 minutes
After 12 minutes, take the tray out of the oven and score roughly to allow an easy break once fully cooked then place back in the oven for a further 10 minutes (be sure to keep an eye on them as these can catch easily) 
These will only last a few days due to using bananas however mine never last that long as once they come out the oven they smell amazing!