---
If you don't have tinned coconut milk / cream but fancy a delicious creamy curry, this'll do the trick. I replaced coconut milk for just plant based milk with a squeeze of lime to create a kind of 'buttermilk' which worked brilliantly. All in all, this curry recipe can be whipped up in 30 minutes from prep to getting it on the table. Hope you love this coconut milk free curry!
---
vegan
packed with veg
easy to make
lower in fat due to swapping the coconut milk for plant based milk
---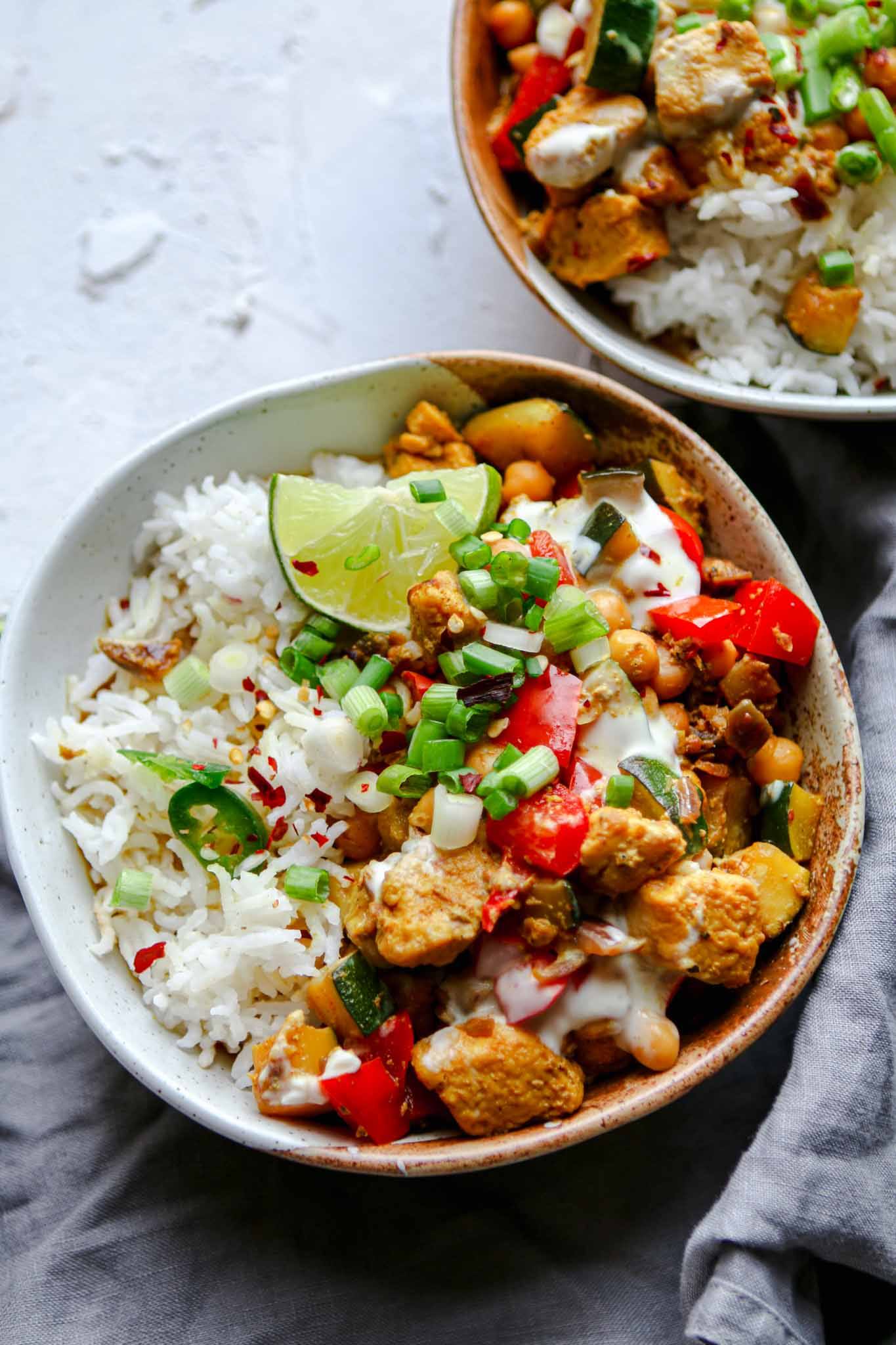 Ingredients Break Down:
Plant based milk – Using a plant based milk mixed with fresh lemon or lime juice will create a kind of 'buttermilk'. This is a great replacement to coconut milk
Spices- Using a range of spices such as cumin, turmeric and paprika help give this curry a beautiful flavour and colour
Whole Spices- Mustard seeds, coriander seeds and birdseye chillies start a brilliant base for this dish, the key is to lightly toast / heat them in a pan before adding any of the other ingredients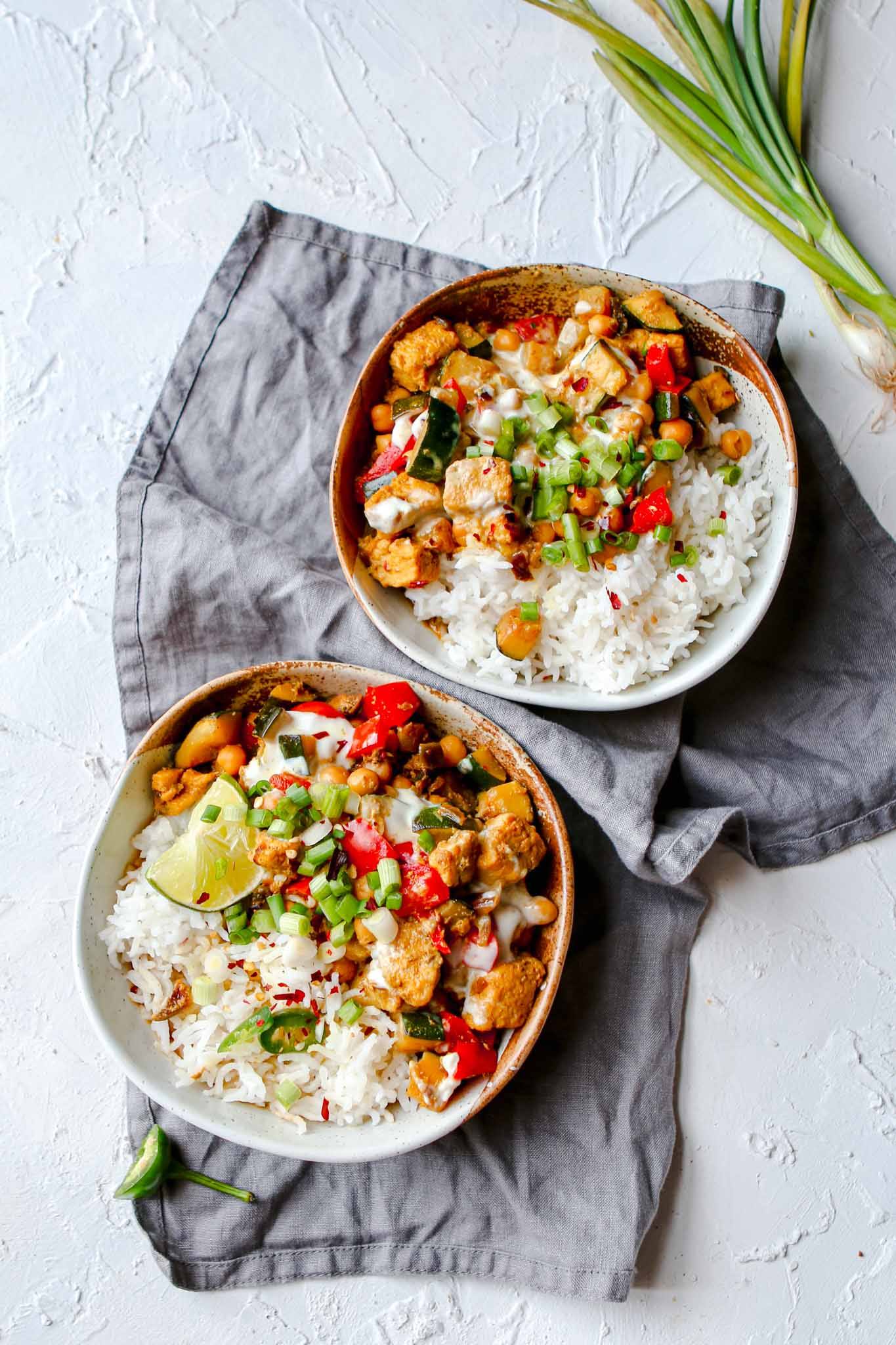 I hope you enjoy this one, as it's really delicious and perfect if you don't want to use full fat coconut cream. I know a few people who can't use coconut milk but LOVE creamy curries so fingers crossed this will become a staple recipe in your home.
As always, if you share this on social media, don't forget to tag me @Lucy_and_lentils   as it always makes my day to see these in your own home!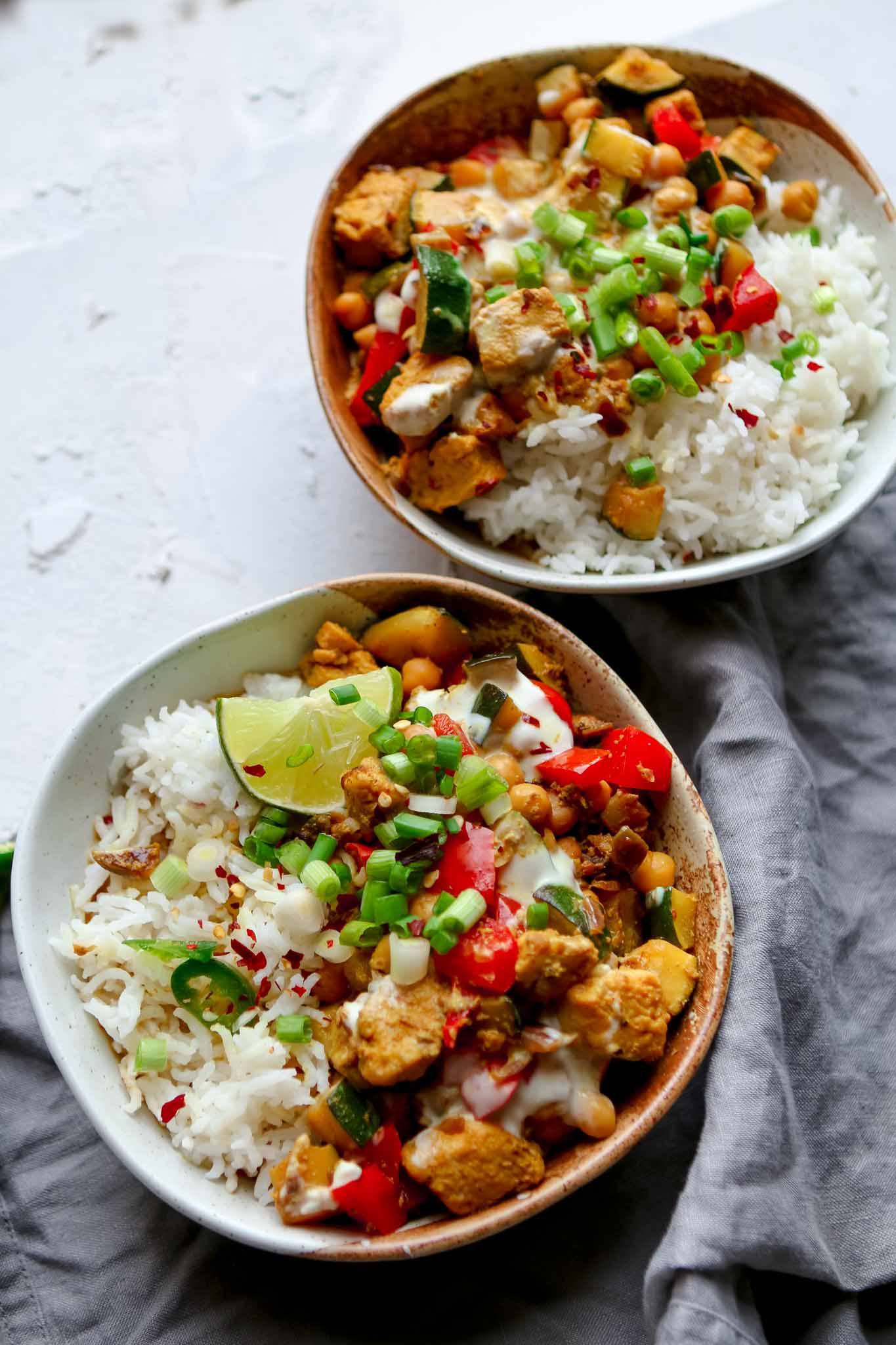 Coconut Milk FREE Curry
Using plant based milk instead of coconut milk, this dish is light but still full of flavour. Beautifully balanced with veggies it's a great week night recipe.
Ingredients
whole spices:

3

small dried birdseye chillies

1

tsp

mustard seeds

3-4

bay leaves

even better if you have curry leaves

1/2

tsp

coriander seeds

veggies:

1

red onion

1

green chilli

1

thumb sized piece of ginger

finely chop half and grate the other half to add in later

4

cloves

garlic

1

red pepper

1

courgette

1 400

g

tin chickpeas

optional to add tofu / quorn for extra protein

3

spring onions

1

lime

250

ml

plant based milk

I used almond

1

tbsp

plant based yogurt for dressing

optional

dried spices:

1

tsp

paprika

1

tsp

cumin

3/4

tsp

turmeric
Instructions
Add the basmati rice in a pot with a 1:2 ratio of rice to water, add a large pinch of salt and allow to simmer for 15 minutes until the water is absorbed

Start by adding the whole spices and bay leaves to a pain with a 1tsp coconut oil /olive oil and heating for a minute

Add in the red onion, green chilli and half the ginger (all finely diced) and fry for around 5 minutes

Once they have cooked down add the minced garlic cloves and add to the pan for around a minute to cook properly then add in the finely diced red pepper, drained chickpeas and courgette

Add in the dried spices with the veggies and allow to cook for a further 5-6 minutes on a high heat

Turn down the heat slightly then add in the plant based milk with a squeeze of 1/2 lime and allow to take on all the delicious flavour for a further 5 minutes or so

check on the rice and take off the heat if it's absorbed the water and perfectly fluffy, set aside ready to serve

Taste test the curry, adding salt to preference and a little more spice if preferred

Serve up with the steaming hot rice, then add a dollop of yogurt on each curry, garnish with the finely chopped spring onions and a squeeze of the other 1/2 lime

Enjoy!
---
Why not try….
Another delicious curry recipe using plant based milk, is my Kerala style curry. Golden, hearty and full of flavour this one is a good one! Find the recipe here.